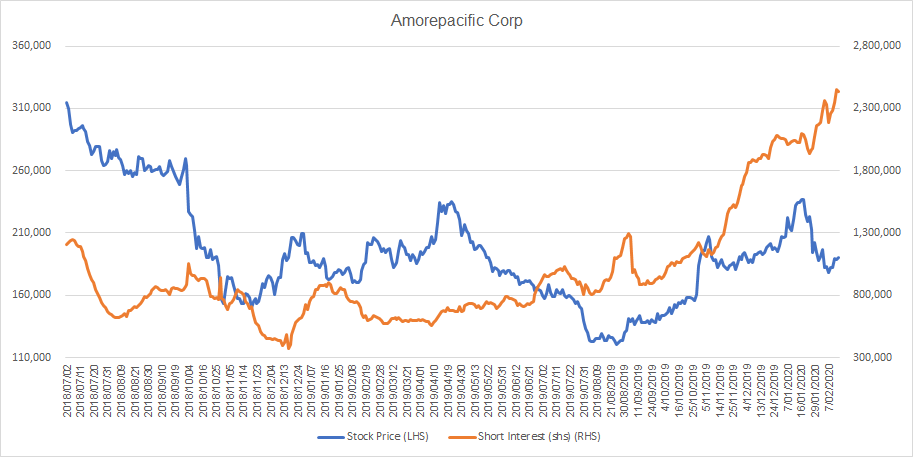 In this briefing:
---
One of the big winning sectors in the Korean stock market this year has been the rechargeable batteries related stocks including Samsung Sdi (006400 KS) and LG Chem Ltd (051910 KS). In the past few days, there has been some increasing news flow in the local media regarding a potential transfer of the rechargeable batteries modules and packs business from LG Electronics (066570 KS) to LG Chem.
On a relative basis, this transfer would likely to have a GREATER POSITIVE impact on LG Electronics since the battery modules and packs business has been losing money in the past several years and this transfer would allow LG Electronics to reduce the operating losses from this business unit (Vehicle Component Solutions).
For now, nothing has been decided regarding the potential transfer of the rechargeable battery modules and packs business from LG Electronics to LG Chem. This is just in the discussion stage right now. However, this business transfer seems to make a lot of sense and one could wonder why they did not complete this move earlier (especially from the point of view of LG Electronics shareholders). 
Our base case valuation of Metanet Mplatform is EV of 296 billion won, a market cap of 360 billion won, and an implied price of 17,215 won, which is 25% higher than the mid-point of the bankers' IPO price range of 12,500 won to 15,000 won. As such, we have a positive view of the Metanet Mplatform IPO. 
The company's core business is in the customer/contact centers. Driven by technology innovation, customer/contact centers are becoming increasingly automated, which will likely provide an attractive opportunity for the company to capitalize on its know-how of this business to further improve upon its economies of scale and reduce costs.
Lemon has received the highest interest level (measured in terms of platform views per report) among the four Korean IPOs that we have written about. So if the level of interest in Lemon is 100, JNTC is 90 and Metanet Mplatform is much lower at 50. Overall, among these four companies, Lemon is likely to receive the highest institutional investors' interest, followed by JNTC, Metanet Mplatform, and NPD.  Now, the more difficult part (this is where the art of investing really comes into play) is to perceive and understand how much of this investors' interest will have factored in the IPO demand and their share prices. 
Bnk Financial Group (138930 KS) scores well again with our PH Score™.  A PH Score™ of 9.5 reveals positive changes in Profitability, in Efficiency, in Capitalisation, in Asset Quality, and in Provisioning while the valuation variable was highly positive. 
In the wake of the news of the coronavirus infection, the Chinese leadership went into overdrive and made it a Draghi-like "whatever it takes" moment to prevent panic and stabilize markets. When the stock markets opened after the Lunar New Year break, the authorities prohibited short sales, directed large shareholders not to sell their holdings and the PBOC turned on their firehose of liquidity to support the stock market. Those steps largely succeeded. China's stock markets stabilized and recovered, and so too did the markets of China's Asian trading partners.
However, there were signs that the market is unimpressed by the steps taken by Beijing to control the outbreak and limit its economic impact. Market participants were conducting a guerrilla campaign against the PBOC.
While stock markets have been strong, commodity markets have been weak. Foreign exchange markets are also taking a definite risk-off tone, contrary to the PBOC's efforts to support risk appetite. Even Chinese market internals are exhibiting skepticism, as financial stocks have lagged the market rally.
This argues for a contrarian position of long EM, commodities, and commodity producers and short U.S. equities. Aggressive traders could enter into a long and short pairs trade, while more risk-controlled accounts could just overweight and underweight.
If the bulls are right, and the coronavirus outbreak recedes and comes under control, U.S. equities should begin to underperform as the demand for safe havens, while cyclically sensitive EM and commodities would rally. On the other hand, if the outbreak were to spiral out of control and global growth collapses, U.S. equities would correct, but there is likely less downside risk in EM and commodity exposure because they have already fallen substantially.
You are currently reading Executive Summaries of Smartkarma Insights.
Want to read on? Explore our tailored Smartkarma Solutions.