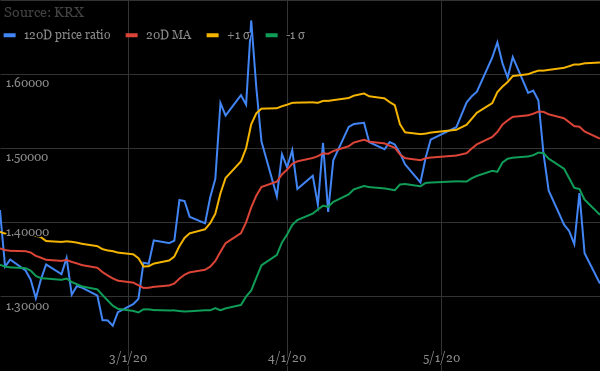 In this briefing:
---
Below are the 13 Korean single-sub stubs that I am closely monitoring regularly.
Which ones are at a severe divergence at this point? Kolma and Youngone are at around (or less) -2σ. BGF and Hankook Tech are also at a level that needs our attention.
The two leaders (Kolma and Youngone)? Their respective subsidiary accounts for 66.44% and 73.28% of the subsidiary holdings. And they are at a 56.47% and 64.68% discount to their NAV, which reaffirms that the time is ripe for stub trade.
Again, Kolma leads the wildest falling from the 2-yr mean from a relative price perspective. Youngone has managed to calm down relative to Kolma.
One of the biggest stories in the auto sector in Korea in 2020 has been a big jump in sales of Tesla Motors (TSLA US) vehicles. According to the Korea Automobile Manufacturers Association and Korea Automobile Importers & Distributors Association, there was a 40.1% YoY increase in EV sales in January to April 2020 in Korea (excluding low-speed EVs and large-sized commercial vehicles) for total EV sales of 14,425 vehicles during this period. The strong growth of EV sales in Korea has been led by Tesla. 
From January to April 2020, Tesla sold 4,075 cars in Korea, a big jump from 236 vehicle sales in Korea in January to April 2019. Tesla Model 3's combination of solid global brand awareness, advanced design, and affordable prices (about 32 million won, including attractive government incentives of nearly 26 million won) have resulted in the MOST POPULAR EV in Korea in 2020.
The EV related stocks have been some of the best-performing ones in the Korean stock market this year. In this insight, we highlighted 17 EV related stocks in the Korean stock market. These 17 stocks are up on average 26.3% YTD, pouncing the KOSPI which is down 6% during the same period. 
Review of Top 10 Issues Related to Korean stock market, economy, & politics in May 2020
Big interest in SK Biopharm IPO
Announcements of IPOs of Krafton, Big Hit Entertainment, & Kakao Games
Fintech conference & major outperformance of fintech-related "big tech" stocks
Korean Air's 1 trillion won rights issue
"Korean New Deal" or "Green Digital New Deal"
Final Bi-Annual Rebalance Announced for KOSPI200, KOSDAQ150, & KRX300: KOSPI200 Changes
Underperformance of Samsung Electronics
COVID-19
Kim Jong-Un finally shows up publicly
Korean small-cap gem series (KG Inicis & Hancom)
You are currently reading Executive Summaries of Smartkarma Insights.
Want to read on? Explore our tailored Smartkarma Solutions.