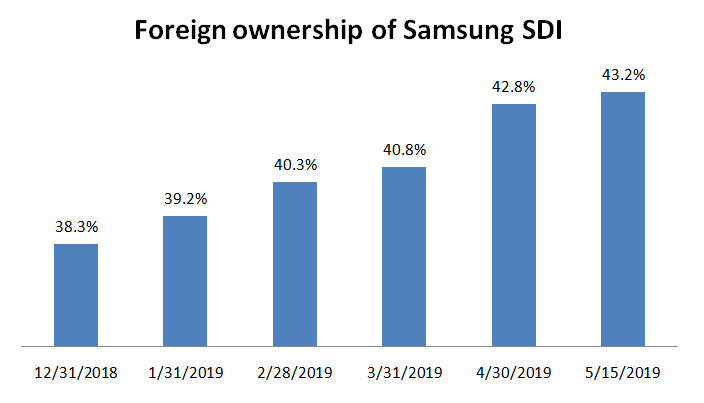 In this briefing:
---
There is an increasing probability of a major partnership between Tesla Motors (TSLA US) and Samsung Sdi (006400 KS) for a potential long-term contract to supply lithium ion batteries for EVs. Although such speculation has been brewing in the past six years, we believe this probability is increasing due to the following main reasons: 
More confrontational trade war between the US and China 
Elon Musk's public dispute with Panasonic
End of subsidies for EVs by the Chinese government & the potential for "several" suppliers of lithium ion cells by Tesla's Gigafactory in Shanghai

With the end of subsidies on the Chinese EV sector by the end of 2020, there will likely be a HUGE AMOUNT OF INDUSTRY CONSOLIDATION AND JOB LOSSES ON THE EV RELATED SUPPLY CHAIN IN CHINA IN LATE 2020 TO 2021.  
The Chinese government provided these subsidies for too long as well as to too many uncompetitive companies such as Optimum Nano who relied too much on generous subsidies, rather than trying to make a really competitive products. Time has come for even the Chinese government to say enough is enough on wasting too much money through subsidies on the EV sector and there is only about one and half years before the subsidies completely disappears. 
Once the competition is based on more equal footing (without any subsidies) in China, there is a good chance of leading Korean companies including Samsung SDI and LG Chem to start to increase their sales of lithium ion batteries sales in China starting 2021. 
This week in StubWorld …
Preceding my comments on Great Eagle and other stubs are the weekly setup/unwind tables for Asia-Pacific Holdcos.
These relationships trade with a minimum liquidity threshold of US$1mn on a 90-day moving average, and a % market capitalisation threshold – the $ value of the holding/opco held, over the parent's market capitalisation, expressed in percent – of at least 20%.
It was reported today in the local media that MBK Partners plans to sell Doosan Machine Tools (DMT), which is estimated to be valued about 2.5 trillion won to 3 trillion won. MBK owns a 100% stake in Doosan Machine Tools which specializes on manufacturing high precision machines and machine tools for various industries including auto, aerospace, telecom, and energy. 
In 2016, MBK purchased Doosan Machine Tools for 1.1 trillion won, including 0.43 trillion won in equity financing and 0.7 trillion won in debt financing. The timing of this sale of Doosan Machine Tools is interesting since this is happening at a time when it appears that MBK may also be very interested in acquiring NXC Corp. 
One of the key competitors of Doosan Machine Tools is Hyundai Wia (011210 KS). Despite the poor share price performance of Hyundai Wia in the past five years, its share price is up 20% YTD. With Doosan Machine Tools that is now up for sale, there may be a greater spotlight on Hyundai Wia as well.
Recently Intel, Samsung, SK Hynix, and Western Digital hosted their quarterly earnings calls.  This post compares the similarities and dissimilarities of those calls.  In brief, manufacturers are trying to make the best of what they hope to be a short-term oversupply, while history shows us that it is unlikely that the market will recover anytime soon.
Following the Q1'19 results season and the corresponding updates on companies' LNG projects we have taken the opportunity to update the outlook for LNG liquefaction plant final investment decisions. Despite a more challenging macro environment, with low LNG prices and the trade war between the US and China, we are actually more bullish on LNG project sanctions and expect well over 100mpta of projects to proceed this year, which is significantly above consensus. This continues to be positive for the LNG engineering and construction companies. (See A Huge Wave of New LNG Projects Coming in the Next 18 Months: Positive for The E&C Companies)
Get Straight to the Source on Smartkarma
Smartkarma supports the world's leading investors with high-quality, timely, and actionable Insights. Subscribe now for unlimited access, or request a demo below.