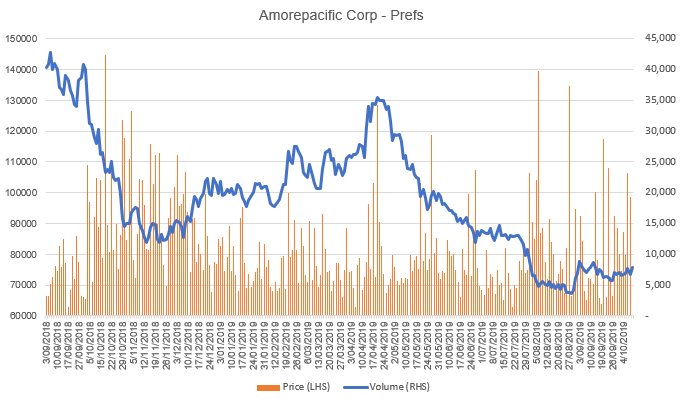 In this briefing:
---
Amorepacific Corp has two classes of stock: ordinary shares Amorepacific Corp (090430 KS) and the preferred shares Amorepacific Corp (Preferred) (090435 KS). Typically, these two classes trade within a band and there are opportunities to switch between the two when they reach either of the trading band.
Currently, the preferred shares are trading at the cheaper end of the trading band and are near the one year lows. We expect the preferred shares to outperform the ordinary shares in the near term by around 5% absolute.
Holdings/Sub are now at a +2.5σ on a 20D MA. Holdings discount relative to Sub (price ratio) is currently at a 120D high. Holdings announced a ₩200 pref issuance last night. Not only that, Holdings said that it would use the proceeds to buy Sub shares openly in the market. This will surely be enough to reverse the ongoing price diversion favoring Holdings. It's time for another arb here: short Holdings and long Sub. Liquidity on both names shouldn't be much of an issue here.
An hour after I published the previous piece Elliott Sends a 'Serious Letter' to UNIZO, Unizo Holdings (3258 JP) released a raft of documents.
As discussed in the previous insight, Elliott was going to find it difficult to get the answers to the questions they posed (the questions in the press release from yesterday can be found at http://elliottletters.com/) (note this website is not secure so fill out the enquiry fields and send your information at your own risk). 
More discussion below.
Get Straight to the Source on Smartkarma
Smartkarma supports the world's leading investors with high-quality, timely, and actionable Insights. Subscribe now for unlimited access, or request a demo below.