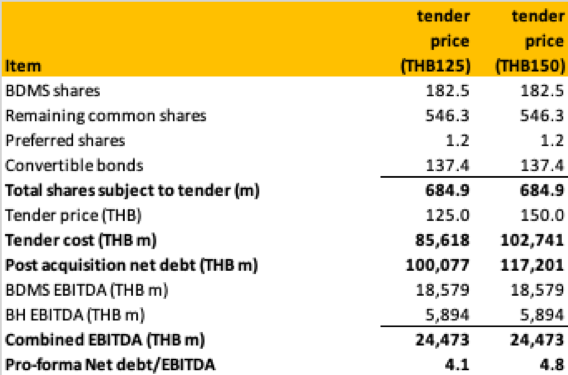 In this briefing:
---
Bumrungrad Hospital Pub Co (BH TB) is one of the leading healthcare providers in Thailand and the Southeast Asian region. On 26 February, BH received an unsolicited voluntary tender offer from Bangkok Dusit Med Service (BDMS TB), its largest shareholder. The tender offer is at THB125 cash per share or a higher price of not more than 20% of the offering price. The final tender price will be announced after the four conditions precedent is met or waived. 
Crucially, the launch of a tender offer at a modest premium is a sensible way to test if the further acquisition of shares would pass the scrutiny of the Thai merger control provisions, in our view. The tender offer is intended to shake out the marginal holder rather than have a broad-based appeal. Consequently barring a market rally, we don't think that BDMS has much incentive to materially increase its tender price from its opening gambit. 
Kosaido has been a "pet" of mine since the Bain-led MBO led to a Murakami activist opposition, a bumped then broken deal, and then a change in governance. 
That change in governance has been remarkable. After the failed MBO, the company switched out its management and its board and its shareholder returns policy. 
The company sold off its publishing business, quickly spent more on its main business, started getting leaner at its printing business, and then as discussed in Kosaido Governance Ever Better – Death Is a Growth Business last month, they did a GREAT thing for shareholders by announcing it would try to buy in minorities (mostly Buddhist temples and families related to the legacy businesses) in its funeral parlor business, then merge with it at the end of March 2020. 
Several days after my last insight, the company reported Q3 earnings which were "in line" with Revenues, OP, RP all down small year-on-year. Printing and Business Support revenues were down 3.4%yoy while funeral parlour revenues were up year-on-year.
The EGM of the funeral parlour business to approve that is on 7 March 2020.
But that's not the big news. The big news is in the reshuffling of ownership. This change in ownership has been fierce, with the initial flurry taking place last fall – discussed in Kosaido (7868): A Story Being Told, A Story Being Bought.
Since then, the widow has sold a chunk of shares, Murakami has now sold, and someone who was not on the register as of 6 weeks ago owns 19% of the company.
You are currently reading Executive Summaries of Smartkarma Insights.
Want to read on? Explore our tailored Smartkarma Solutions.