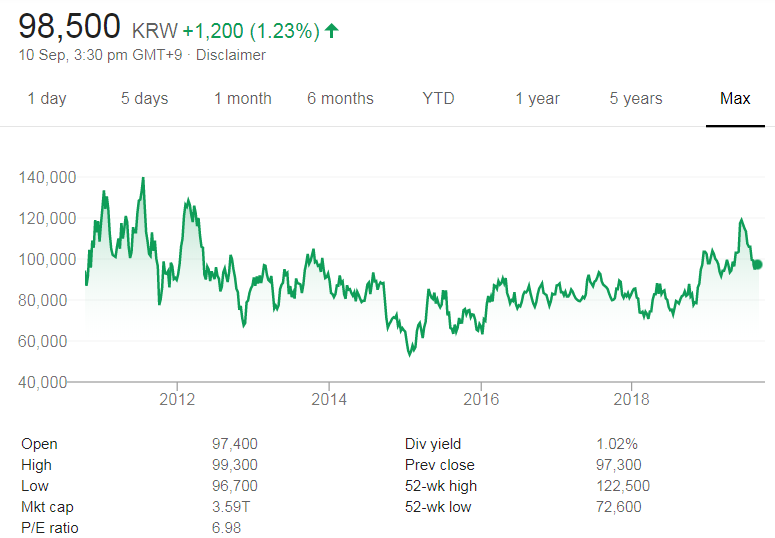 In this briefing:
---
It was announced on September 10th that Tongil Nanum, a non-profit foundation and the second-largest shareholder of Daelim Corp, is selling its 33% stake of Daelim Corp. The value of this 33% stake in Daelim Corp is estimated to be about 287 billion won ($240 million). Daelim Industrial (000210 KS) (market cap of 3.4 trillion won)'s largest shareholder is Daelim Corp with a 21.7% stake of the company. Daelim Corp acts as a quasi-holding company of the Daelim Group. 
Daelim Industrial's foreign ownership stake was as low as 30.7% on March 6th, 2018 when its stock price was 72,400 won. Since then, Daelim Industrial's share price is up 36% and foreign shareholders' stake in Daelim Industrial has risen to 51.1%. 
Many investors have some concerns about Daelim Industrial's new Chairman Lee Hae-Wook who is the eldest son of the Hononary Chairman of Daelim Group. Nearly three years have passed since the bad publicity of where Lee Hae-Wook replaced his personal drivers more than 40 times in six months. Although changing one's personal driver more than 40 times in a span of six months does not necessarily mean that he is a bad professional manager, this issue raised many eyebrows among the institutional investors who watch this company closely. 
We again came to prefs div season. Korea has a total 6 prefs that are included in the MSCI Korea index. All of them are >₩200bil MC prefs. They are:
In addition, we have 4 more >₩200bil MC prefs. They are:
Mirae Asset Daewoo 2PB (00680K)
S-Oil 1P (010955)
Doosan 1P (000155)
So, we have a total 10 >₩200bil MC prefs in Korea. In the DETAIL section, I include interim div-adjusted year-end div yield as well as 120D MA σ to common for each of these prefs.
* FY19 year-end div estimates are taken from FnGuide market consensus.
Get Straight to the Source on Smartkarma
Smartkarma supports the world's leading investors with high-quality, timely, and actionable Insights. Subscribe now for unlimited access, or request a demo below.