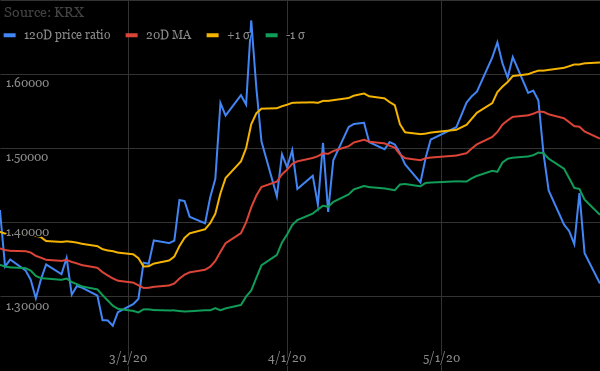 In this briefing:
---
Below are the 13 Korean single-sub stubs that I am closely monitoring regularly.
Which ones are at a severe divergence at this point? Kolma and Youngone are at around (or less) -2σ. BGF and Hankook Tech are also at a level that needs our attention.
The two leaders (Kolma and Youngone)? Their respective subsidiary accounts for 66.44% and 73.28% of the subsidiary holdings. And they are at a 56.47% and 64.68% discount to their NAV, which reaffirms that the time is ripe for stub trade.
Again, Kolma leads the wildest falling from the 2-yr mean from a relative price perspective. Youngone has managed to calm down relative to Kolma.
Back on the 6 March, remote power generator Zenith Energy Ltd (ZEN AU) announced an Offer, by way of a Scheme, from Elemental Infrastructure BidCo, a Pacific Equity Partners (PEP) entity, at $1.01/share in cash, a 45.3% premium to last close.  The Offer had been unanimously recommended by Zenith's board of directors, and valued Zenith's equity at ~A$150mn (US$98mn) and an enterprise value of ~$250mn.
On the 7 April, Zenith announced the Board intended to pay a A$0.13/share fully franked dividend, as part of the A$1.01 Scheme consideration. The special dividend was expected to be paid with an anticipated record date of the 25 June. I had earlier speculated a fully franked dividend of A$0.09/share, based on June 2019 franking credits.
On the 6 April, an initial substantial shareholder announcement (15.45%) was made by Apex Opportunities, an entity controlled by Infrastructure Specialist Asset Management, a trustee of Diversified Infrastructure Trust/Infrastructure Capital Group (ICG) and OPSEU Pension Plant Trust Fund (OPTrust). This stake was bumped to 17.61% on the 22 April.
On the 6 May, PEP noted Apex's holding, and that it would be challenging to implement the Scheme if Apex were to vote against the resolutions. So PEP reached out to Apex such that Apex's consortium members could take an equity position in the Elemental/PEP group holding structure. If an agreement could be reached, a revised proposal would be tabled.
And so it was on the 29 May, Zenith announced Apex had joined PEP/Elemental's proposed Scheme. There are no other material changes to the Scheme implementation deed announced on the 6 March.
This Offer looked good to go back in March. With the revised proposal largely preserving the Scheme consideration and attached conditions, this deal is geared to get up, with an indicative completion mid-August. 
As always, more below the fold.
Evergrande Real Estate Group (3333 HK) commenced buying back stock for the first time in two years on 4 May 2020. At the time, because of various options which had been exercised before their expiry (since the end of the buyback in 2018), they had the ability to buy a certain number of shares. The shareholder permission granting of a general mandate to the Directors to "repurchase Shares not exceeding 10% of the existing issued share capital of the Company at the date of passing this resolution."
But that wasn't the actual flexibility. The actual limit was closer to 208mm shares because of the Exchange rule limiting them to a float of 22.04% or more. As of Friday's close, that room to repurchase shares is now halved at 103mm shares. 
The first half took 17 trading days out of the 18 since they started buying back shares. The pace slowed a bit after the initial flurry of larger orders, but even if they average 5 million shares/day, they will reach their limit by end-June.  
The Stock Exchange of Thailand (SET) will announce the results of the semi-annual review of the SET50 index in June and the changes will be effective from 1 July 2020. Passive funds and index arb desks will need to trade at (or by) the close on 30 June 2020.
We expect TTW Pcl (TTW TB) and Banpu Power PCL (BPP TB) will be included in the SET50 index replacing Banpu Public (BANPU TB) and WHA Corp Pcl (WHA TB).
This Insight covers the SET50 index methodology, our expected changes and the impact, the recent stock performance, and suggested trades for this rebalance.
You are currently reading Executive Summaries of Smartkarma Insights.
Want to read on? Explore our tailored Smartkarma Solutions.