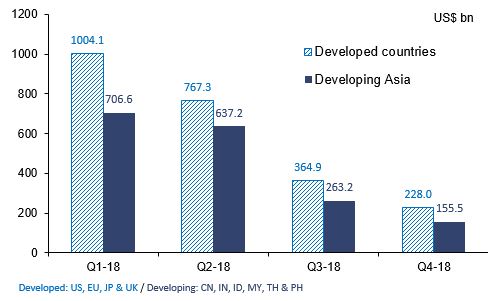 In this briefing:
---
What can the world expect from its second largest economy in the near term now that a 2020 recession signal has been sent in the US and the EU seems destined to slip back into a growth paralysis? The good news is that we should expect growth in China to accelerate.
Headline labour market data were broadly robust in Jul-19 as further upward revisions to wages were joined by a return to the unemployment rate's 3.8% low.
The recovery in GDP growth has not stoked employment, which has been steady at a subdued rate amid a normalising labour force level. Falling vacancies still show the risk of a rapid adverse adjustment if there is a no-deal Brexit, as I assume.
Latest RRR cuts are only tactical and do NOT signal strategic monetary ease
PBoC liquidity injections are the key monetary signal
Liquidity jumped from May through July but August flat and September weak
No indication yet that PBoC easing aggressively….but they will
Get Straight to the Source on Smartkarma
Smartkarma supports the world's leading investors with high-quality, timely, and actionable Insights. Subscribe now for unlimited access, or request a demo below.