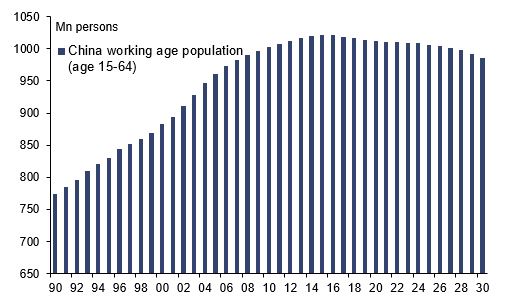 In this briefing:
---
In his Work Report to the National People's Congress held in March this year, Prime Minister Li Keqiang spent a lot of time focused on employment. Many commentators took this to confirm their view that the Chinese economy was in deep trouble. This wasn't the case.
The UK government intends to cut its standard (MFN) tariff schedule if it leaves the EU without a deal. Associated taxes on UK-EU27 trade would be broadly equal. Failure to legislate for this would cause tariff payments to triple.
The average effective tariff rate proposed on imports from the EU27 is half that likely to apply on exports. A 1.5% tariff on EU27 trade is worth about 0.2% on UK consumer prices, consistent with my baseline assumption for a no-deal Brexit.
The recent data flow out of Asia has been weak whether it be Chinese industrial output, fixed investment or retail sales, Hong Kong tourist arrivals, Japan's latest Tankan Survey, Asian October manufacturing PMIs or Korean October trade data. The Asian business cycle has not been derailed, however.  Fundamentals are supportive of the upswing continuing.  Asian corporates are underleveraged and cash rich.  Household balance sheets are healthy.  There are no glaring structural imbalances which would reduce the effectiveness of counter macroeconomic policy easing measures. Importantly unlike many of their counterparts in the developed world, Asian governments and central bankers have the scope to use the monetary and fiscal policy levers to stimulate their domestic economies. Read on.
The RBI cut its policy rate by just 25bp on Friday (October 4th), to 5.15%, bringing the total reduction this year to 135bp. We expect the policy rate to decline by a further 65bp (to 4.5%) by March 2020. While the government's radical corporate tax cut last month was precisely what was needed, the RBI's latest move is rather timid — especially given the economic deceleration, and the sharp improvement in India's twin deficits over the past couple of months. 
India's fiscal deficit has declined 6.33% YoY in the April-August 2019 period (the first five months of FY2019/20). Contrary to much public discourse, net tax revenue was up 10.5% YoY in Apr-Aug19, led by 13.2% YoY gains in personal income tax and GST revenues. But overall revenue receipts were up 29.8% YoY in Apr-Aug 2019. This healthy fiscal position (helped by the larger RBI dividend payment this year) emboldened the government to announce its radical reduction in corporate tax rates (see India: Reaganesque Tax Cuts Will Spur a Strong Economic Recovery ).   
The current account deficit declined to 2% of GDP in April-June 2019 (from 2.3% of GDP in the same quarter last year), primarily because of a small decline in the trade deficit and the burgeoning services-trade surplus. In July-August 2019, the customs trade deficit declined by 24.6% YoY, suggesting that the BoP current account deficit in July-September 2019 will be just over 1% of GDP (in the seasonally-weakest quarter for the current account). Reflecting the strong external balances, India's foreign exchange reserves rose to a record US$435 billion by 1st October, up by US$21.7 billion during 1H-FY2019/20. The shrinking twin deficits thus provide ample room for a more aggressive easing of monetary policy. We continue an investment-led acceleration of economic activity, with real GDP likely to grow 7% in the current quarter (Oct-Dec19) and 8% YoY in the Jan-Mar20 quarter, responding to the stimulus from a radical cut in tax rates (particularly for manufacturers) and the 135bp of policy rate cuts — which are finally being passed through to borrowers, and will be even more so once the public sector banks are recapitalised this month. We remain bullish on Indian equities. 
China News That Matters
Win my election! Trump seeks Beijing's help for Biden dirt
Missiles and much, much more
Impressive – but plenty of room to improve
Happy Birthday, PRC. How many more?
Hong Kong defies big brother
In my weekly digest China News That Matters, I will give you selected summaries, sourced from a variety of local Chinese-language and international news outlets, and highlight why I think the news is significant. These posts are meant to neither be bullish nor bearish, but help you separate the signal from the noise.
Get Straight to the Source on Smartkarma
Smartkarma supports the world's leading investors with high-quality, timely, and actionable Insights. Subscribe now for unlimited access, or request a demo below.