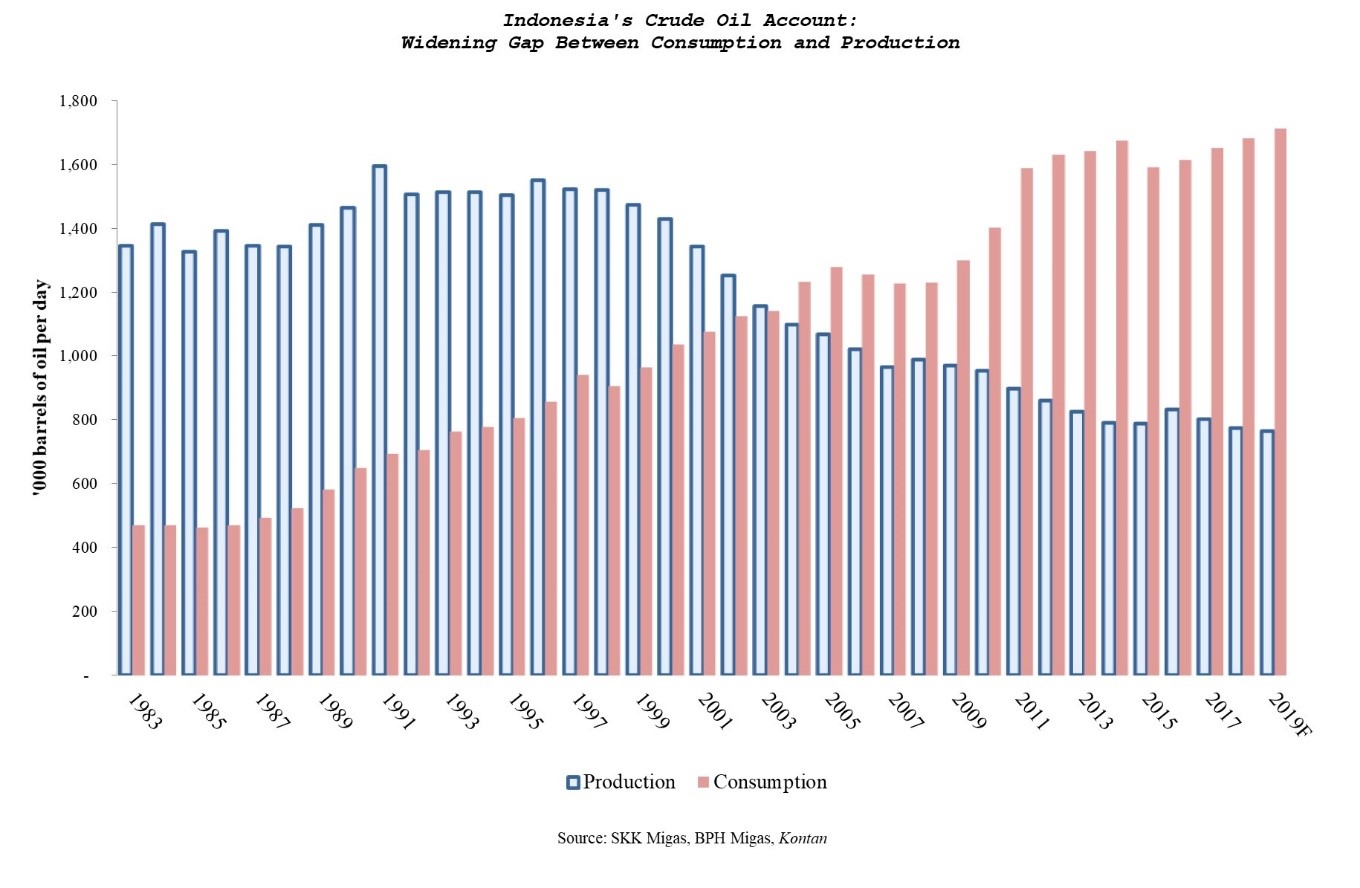 In this briefing:
---
Singapore's real GDP grew 0.1% YoY in 2Q 2019 (according to the advance estimate based mainly on April-May data), the weakest quarterly reading in a decade. At the seasonally-adjusted annualized rate (saar, the way the US reports its quarterly GDP), Singapore's GDP contracted 3.4%QoQ in 2Q 2019, essentially giving back almost all of the 3.8%QoQ expansion in 1Q 2019. That followed a slight expansion of 0.8% QoQ in 3Q 2018, and a contraction of -0.8%QoQ in 4Q 2018 — which essentially implied that Singapore's economy has stalled (recording average quarterly growth of 0.1%QoQ) for the past 1 year (4 quarters, from 3Q 2018 to 2Q 2019). 
As a trade-dependent economy, Singapore is the most direct victim of China's slumping domestic demand, which has caused China's imports to decline sharply since November 2018, severely weakening the global semiconductor/electronics sector — and dragging Asia's economies down with it. China reported that its imports were down 7.3% YoY in June 2019 (only marginally better than its record -8.5%YoY reading for May). This will imply that Singapore's exports (and NODX) remain extremely weak in June 2019 as well, thereby ensuring that the actual 2Q 2019 GDP print will not be much different from this weak advance estimate. Taiwan and Korea are likely to also succumb, albeit less so because of their willingness to deploy an earlier fiscal stimulus.   
Singapore has ample fiscal resources — including large, recurring investment income and land sale proceeds which Singapore does not even count as government revenue. With its cyclical manufacturing sector contracting for 3 consecutive quarters, it is already time for Singapore to announce a large fiscal stimulus — reduced employer contributions to CPF, removal of caps on the income and corporate tax rebates, and possibly even a temporary reduction in GST rate. However, the last is highly unlikely, and other measures are likely only after it is clear that the whole economy is in recession. Fiscal and monetary stimulus in October 2019 will be too late to prevent Singapore falling into recession, and the gloom is likely to worsen in the near-term. We recommend being Underweight Singapore.  
The Energy Minister finally enforced Mining Law stipulations on a coal mine with an expiring contract (CCOW), the small Tanito Harum — but this sets a precedent that augurs the eventual breakup of concessions that account for the bulk of the coal sector.  A presidential revision of the law next year seems likely, but mining investment will be subdued in the meantime.  The release of the Canadian educator Neil Bantleman, in a miscarriage of justice regarding supposed child sex abuse, mitigates damage from the six-year old saga.  Mitra Adiperkasa (MAPI IJ) owners Sjamsul and Itjih Nursalim may have won a reprieve when the KPK — for the first time in its 15 year history — lost a case in court related to their charges.  Widodo's rebuke of the ministers of energy and state enterprises signals potential changes in those sectors in an eventual reshuffle; but whether their replacements would improve matters is questionable.
Politics: President Joko Widodo issued clemency for Neil Bantleman, the Canadian educator convicted in a clear miscarriage of justice regarding supposed child‑sex abuse in 2016.  He is now in Ontario, but the teacher Ferdi Tijon and several cleaning staff remain in prison (Page 2).  Prabowo Subianto's party tied 'reconciliation' – sought by aides to Widodo – to the return of Islamic Defenders Front (FPI) leader Habib Rizieq from Mecca.  Presidential Chief of Staff Gen (ret) Moeldoko dismissed the possibility, noting that Rizieq's exile is self‑imposed.  Gerindra officials also want the release of several hundred rioters arrested in May.  In effect, Gerindra is openly requesting legal‑system interference for political aims.  This highlights the weak prospects for constructive opposition from Prabowo's party.  Widodo has shown no intention to help Rizieq, but risks exist that some sort of 'reconciliation' will involve impunity for the May rioting (p. 2).  The president pointedly admonished Energy Minister Ignasius Jonan and State Minister for State Enterprises Rini Soemarno for having allowed oil imports to increase (which occurred in 2018).  This may signal that the pair have lost favor and will exit the cabinet (p. 3).  Police generals are objects of scrutiny in a 170‑page report, due out soon, on the 2017 attack on corruption investigator Novel Bawesdan (p. 6).
Justice: For the first time since its founding 15 years ago, the Anti-Corruption Commission (KPK) lost a case in court – against former Bank Restructuring Agency (Ibra) head Syafruddin Temenggung, in a trial with implications for major business and political interests.  But KPK members have vowed to continue pursuing related suspects, the fugitive Gadjah Tunggal Group (GTG) owners Sjamsul and Itjih Nursalim (p. 8).  After a high school teacher in Mataram recorded her boss harassing her sexually over the phone, the boss filed charges against her for having electronically distributed lewd material (his own).  Supreme Court justices sentenced her to six months in prison (p. 9).  
Produced since 2003, the Reformasi Weekly Review provides timely, relevant and independent analysis on Indonesian political and policy news.  The writer is Kevin O'Rourke, author of the book Reformasi.  For subscription info please contact: <[email protected]>.
Policy News: The Energy Ministry shut down a mid‑sized coal producer, Barki's Tanito Harum, due to the expiry of its Coal Contract of Work (CCOW).  Without a revision of the 2009 Mining Law, the same may happen to Bakrie's giant Arutmin in November 2020.  CCOWs expiring through 2025 account for two‑thirds of Indonesia's coal production and the bulk of its fuel for power generation.  Adaro, Indika, Sinar Mas and Bumi are among those in limbo (p. 11).  A sorely needed Land Bill could potentially pass by September – but the Forestry Association (Aphi) is mounting stiff resistance (p. 13).  Car producers are anticipating a regulation on electric vehicles (p. 14).
UK monthly GDP rebounded by 0.3% m-o-m as car manufacturing normalised after its unusually concentrated maintenance cycle in April.
The 3m-o-3m rate of 0.3% exceeded all expectations as March was broadly revised up across the sectors. A stronger statistical carry-over effect lifts my 2Q19 GDP growth forecast by 0.1pp to 0.0% q-o-q and makes weakness appear more isolated.
The strength of the dollar and the US-China trade war have taken their toll on the world economy The erosion in global US dollar purchasing power is translating in weaker demand for Asian exports. The easing of US-China trade tensions following the G20 meeting is welcome. However, of equal importance is where the US dollar heads from here. The biggest risk here is that the ECB and the BoJ expand extraordinary monetary policy measures, and in doing so spark another round of competitive devaluation by non-US dollar areas and a further erosion in global US dollar purchasing power
China News That Matters
Talking again after Trump delays further tariffs
Despite reprieve, Huawei vows to end US dependence 
Take control – for a hefty premium
Robotaxis – hail one this year?
Violent protests challenge Beijing rule 
In my weekly digest China News That Matters, I will give you selected summaries, sourced from a variety of local Chinese-language and international news outlets, and highlight why I think the news is significant. These posts are meant to neither be bullish nor bearish, but help you separate the signal from the noise.
Get Straight to the Source on Smartkarma
Smartkarma supports the world's leading investors with high-quality, timely, and actionable Insights. Subscribe now for unlimited access, or request a demo below.