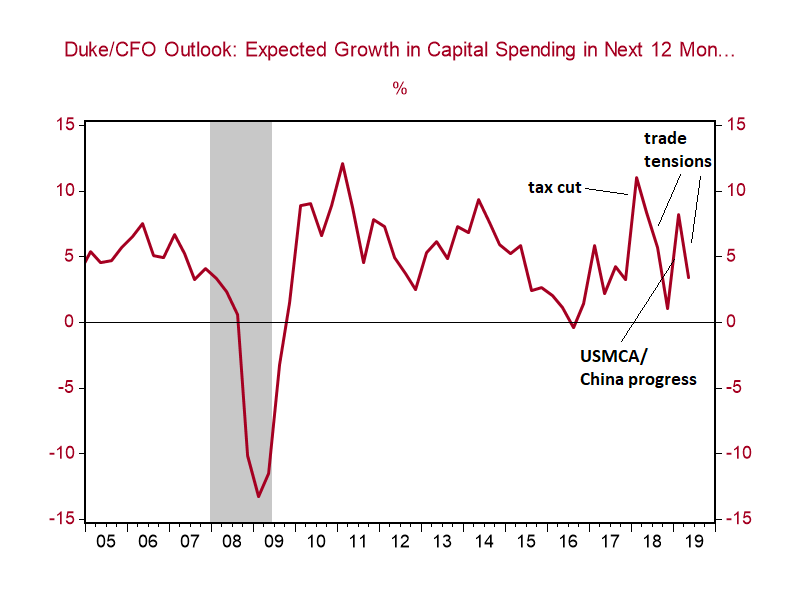 In this briefing:
---
The Trump Administration's announcement in late May of the imposition of tariffs on imported goods from Mexico represented another escalation of global trade tensions.  Tumultuous trade policy has been a feature of the economic outlook for over a year but central to our 2019 U.S. growth forecast was an expectation that trade-related uncertainties would eventually ease allowing for a pickup in business investment later in the year.  This outlook still looked reasonable to us last month but the message to Corporate America with the Mexico tariffs, coming after the deal of the USMCA, is that trade agreements do not permanently alleviate uncertainties about their input costs or supply chains.  With business uncertainty about trade now less likely to ease we need to reconsider our central forecast that business investment will strengthen substantially later this year.  Forecasting uncertainty seems higher than normal so in addition to a revised baseline outlook we summarize two alternative scenarios (and provide some highly-subjective probabilities for these scenarios).
Get Straight to the Source on Smartkarma
Smartkarma supports the world's leading investors with high-quality, timely, and actionable Insights. Subscribe now for unlimited access, or request a demo below.