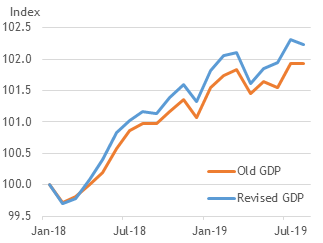 In this briefing:
---
UK GDP growth contracted 0.1% m-o-m in August, but this negativity was more than offset by upside revisions. The services sector has been strengthening despite the dismal surveys, which are biased.
I have raised my forecast for 3Q19 GDP growth by 0.1pp to 0.5% q-o-q, assuming Sep-19 growth of 0.1% m-o-m. A 0.8% m-o-m fall is needed for the BoE's recently cut forecast of 0.2% q-o-q to be met, which would be extreme and unlikely.
Markets are pricing in another 25 basis points reduction in the federal funds rate later this month due to rapidly weakening manufacturing activity last month according to the Institute for Supply Management (ISM), notably new export orders have surpassed their previous low reached during the Asian financial crisis. The current global slowdown is geographically more dispersed and, consequently, it is likely to have a greater impact on US manufacturing than President Trump's trade policies, at least for the time being.
Evidence of a stalling US expansion was captured last month by seemingly disappointing auto & light truck sales, although the timing of the Labour Day weekend significantly reduced the number of selling days in the month. Meanwhile, expansion in the service sector continues its deceleration which could have a detrimental impact on future S&P500 revenue growth.
The Employment Situation report for September indicated respectable labour demand as testified by a large decline in the unemployment rate to 3.5%, which also raises pressure on the Federal Open Market Committee (FOMC) to reduce its estimate of the natural rate. Meanwhile, the two insurance policy rate cuts engineered by the Fed with the unemployment rate below its natural rate raises the ante on the FOMC to further cut their estimated terminal level for the federal funds rate.
The lack of consistent support that central banks have received from fiscal policy to support aggregate demand since the financial crisis has put monetary policy conduct into a straight jacket, whereby normalisation becomes virtually impossible. Meanwhile, the FOMC has lowered its estimate of the terminal level of the federal funds rate since 2012 by nearly 2 percentage points, but they still do not fully subscribe to the secular stagnation thesis embraced by bond investors.
Further global monetary easing will be supportive for risky assets, but ultimately the magnitude of any rally will be affected by the behaviour of baseline valuations that investors are willing to embrace. US corporate profit expectations remain too sanguine for 2020 by assuming speedy resolution of trade-related uncertainties, an outcome that may not transpire.
In his Work Report to the National People's Congress held in March this year, Prime Minister Li Keqiang spent a lot of time focused on employment. Many commentators took this to confirm their view that the Chinese economy was in deep trouble. This wasn't the case.
The UK government intends to cut its standard (MFN) tariff schedule if it leaves the EU without a deal. Associated taxes on UK-EU27 trade would be broadly equal. Failure to legislate for this would cause tariff payments to triple.
The average effective tariff rate proposed on imports from the EU27 is half that likely to apply on exports. A 1.5% tariff on EU27 trade is worth about 0.2% on UK consumer prices, consistent with my baseline assumption for a no-deal Brexit.
The recent data flow out of Asia has been weak whether it be Chinese industrial output, fixed investment or retail sales, Hong Kong tourist arrivals, Japan's latest Tankan Survey, Asian October manufacturing PMIs or Korean October trade data. The Asian business cycle has not been derailed, however.  Fundamentals are supportive of the upswing continuing.  Asian corporates are underleveraged and cash rich.  Household balance sheets are healthy.  There are no glaring structural imbalances which would reduce the effectiveness of counter macroeconomic policy easing measures. Importantly unlike many of their counterparts in the developed world, Asian governments and central bankers have the scope to use the monetary and fiscal policy levers to stimulate their domestic economies. Read on.
Get Straight to the Source on Smartkarma
Smartkarma supports the world's leading investors with high-quality, timely, and actionable Insights. Subscribe now for unlimited access, or request a demo below.