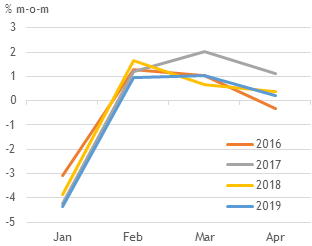 In this briefing:
---
UK inflation data were disappointingly stable, with the CPI at 1.9% and the RPI rate rounding down to 2.44% (index at 288.1).
Airfares and household energy prices are still set to spike inflation up in April by a potentially surprising degree.
The BoE's February forecasts were not disappointed by the latest outcome and should be revised up in May. My modal forecast remains for an Aug-19 rate hike.
The LFS unemployment rate remained at 3.9% in Feb-19 amid rapid growth in volumes despite Brexit uncertainty. The labour market's melt-up has stretched levels to unsustainable extremes aided by overly stimulative monetary conditions.
A soft wage impulse in Feb-19 could slow headline wage growth slightly, but there has been a bias towards upwards revisions recently. Hawkish pressure is building.
We expect interest rates will be declining by the end of the year. BoK Governor Lee Ju-yeol is running out of excuses not to ease monetary policy. Inflation is trending down and is below the central bank's 2% target. Household borrowing has been slowing for months while the Korean economy is rapidly losing growth momentum. Lower rates will bring little relief however. The outlook is dim. We reiterate our underweight call on Korean equities.
China News That Matters
Pork prices and positive predictions
Local muscle: enforcement offices in China and USA
EU & China make up, but tensions aplenty
You owe me
Easing up on China's apartheid divide
In my weekly digest China News That Matters, I will give you selected summaries, sourced from a variety of local Chinese-language and international news outlets, and highlight why I think the news is significant. These posts are meant to neither be bullish nor bearish, but help you separate the signal from the noise.
In Insight, Third Wheels of Profits and the Investment Cycle, we looked at the signal being sent by returns on equity in stock markets and explained the central role of the profit mechanism in economic growth and how it impacts the investment cycle. We also showed how the profit cycle can be thwarted with incorrect price signals sent by real lending rates. We explain how the two cycles are linked using Asian Return on Equity (ROE) and Gross Fixed Capital Formation and what we expect to find when they are co-ordinated with examples from three of the countries we monitor.
Get Straight to the Source on Smartkarma
Smartkarma supports the world's leading investors with high-quality, timely, and actionable Insights. Subscribe now for unlimited access, or request a demo below.