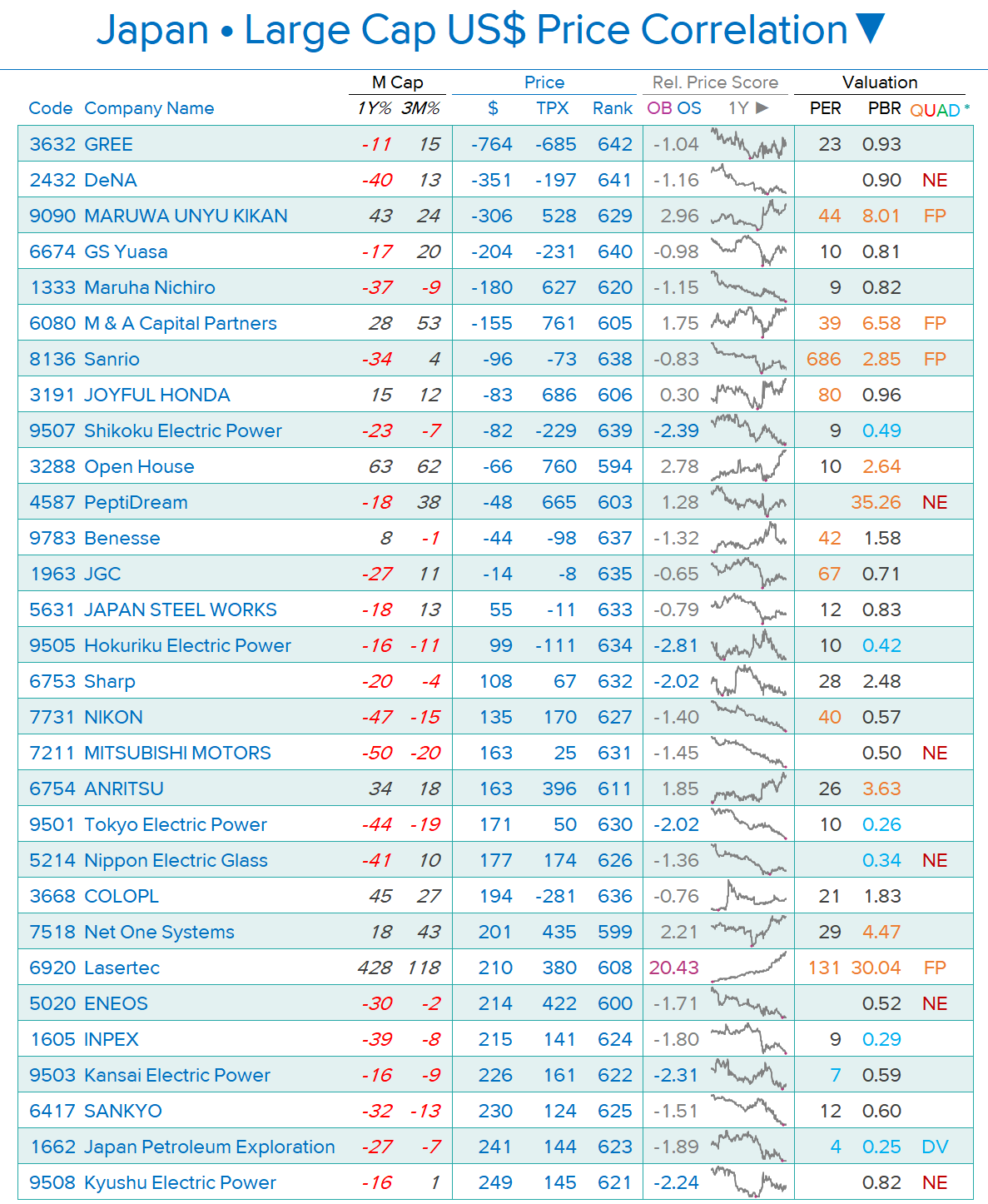 In this briefing:
---
WHAT CURRENCY RISK? – It seems rather old-fashioned to raise the topic of currency risk in relation to potential stressors on Japanese listed companies. Compared to the thirty-five years to 2015, the last five years have been a period of benign calm in the USD/JPY exchange rate, aided and abetted by the action of central banks to eliminate interest rates and the functioning of the bond markets. Most observers expect this currency stability regime to continue and COVID-19 has so far only seen one short 'blip' to ¥102.36 on 9th March.
¥ BELOW 100 –  If we isolate only the 1,484 days in the last forty years when Yen has traded above ¥100, the average TOPIX index is 975. The three Yen 'peaks' we have highlighted above in 1995, 2011, and 2016 proved excellent entry points. The subsequent trough-to-peak performance was 43%, 139%, and 60%, respectively. The COVID-19-induced trough-to-peak is, so far, just 31%.
KEY DRIVER – Nevertheless, for an increasingly-global Japan, the USDJPY exchange rate remains a key driver of earnings. With a lag of six months, the peaks and troughs of the USDJPY exchange rate have coincided with turning points in the earnings cycle as measured by our Results & Revision Score. The six-month lag suggests that ignoring the impact of COVID-19, the exchange rate is mildly supportive of earnings momentum for the balance of 2020.
---
• CORRELATION ANALYSIS •
CORRELATIONS – Our analysis of the currency risk of specific companies will be in two parts. The first and simplest is to examine the long-term positive and negative correlations of each listed larger-capitalisation company against the US dollar and Euro for the split-adjusted share price. This analysis will yield some surprising results, including the positive US Dollar correlation of Nippon Express (9062 JP), while Nikon (7731 JP) is negatively correlated. 
---
• THE FOREIGN CURRENCY TRANSLATION ADJUSTMENT •
FCTA – The second part is perhaps more abstruse, however but is a more accurate estimation of the actual currency risk embedded in the business model.  The Foreign Currency Translation Adjustment (FCTA) is part of Other Comprehensive Income and has been disclosed in Japanese GAAP-based balance sheets and income statements since 2001 and 2011, respectively to measure the extent of each company's global business and the embedded currency risk. The correlation of the aggregate FCTA for all non-financial companies is, as would be expected, reasonably tight. As these amounts are directly deducted from Net Assets for companies adopting JGAAP and from Shareholders' Equity for those companies reporting under SEC or IFRS standards, the impact on valuations cannot be ignored. For example, the decline in the US dollar from ¥123 to ¥101 in 2016 resulted in a six-quarter ¥53 trillion negative FCTA adjustment, 65% of the gap between Net Income and CITC over that period.
CITC & NET INCOME – Comprehensive Income adds a series of adjustments to Net Income to reflect as-yet-unrealised changes from currency translations, securities valuation differences, pensions, and deferred hedges. These adjustments are subsequently 'recycled' as and when realisations occur. In aggregate over the last seven years, Comprehensive Income has exceeded Net Income by a cumulative ¥56 trillion or 7%. However, as Comprehensive Income is inherently a more volatile data series, it is eschewed or overlooked by most analysts despite the direct impact on Shareholders' Equity. Nevertheless, Comprehensive Income illustrates that, as a result of increased globalisation and investments in marketable securities, the underlying earnings of Japanese corporates have become riskier than is implied by Net Income. In 2017, the FCTA resulted in an aggregate loss for Comprehensive Income to Common (CITC) and a corresponding decline in Shareholders' Equity for non-financial Japanese companies.  In the last two reported quarters, the 'gap' between Net Income and CITC has begun to widen again as both Valuation Differences and the FCTA have turned negative.
FCTA BY SECTOR – Two-thirds of the total absolute FCTA over the last seven years comes from seven Sectors – Autos, Wholesale, Electrical Equipment, Technology Hardware, Machinery, Other Consumer Products and Telecommunications (Softbank Group). The least-exposed Sectors are Services, IT & Internet, Multi-Industry and Restaurants.
---
In the DETAIL section below, we shall look at the Accumulated Balance Sheet Foreign Currency Adjustments where Eisai Co Ltd (4523 JP) and Dic Corp (4631 JP) have the most significant amounts of positive and negative Accumulated FCTA's relative to Equity, respectively.
Macro Insights
In Singapore's Twin Surpluses: How Much Is Too Much?, CrossASEAN's Cheif Economist Prasenjit K. Basu comments on Singapore's standout current account and fiscal surpluses. 
Equity Bottom-Up Insights
In BCA – Most ROA to Claw Back, banking specialist Daniel Tabbush revisits Indonesia's leading private bank and assesses the impact of COVID-19 so far with a focus on Bank Central Asia (BBCA IJ) versus its local and regional peers. 
In Company Visits: KTC, Taokaenoi (Treading Water),Athaporn Arayasantiparb, CFA provides feedback from recent company visits to Krungthai Card (KTC TB) and Taokaenoi Food & Marketing (TKN TB).
In EPG: One of the Most Solid Polymer Convertor in the Downstream Sector, our friends at Country Group zero in on Eastern Polymer Group (EPG TB).
In DOHOME: Fastest Growing Home-Improvement Player in Thailand,Country Group initiate coverage on Dohome PCL (DOHOME TB) with a HOLD rating based on a target price of Bt12.5. 
In RBF: Recent Jump in Share Price Leads to OvervaluationDr Andrew Stotz, CFA initiates coverage on RBF with a SELL recommendation based on a target price of Bt8.70, implying a downside of 13% from the current price. 
In Valuation Is Approaching an Expensive Zone our friends at Country Group downgrade Com7 PCL (COM7 TB) to a HOLD rating after rolling over 2021E target price to Bt29.30.
In TFG: Weak 2Q20E but Strong Outlook in Medium to Long Term,Country Group maintain a BUY rating on Thai Foods Group Public Company (TFG TB) with a new 2021E target price at Bt5.95.
Sector and Thematic Insights
First, here is an overview of ME2ZEN's second IPO attempt.
It plans to offer 3.2M shares (52% primary and 48% secondary). The total offering represents 28.74% of the total shares at a 14.94% capital increase rate.
Mirae is working as a sole banker with a firm commitment.
The indicative price band is at ₩21,000~27,000, which gives an implied market cap of ₩289.9~372.7bil.
July 30~31 will be for book-building, followed by the allotment on August 4. The following day will be a subscription. The payment date is August 7.
Once again, the float will be tight on this one. A total of 72.48% shares will be in a lock-up for one month to three years. Of those, 65.26% is for more than six months.
The Civil Aviation Administration of China (CAAC) announced that the overall loss of the aviation industry was Rmb34.3bn in 2Q20, a reduction of Rmb3.8bn, or 10.1%, QoQ. Since the record loss of Rmb24.6bn for the industry in Feb, the monthly loss has reduced for every consecutive month.  For Jun, the loss was Rmb7.6bn, a reduction of Rmb3.8bn or 33.3%, MoM. We take the loss reduction positively as this indicated the continued recovery of the airlines industry – losses for airlines have trimmed by Rmb1.5bn MoM in Jun. 
Our key takeaways are: 1.) the continued MoM trimming of loss is encouraging, and with the peak seasons in Jul and Aug, we believe financial performance will further improve; 2.) the COVID-19 cases related to the Xinfadi Agricultural Trading Market in Beijing since 11-Jun have limited impact on the traffic and profitability nationally; 3.) solid freighter traffic will stay as a partial mitigation to lower passenger traffic in the near term. We uphold our preference for China Southern Airlines (1055 HK) among the Chinese airlines due to its domestic exposure and for Shanghai International Airport Co, Ltd. (600009 CH) among the Chinese airports, partly due to its good exposure to cargo traffic.  
The average of Rmb64m daily duty free sales in Hainan Island for 1-7 Jul, as released by the China Customs, is 72% higher than the daily sales of the Hainan outlets of China Tourism Group Duty Free Corp Ltd (601888 CH) (CTGDF) in FY19. In our view, this is a positive reflection of the outlook of the company's duty free business as driven by the favourable duty free policy put into effect on 1 Jul. The increase in the number of categories of high-valued duty free items will also have positive impact to CTGDF's margin going forward.
Our forecasts suggested that CTGDF's core EPS will reach a CAGR of 26% between FY19 and FY22. We believe that such projections, as based on the 1-7 Jul figures, are likely to be conservative as during such period: 1.) visitors from Beijing are still significantly affected by travel restriction due to the capital's COVID-19 cases; 2.) most schools have not yet started the summer vacation; and 3.) the average spending of ~Rmb10,000 is still far from the new quota of Rmb100,000 annually.
You are currently reading Executive Summaries of Smartkarma Insights.
Want to read on? Explore our tailored Smartkarma Solutions.