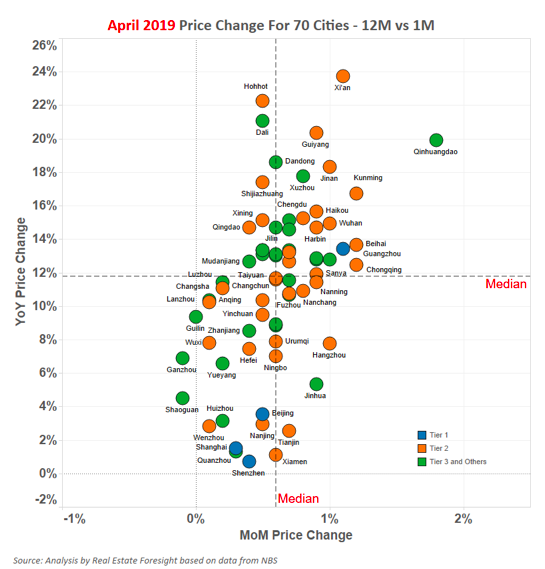 In this briefing:
---
A commentary on the latest official data on China housing markets from the National Bureau of Statistics (NBS) released today and yesterday. Price growth accelerated marginally year-on-year, with a stable growth month-on-month. New home sales (in gross floor area) growth picked up. Land sales (land acquisitions by developers) stayed negative year-to-date year-on-year after the big drop in recent months.
SPX bounce from 2,800 support targeted 2,850-60 which has been met with overhead pivot resistance that is critical to the immediate bias.
Our cycle work implies we could see a choppy rising wedge form into late May with a more negative cycle due in June. We outline trade levels on the short and long side into late May.
NDX 7,730 pivot support break will now act as macro resistance and a clear rejection level with a fade target well below this inflection point. This break shaped global risk as well as joined the underperform camp with transports, DJI, banks, small caps and the SOX (a bigger negative for breadth).
Grappling with the Indian economy is akin to solving a puzzle of gargantuan proportions, like three blind men describing an elephant each with limited information. The task of the analyst is complicated further by the role of non-tangible factors such as trust in various aspects of the economy. What can the analyst have faith in? The numbers? The market? The banks? The government? These are not questions unusual in emerging economies but India's size and complexity make it a particularly difficult conundrum and the lack of trust in India's data sets alarm bells ringing.
Recruit Holdings (6098 JP) (Recruit) reported its full-year financial results for FY03/19 on Tuesday (14th May 2019). The company reported revenue of ¥2,311bn (+6.3% YoY) and EBITDA of ¥293bn (+13.5% YoY) for FY03/19. Both revenue and EBITDA were broadly on par with consensus and our estimates.
Recruit's revenue growth declined to 6.3% YoY in FY03/19 from 11.3% YoY in FY03/18. This was mostly due to the slowdown in overseas staffing activity owing to current political and economic headwinds in the global market. However, domestic recruitment activity continued to remain strong during the year. Recruit's revenue exposure to overseas labour markets was around 48% of consolidated revenue (in FY03/19), while its exposure to the domestic labour market was around 36% of consolidated revenue.
We expect Recruit's consolidated revenue to increase 6.8% YoY to reach ¥2,468bn in FY03/20E, underpinned by the acceleration of domestic recruitment activity despite the slowdown in overseas labour markets. Our consolidated EBITDA estimate for FY03/20E is ¥319bn, which is at around the mid-point of the guidance range of ¥310-330bn.
At a FY1 (FY03/20E) EV/EBITDA multiple of 16.1x, Recruit looks expensive to us compared to both its employment and internet advertising business peers. Persol Holdings (2181 JP), the second largest staffing company in Japan after Recruit, is trading at a FY1 EV/EBITDA of 7.4x. Yahoo Japan (4689 JP), which earns around 70% of its EBITDA from advertising related businesses, is trading at a FY1 EV/EBITDA of 6.5x.
Tencent Holdings (700 HK) released its 1Q19 results after market close which beat or missed consensus depending on your chosen financial metric. We have previously outlined our Tencent bear case in Tencent Bear Case: The Growth Illusion (Part 1) and Tencent Bear Case: An Over-Played Hand (Part 2).
While the results offer support for the bulls (largely unanimous buy recommendation from sell-side analysts), we believe that the results offer reasonable ammunition to support the bear thesis.
Get Straight to the Source on Smartkarma
Smartkarma supports the world's leading investors with high-quality, timely, and actionable Insights. Subscribe now for unlimited access, or request a demo below.