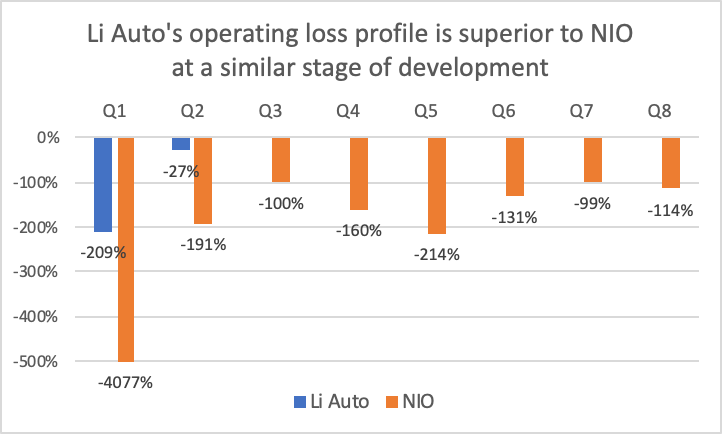 In this briefing:
---
Lixiang Automotive (LIX CH)/Li Auto is the first company to successfully commercialise EREVs (extended-range electric vehicle) in China, the Li ONE. Li ONE is a six-seat, large premium electric SUV which began volume production and deliveries in November 2019 and December 2019, respectively. Li Auto is backed by Meituan Dianping (3690 HK) which owns 14.5% of ordinary shares (5.8% of voting power). It is seeking to raise $500 million through a Nasdaq IPO, according to press reports. 
The IPO seems to be timed to take advantage of the surging share prices of NEV (new energy passenger vehicles) manufacturers such as Tesla Motors (TSLA US) and NIO Inc (NIO US). However, NIO's wild share price swings suggest that investing in the China NEV sector requires nerves of steel. On balance, for investors seeking exposure to the China NEV sector, Li Auto's fundamentals are attractive, in our view.
In June, the government's rebate scheme that simultaneously aimed to reduce the burden of its October 2019 tax increase while also promoting cashless payments, came to an end. But there's more to come.
The initial scheme will be replaced in September by an entirely new one, this time to promote the My Number citizen registration system alongside, again, cashless payments.
The new scheme requires consumers to choose one provider only. This will push payment providers to compete with ever more ferocity and, by this time next year, we are likely to see just one or two winners and a whole bunch of losers.
AyalaLand Reit (AREIT) (AREIT PM), a subsidiary of Ayala Land Inc (ALI PM), aims to raise up to US$270 in its Philippines listing.
AREIT will be the first REIT listing for the Philippines. It will have an initial portfolio of three commercial buildings located in Metro Manila, Philippines. In addition, it will use the proceeds from the IPO to buy another asset from the sponsor, taking its total asset count to four. Its assets are relatively new, with long term leases and step-up rental escalation, which should provide stability to rentals. 
However, there are some peculiarities with the offering starting from the lack of provision of financial operational data for most of the assets.
Retail sales slumped again in May, but only because people are not buying clothes, visiting department stores and shopping centres, or buying their lunches at convenience stores.
Although this led to another major drop in total sales, several sectors did very well and in June there was a surge in spending at some speciality chains and a return to some semblance of normality for many.
WHAT CURRENCY RISK? – It seems rather old-fashioned to raise the topic of currency risk in relation to potential stressors on Japanese listed companies. Compared to the thirty-five years to 2015, the last five years have been a period of benign calm in the USD/JPY exchange rate, aided and abetted by the action of central banks to eliminate interest rates and the functioning of the bond markets. Most observers expect this currency stability regime to continue and COVID-19 has so far only seen one short 'blip' to ¥102.36 on 9th March.
¥ BELOW 100 –  If we isolate only the 1,484 days in the last forty years when Yen has traded above ¥100, the average TOPIX index is 975. The three Yen 'peaks' we have highlighted above in 1995, 2011, and 2016 proved excellent entry points. The subsequent trough-to-peak performance was 43%, 139%, and 60%, respectively. The COVID-19-induced trough-to-peak is, so far, just 31%.
KEY DRIVER – Nevertheless, for an increasingly-global Japan, the USDJPY exchange rate remains a key driver of earnings. With a lag of six months, the peaks and troughs of the USDJPY exchange rate have coincided with turning points in the earnings cycle as measured by our Results & Revision Score. The six-month lag suggests that ignoring the impact of COVID-19, the exchange rate is mildly supportive of earnings momentum for the balance of 2020.
---
• CORRELATION ANALYSIS •
CORRELATIONS – Our analysis of the currency risk of specific companies will be in two parts. The first and simplest is to examine the long-term positive and negative correlations of each listed larger-capitalisation company against the US dollar and Euro for the split-adjusted share price. This analysis will yield some surprising results, including the positive US Dollar correlation of Nippon Express (9062 JP), while Nikon (7731 JP) is negatively correlated. 
---
• THE FOREIGN CURRENCY TRANSLATION ADJUSTMENT •
FCTA – The second part is perhaps more abstruse, however but is a more accurate estimation of the actual currency risk embedded in the business model.  The Foreign Currency Translation Adjustment (FCTA) is part of Other Comprehensive Income and has been disclosed in Japanese GAAP-based balance sheets and income statements since 2001 and 2011, respectively to measure the extent of each company's global business and the embedded currency risk. The correlation of the aggregate FCTA for all non-financial companies is, as would be expected, reasonably tight. As these amounts are directly deducted from Net Assets for companies adopting JGAAP and from Shareholders' Equity for those companies reporting under SEC or IFRS standards, the impact on valuations cannot be ignored. For example, the decline in the US dollar from ¥123 to ¥101 in 2016 resulted in a six-quarter ¥53 trillion negative FCTA adjustment, 65% of the gap between Net Income and CITC over that period.
CITC & NET INCOME – Comprehensive Income adds a series of adjustments to Net Income to reflect as-yet-unrealised changes from currency translations, securities valuation differences, pensions, and deferred hedges. These adjustments are subsequently 'recycled' as and when realisations occur. In aggregate over the last seven years, Comprehensive Income has exceeded Net Income by a cumulative ¥56 trillion or 7%. However, as Comprehensive Income is inherently a more volatile data series, it is eschewed or overlooked by most analysts despite the direct impact on Shareholders' Equity. Nevertheless, Comprehensive Income illustrates that, as a result of increased globalisation and investments in marketable securities, the underlying earnings of Japanese corporates have become riskier than is implied by Net Income. In 2017, the FCTA resulted in an aggregate loss for Comprehensive Income to Common (CITC) and a corresponding decline in Shareholders' Equity for non-financial Japanese companies.  In the last two reported quarters, the 'gap' between Net Income and CITC has begun to widen again as both Valuation Differences and the FCTA have turned negative.
FCTA BY SECTOR – Two-thirds of the total absolute FCTA over the last seven years comes from seven Sectors – Autos, Wholesale, Electrical Equipment, Technology Hardware, Machinery, Other Consumer Products and Telecommunications (Softbank Group). The least-exposed Sectors are Services, IT & Internet, Multi-Industry and Restaurants.
---
In the DETAIL section below, we shall look at the Accumulated Balance Sheet Foreign Currency Adjustments where Eisai Co Ltd (4523 JP) and Dic Corp (4631 JP) have the most significant amounts of positive and negative Accumulated FCTA's relative to Equity, respectively.
This Part 6 concludes our Stress Test series. However, forthcoming Insights will look at the Valuation Differences component of Other Comprehensive Income and those companies with the most substantial CITC/Net Income 'gaps'.
You are currently reading Executive Summaries of Smartkarma Insights.
Want to read on? Explore our tailored Smartkarma Solutions.