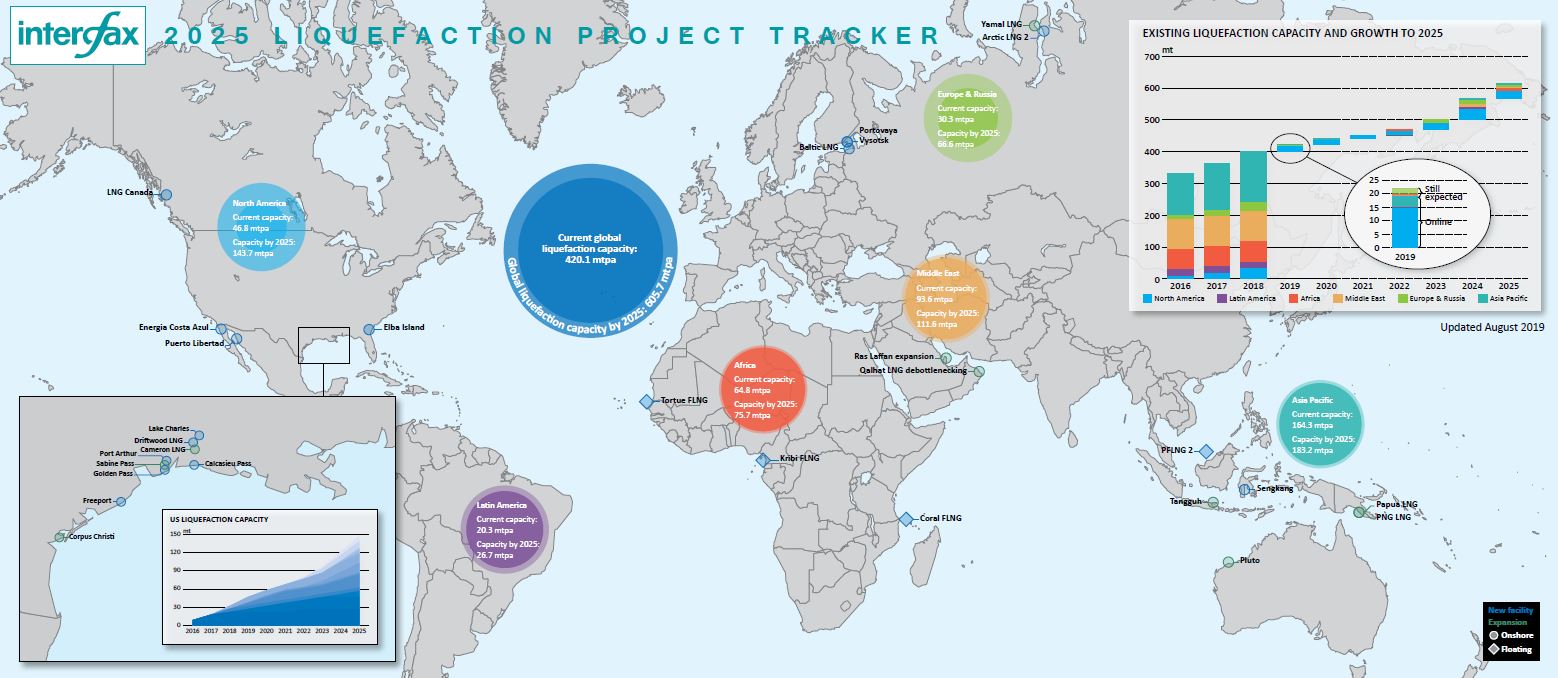 In this briefing:
---
The volume of projects that have taken final investment decision this year has already exceeded most consultants forecasts from the beginning of 2019 and we are not done yet. AKap Energy remains confident that >100 million tons per annum (mtpa) worth of new projects will go ahead in 2019. To put this in context 2018 global supply was ~320mtpa. So far this year >60mtpa of new projects have been sanctioned with associated capex of >US$50bn. Most recently the 20mpta Arctic LNG 2 project was sanctioned by Novatek PJSC (NVTK LI) and in the US the 10mpta Calcasieu Pass project completed financing. We think it is highly likely that further projects get fully sanctioned by year-end, most notably Qatar's 32mtpa project and a 2nd mega project in Mozambique (see Economic Analysis of Mozambique's LNG Projects: Huge Potential but Financing Risks Remain).
A hot topic on blue checkmark Twitter is food prices in China. However, a lot of what we have seen getting relayed is very anecdotal. To that end we are digging into some of the protein pricing data we can find and putting them into our standard graphs. This is food sector data we have not presented before, so let us know if you want to see more of this type of data crunching. This is will also be a two-part piece, proteins today, followed by fruit, vegetables, and grain tomorrow.
It is way too early to be judging the state of the 2020 presidential race, with nearly 5 months still to go before the first real contest of the long marathon — the Iowa caucuses on 3rd February 2020. But the polls show it is now a 4-horse race for the Democratic nomination — Biden, Warren, Sanders, Harris — with Elizabeth Warren the leading "socialist-wing" challenger to the centrist Biden, but with Sanders nipping at her heels. Despite Biden's feeble performance in the first debate, he leads all the polls — by a wide margin in 4, and tied with Warren in 1 — but even the Fox News poll last month (16th August) showed all four leading Democrats handily beating Trump, and this even while the economy is robust (and any recession remains unlikely before 3Q 2020). 
After her strong performance in the first debate — when she successfully ambushed Biden on the issue of race — Kamala Harris herself was ambushed by Tulsi Gabbard  in the second debate, and didn't quite hold her own. The big winner of the second debate was Warren, while Biden was seen to have performed much better –although not "winning" his debate (which featured Booker and Harris flanking him, while Sanders and Warren debated the previous night). While the first two debates occurred over 2 nights (with 10 candidates each), the third debate (on 12th September) will feature just 10 candidates on one night: the top 4, alongside Mayor Pete Buttegieg (who is fifth in most polls), Cory Booker, Julian Castro, Amy Klobuchar, Beto O'Rourke and Andrew Yang.  
With the US economy likely to be in recession by September 2020 (see Recession Watch: Fluctuating Trade War on the Verge of Tripping up the World Economy ), Trump is vulnerable. The Democrats won the mid-term Congressional election by a record 8 percentage points — overcoming the hurdles of gerrymandering. Despite all this, a 77-year-old socialist, or a left-wing Senator (i.e., Sanders and Warren respectively) would face severe electoral challenges in the face of a general election, especially given the unpopular consequences of their "Medicare for All" proposal. Apart from Biden, the only other clear centrist (i.e., moderately liberal) candidates are Pete Buttigieg and Amy Klobuchar, with Kamala Harris relatively centrist. If any of these four is the Democratic nominee in a recession year, Trump will be toast. The debates matter, but for now will increase uncertainty and hence are likely to be a negative for the market — especially if Warren and Sanders do well in the third debate, and continue to gain in the polls. 
Seven & I sent in a team of senior executives to sort out Sogo Seibu three years ago resulting in recommendations that included handing off the Kansai stores and converting others to shopping centres.
The resulting restructuring is in progress, with more stores closed than any other department store chain.  Next month will also see the formal renaming of Sogo Kobe and Seibu Takatsuki as Hankyu stores. The move gives H2O Retailing (8242 JP), which owns the department stores of Hankyu Hanshin Holdings (9042 JP) the opportunity to further consolidate its position as the preeminent retailer in the Kansai region.
Seven & I meanwhile will now focus on extracting more sales and profit from some of the remaining 15 stores but is likely to want to convert or close more stores in the near future. Already, it has decided to convert its large Seibu Tokorozawa store into a shopping centre later this year. The net result will be a much smaller chain of department stores that Seven & I could well be packaging up to sell to a competitor or offload through an MBO. This could lead to an improvement in OPM.
As the major averages break topside their respective 50-day M.A.s – a positive in its own right – we are encouraged by the shift away from growth & defensives toward the down-and-out laggards in the value arena. It is too early to tell for certain if these are anything more than short-term countertrend moves, but for now the moves we are seeing give us reason for optimism — something that was running very low just one week ago. In today's report we highlight attractive Groups and stocks within Consumer Discretionary, Manufacturing, and Transportation: Homebuilding, Small-Cap, Auto Parts, Large-Cap, Trucking, Large-Cap, and Trucking, Small-Cap.
Get Straight to the Source on Smartkarma
Smartkarma supports the world's leading investors with high-quality, timely, and actionable Insights. Subscribe now for unlimited access, or request a demo below.