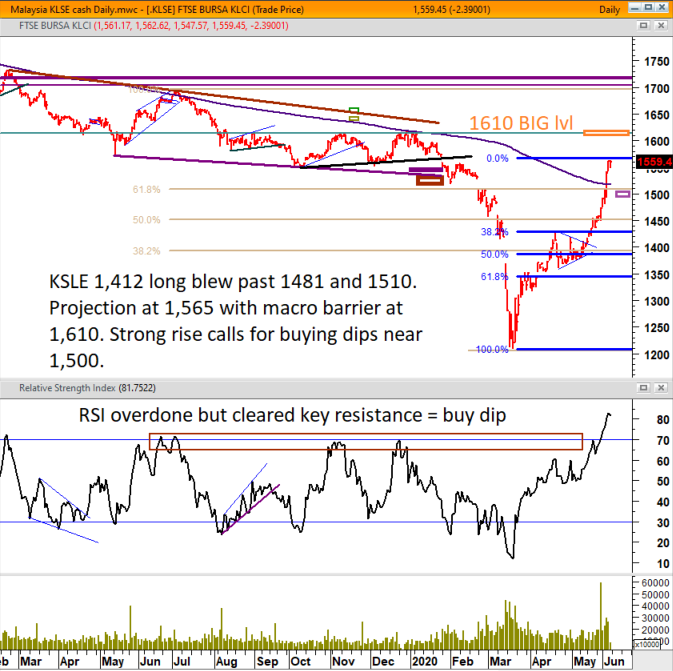 In this briefing:
---
Kuala Lumpur Composite Index (Klci) (FBMKLCI INDEX) has soared on a position squeeze after breaking the bull triangle at 1,712 and blew past our recent target of 1,510 with immediate projection at 1,565 where a stall is expected.
Pullback support at 1,510 will act as our fresh long level.
RSI clearing major resistance does bode well for a dip and rally to re test bigger resistance at 1,610 and a level we would shift to a short stance after mid-June. 
An external key risk pivot remains focused on the SPX immediate bull/bear trendline at 3,125.
Malaysia led Singapore's upside break above 2,560 outlined in Singapore STI Laggard Play .
Guangzhou Baiyun International Airport (600004 CH) reported a 38.8% and 58.2% YoY drop in aircraft movement and passenger throughput in May, respectively. These figures represented solid improvements when compared with 53.6% and 71.7% drop recorded for Apr. Strong domestic demand is the key behind the improvement, but we see a pickup in international aircraft movements after CAAC's decision to allow more foreign airlines flying to China. The gradual recovery in international traffic will also bring non-aeronautical revenue like F&B, duty-free sales etc to GBIA.
In the first eight days of Jun, GBIA's anchor airline China Southern Airlines (1055 HK) has doubled its scheduled flight MoM, and this is expected to kick-start another good month for GBIA in Jun and bode well for other Chinese airports. We continue to like the Chinese airport companies and Shanghai International Airport Co, Ltd. (600009 CH) (SIAC) is another major beneficiary of international traffic recovery. 
China News That Matters
Beijing relies on Western-style monetary policy
Wuhan declared free of coronavirus 
Don't diss the anthem; or remember June Fourth
China goads US over protests
If paradise is half as nice
In my weekly digest China News That Matters, I will give you selected summaries, sourced from a variety of local Chinese-language and international news outlets, and highlight why I think the news is significant. These posts are meant to neither be bullish nor bearish, but help you separate the signal from the noise.
Hot on the heels of NetEase Inc (NTES US), JD.com Inc (ADR) (JD US) has launched a $4.3 billion secondary listing in Hong Kong. JD.com plans to sell 133 million new shares in the secondary listing, which would represent 4.3% of the total shares outstanding, according to press reports. JD.com is set to list in Hong Kong on 18 June, the same day as its annual shopping bonanza.
Like Alibaba Group (9988 HK), Hong Kong will be a meaningful trading venue for JD.com. Notably, Alibaba's HK freefloat shares as a percentage of HK-registered shares have risen at an increasing pace and currently stands at 36.9% (vs 11.1% at listing). JD.com will likely price its H-shares at a discount to its ADSs to entice investors to participate in the secondary listing. Overall, we think that JD.com pricing its H-shares at a 2.0% to 3.0% discount to its ADSs will be reasonable.
You are currently reading Executive Summaries of Smartkarma Insights.
Want to read on? Explore our tailored Smartkarma Solutions.