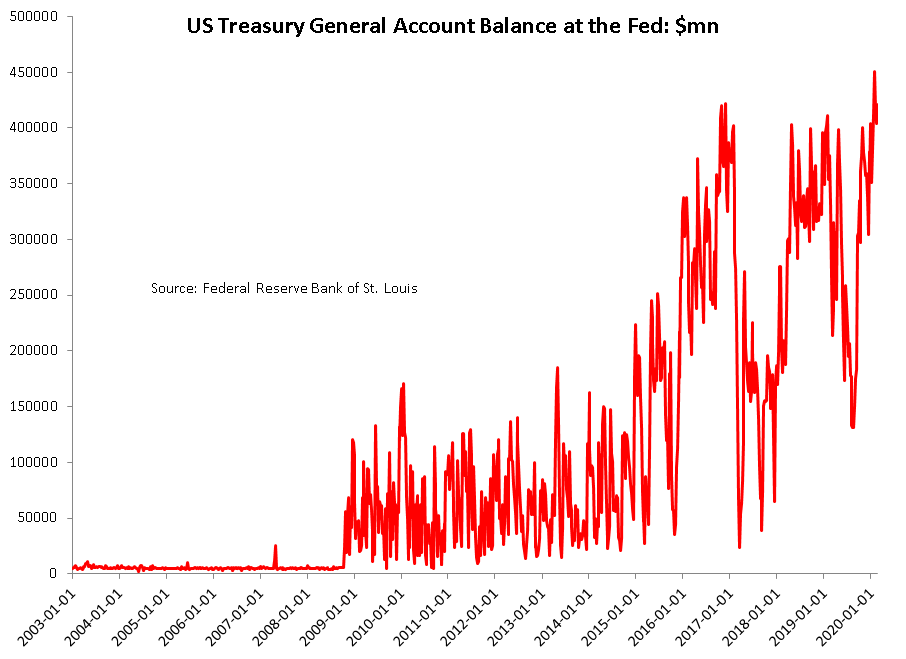 In this briefing:
---
US Treasury investors have recently raised the ante on the Federal Open Market Committee (FOMC) about the economic and monetary policy outlook by discounting further reductions in the federal funds rate in 2020. The pessimistic economic outlook embraced by bond investors is in stark contrast to the baseline forecast of FOMC members, thereby laying the foundations of another game of chicken between the two parties. 
The FOMC can cite numerous factors that support their baseline scenario of continued growth, but supply chain dislocations in China on US activity have yet to unfold.  The FOMC will be monitoring events in China and potential transmission to the US via a number of mechanisms. 
While aggregate US export exposure to China is small, the FOMC will look at the impact of events on Asia's capacity to produce and export to the US, thereby triggering a supply-side shock. Meanwhile, rising risk aversion will tighten US financial conditions, an outcome the FOMC sought to avoid last year. 
US equities will remain skittish as China's economic data weakens, particularly given the front-end loaded gains witnessed in early-2020 based on sanguine corporate profit expectations. The worst outcome for US would be the lack of taming in the spread of the coronavirus until the summer due to the ever-rising risks of global recession in the absence of further policy easing by the Fed.
The FOMC will also need to consider the risks of a return of stress in overnight repo markets in Q2 if its monthly purchases of T-bills are scaled back in April as originally intended. The Treasury's General Account at the Fed is both large and volatile, thereby raising the possibility of sustained funding stress in overnight repo markets as bank reserves are squeezed due to large federal government budget deficits.  
Several countries are pushing for more M&A in Asian banking as a way to ameliorate risks (India) or to possibly compete more regionally (Malaysia), with even some rumours resurfacing of further activity in Australia. We have reviewed all major banking transactions in the Asia Pacific region over the past 10 years which involved consolidation and we summarise our findings below.
Summary findings
We find that most banks lose market share after a merger when we consider total assets.  This is usually due to depositors moving to reduce concentration risk and loan rationalisation by the merged entity. 
Overlapping banks allow for more synergies and there tends to be better performance, especially if management is able to achieve the synergistic gains quickly.  Mergers aimed more at revenue synergies or entering new markets appear to have lukewarm benefits.
A long drawn out merger process with unambitious long term synergistic benefits are penalised by markets.  Delays can be cultural, labour union led, government led or legal.
Clearly the lead in any transaction tends to impose their will on the combined entity.  We find that performance suggests that investors are better owing targets rather than acquirers.
The market has taken a definite risk-off tone as the COVID-19 coronavirus infection has spread to South Korea, Japan, Italy and Iran, just to name a few countries. It is becoming evident that the outbreak is not contained within China, and it is spreading.
What we are seeing is a Lehman Crisis of a different sort. The Lehman Crisis of 2008 was characterized by banks unwilling to lend to each other to facilitate overnight banking system liquidity. Today's version of the Lehman Crisis is characterized by countries and regions in lockdowns, and the unwillingness of individuals or groups to interact with each other. This is leading to both supply and demand shocks. It is a supply shock because production and transportation are seizing up, which is leading to a collapse in global trade. It is also a demand shock because individuals are afraid to interact with others, which is leading to a collapse in the demand for both goods and services.
After considering both the bull and bear cases for risky assets, we are inclined to side with the bears. This is an emotional market, and the COVID-19 coronavirus outbreak has migrated outside China. These conditions are likely to lead to both supply and demand shocks in the rest of the world, collapse global trade and spark recession fears.
In light of these circumstances, there is a good chance that the 10-Year T-Note yield will fall below 1% before the end of 2020.
You are currently reading Executive Summaries of Smartkarma Insights.
Want to read on? Explore our tailored Smartkarma Solutions.