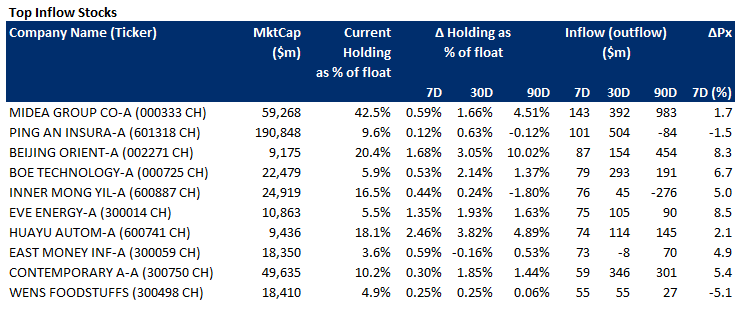 In this briefing:
---
In our weekly Shanghai/Shenzhen Connect Ideas series, we aim to highlight key stocks and sectors which the mainland investors traded via the northbound Shanghai and Shenzhen Connect, as analyzed by our proprietary data engine and highlight interesting trade ideas.
In this insight, we will have an overview of the weekly inflows into the A-share market via Shanghai/Shenzhen connect, top inflow and top three outflow stocks. We will also cover inflows and holdings by sectors, after which we will highlight top five inflows and outflows on a relative basis for large-cap and mid-cap stocks: stocks with a market capitalization above $5 bn, and those between $1 bn and $5 bn.
In this insight, we will highlight inflows into Midea Group Co Ltd A (000333 CH), Beijing Oriental Yuhong A (002271 CH) , and Boe Technology Group (000725 CH) , as well as outflows from China International Travel Service (601888 CH) , and Gree Electric Appliances (000651 CH).
In this Smartkarma Webinar, Thomas Schroeder will provide his technical outlook for markets. After the recent melt-up, markets are up against renewed concerns from: 
A second wave of COVID-19 cases in the US
Unexpected lockdowns in Beijing
Diminished short-base after extensive covering
Oversold levels on the Dollar Index (DXY) (DXY CURNCY), as well as,
An acceleration in new capital raising
The webinar will be held on 17 June 2020 at 1700hrs Singapore/Hong Kong time.
---
---
Thomas Schroeder starting using charts and trading in the FX markets in 1989 and entered the equities arena in 1992 with Deutsche Bank as a fundamental analyst but found himself relying more on inter-market cycles and charts. In 1994, he become the Asian head of Technical Research for UBS Securities in Hong Kong and in 1997 was charged with heading the Global Technical Research team for SG Securities. In July of 2003, Chart Partners Group Limited was formed which provides clients with timely and accurate progressive trading strategies within a truly global context.
Japan's major apparel firms are in trouble as Onward Holding (8016 JP)'s decision to slash 50% of its stores and Sanyo Shokai (8011 JP)'s fight with activist shareholders both demonstrate.
For nearly 30 years, Renown (3606 JP)  was the worst of the bunch but it has at last been forced to file for bankruptcy protection, with wider implications for the apparel and department store sectors. Other apparel firms like Sanyo Shokai also look to be in trouble.
In the end, the crisis in the big apparel firms is also a crisis for department store apparel floors. Given that 30% of department store sales come from apparel and, other than cosmetics and jewellery, what profit there is in department stores also comes from clothing, this remains a serious problem. When Onward, Renown, Sanyo Shokai and others close down so many brands in so many department stores, the buildings themselves lose even more lustre, making it harder to find new tenants or wholesale suppliers. More closures and mergers may be on the cards (for details see below).
You are currently reading Executive Summaries of Smartkarma Insights.
Want to read on? Explore our tailored Smartkarma Solutions.