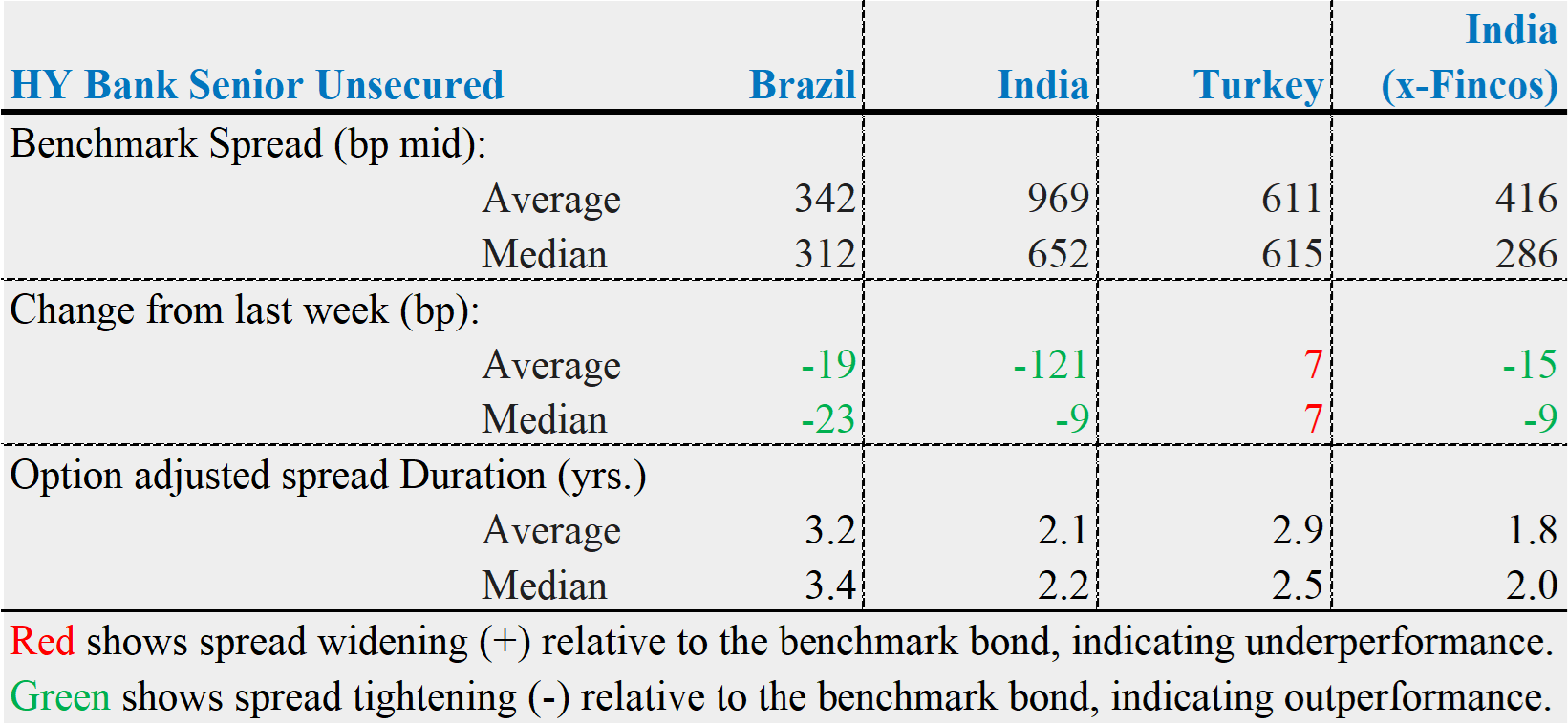 In this briefing:
---
Perennial Real Estate Holdings (PREH SP) is an integrated real estate and healthcare company incorporated and headquartered in Singapore. After market close on Friday, it announced a privatisation offer by way of a voluntary conditional cash offer. The offeror is a consortium comprising Mr Kuok (Chairman) Mr Sim (Vice-Chairman), Mr Pua (Non-executive director), Wilmar International (WIL SP) and HOPU Fund Management (an Asian alternative asset management firm). The consortium will offer S$0.95 cash per offer share. 
The Fed Chairman's upcoming congressional testimony may drive US dollar demand and weigh on Asia bank risk sentiment as this week begins. As such, capital inflows into emerging market economies may remain on pause as investors re-assessed positions after three weeks of discernable inflows. 
In Asia bank credit markets, for every bond spread that widened eight tightened during the past week, just as in the week prior. However, risk sentiment in Asia's high yield market reversed slightly by the weekend while the US market was harder hit. Fed Chairman Powell's comments on the likely length and fragility of the recovery were a cold shower to slightly overheating markets. 
Nonetheless, each class of bank debt securities tightened week-on-week while senior unsecured bonds once again outperformed. India-headquartered high yield bonds tightened most amongst global financials, driven by Indiabulls' US$-bond, which rose by nine prices points on Friday.  The finance company's ability to access funding was amply rewarded by the market. At the same time, Vietnam Prosperity Bank's US$-bond continued to outperform all Asia-headquartered bank senior debt for the third week running.
Concurrently, US$ Libor and three-month Treasury rates were unchanged week-on-week for the first time in recent memory. The Treasury-Eurodollar spread closed the week at 16 basis points (bps) versus a 2019 average of 24bps. This suggests that net interest margin (NIM) compression is over. Pressure on net interest revenues from market interest rates is likely to be reduced from here forward.  Nonetheless, LIBOR rates are down 113bps since the end of Q1 and Hong Kong inter-bank levels have fully reversed the recent interest rate spike to end the week at levels last seen one-month ago. Combined with lower credit growth, this situation should lead to lower quarterly-sequential net interest revenue for many banks.
Market Outlook: The full impact of recent statements by Fed Chairman Powell and the Chairman's upcoming congressional testimony may weigh on Asia bank risk sentiment as this week begins. India-headquartered bank bonds have outperformed over the last few weeks, as we anticipated in our last few weekly reports. This India-centric rally could lose steam if investors lock-in gains as the quarter-ends.Tactically,we prefer safer, non-Hong Kong-based, China-centric assets as the calendar crosses into Q3. Cross-over subordinated debt may be better positioned for further risk taking.
Inside: In this weekly, we review recent changes in bank bond spread moves over the last week, as well as LIBOR and HIBOR moves, to identify possible investment opportunities and potential pitfalls.
On 18 May, following a spike in the stock price, the Board of Perennial Real Estate Holdings (PREH SP) gave the market a heads-up via a voluntary announcement that it had been notified that some of its substantial shareholders were reviewing their options in relation to their holdings in the company.
On 10 June, prior to market open, the company requested a trading halt. Just prior to the clock striking midnight on Friday, Primero Investment Holdings (a consortium of the substantial shareholders and HOPU Fund Management Company) announced a voluntary conditional cash offer to acquire 17.57% of the outstanding shares held by the non-consortium shareholders at S$0.95 per share. The offer price is final and the offer is conditional on the consortium achieving a shareholding of at least 90% in the company, at which point it intends to exercise its right of compulsory acquisition and subsequently delist Perennial Real Estate Holdings (PREH SP) from the exchanges.
While the offer price is at a premium to the last traded price and various VWAPs, minority shareholders are getting the short end of the stick with the Offer Price at a 40% discount to the Net Asset Value as of 31 December 2019. With the consortium already owning 82.43% of the company and large volumes traded post the announcement on 18 May, chances are high that the offeror could reach the 90% threshold.
(This insight covers specific insights & comments involving Stubs, Pairs, Arbitrage, share Classifications, and Events – or SPACE – in the past week)
You are currently reading Executive Summaries of Smartkarma Insights.
Want to read on? Explore our tailored Smartkarma Solutions.