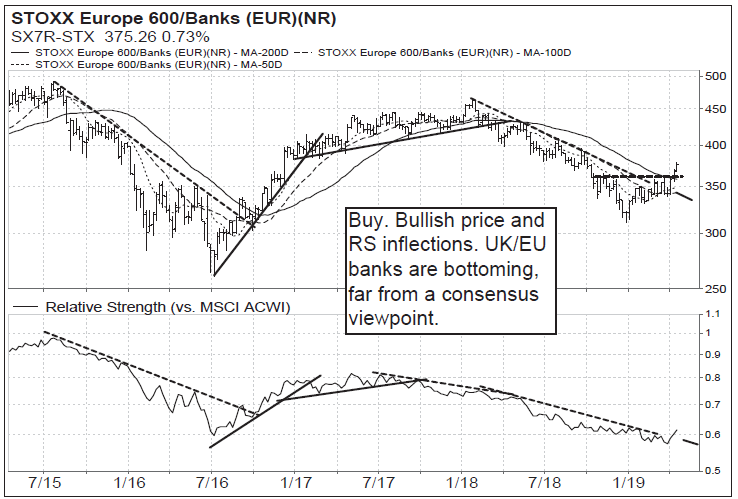 In this briefing:
---
Our outlook on global equities (both the MSCI ACWI and ACWI ex-US) remains positive and we continue to expect higher equity prices going forward.  In additional to highlighting important technical levels across major markets, we reiterate our recommendation to add exposure to global financials, and highlight a number of attractive Financial stocks, with an emphasis on UK and European names. 
Of the ten items highlighted in last week's Compass that we would like to see in order to turn more bullish, two have happened — equal-weighted Energy and UK/European Financials are breaking out. This only serves to add to our already positive outlook as U.S. equities are poised to test all-time highs. We are upgrading equal-weight Energy to market weight. Also in today's report, we highlight attractive Groups and stocks within Technology: Large-, Mid-, and Small-Cap Semiconductors.
SPX is putting on the final touches of a maturing rising wedge with a similar pattern set up that we pinpointed in September 2018 that led to our short call at SPX 2,944.
RSI divergence has not confirmed recent highs and formed a triangle mirroring the pattern set up in September 2018. RSI bear divergence warns that the rise is at risk given slowing upside momentum and buy volumes.
Global risk appetite remains strong and could delay a break down with upside noise from a trade deal spike but this compelling set up warns of disappointment stemming from deal hurdles, lack of key trade point resolution or a drawn our trade schedule with underlying tariffs that leaves markets wanting after pricing in the better part of a full deal. Sell the fact set up?
Breadth has deteriorated markedly from the early February peak as the SPX continues to chisel out new highs as internals weaken, again mirroring the late 2018 cycle.
Get Straight to the Source on Smartkarma
Smartkarma supports the world's leading investors with high-quality, timely, and actionable Insights. Subscribe now for unlimited access, or request a demo below.