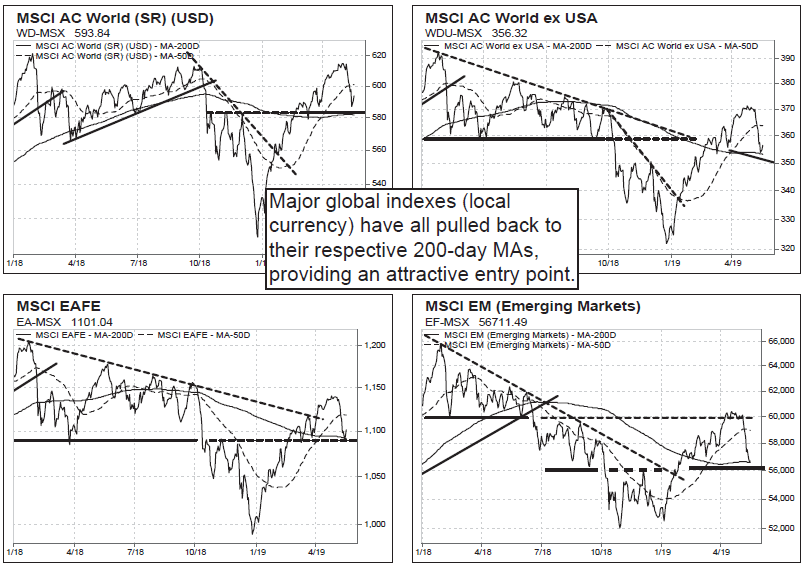 In this briefing:
---
As global equity markets pull back amid the U.S./China tariff saga we continue to believe this is an attractive time to add exposure. This view is supported technically with all major global indexes (MSCI ACWI, ACWI ex-U.S., EAFE, and EM) pulling back to their respective 200-day moving averages. In this report we highlight important technical levels across global markets and highlight actionable opportunities from a bottoms-up perspective within Europe (attractive pullback opportunity on the STOXX Europe 600 index) and Japan, including stocks within Financials, Communications, Consumer Discretionary, and Manufacturing.
In this report we outline important technical levels to watch for U.S. indexes and highlight several negative developments which lead us to a more cautious outlook. We also highlight attractive Groups and stocks within the Consumer Staples and Materials Sectors 
SPX bounce from 2,800 support targeted 2,850-60 which has been met with overhead pivot resistance that is critical to the immediate bias.
Our cycle work implies we could see a choppy rising wedge form into late May with a more negative cycle due in June. We outline trade levels on the short and long side into late May.
NDX 7,730 pivot support break will now act as macro resistance and a clear rejection level with a fade target well below this inflection point. This break shaped global risk as well as joined the underperform camp with transports, DJI, banks, small caps and the SOX (a bigger negative for breadth).
This is a follow up on our China Game over Support Breaks . After breaking core trendline support, China finds itself in a weaker intermediate cycle that faces a stress test on the macro pivot support at 12,000.
Tactical trade points for support and resistance are outlined as well as bigger strategic break points that would reverse the trend or see a resumption of the rise.
Our tactical base case calls for selling rallies for a test on macro support which will define the higher degree rally cycle (or fresh implosion).
We believe the S&P 500, STOXX Europe 600, MSCI ACWI ex-U.S., EAFE, and MSCI China are pulling back to support at their prior breakout levels — levels we believe will hold. Tech remains our favorite Sector globally. Additional attractive cyclical areas in which to add exposure at current levels include Financials in Europe, autos and auto parts stocks, and casinos and gaming in Macau… see report for a technical appraisal of all major markets and a collection of actionable stocks.
Get Straight to the Source on Smartkarma
Smartkarma supports the world's leading investors with high-quality, timely, and actionable Insights. Subscribe now for unlimited access, or request a demo below.