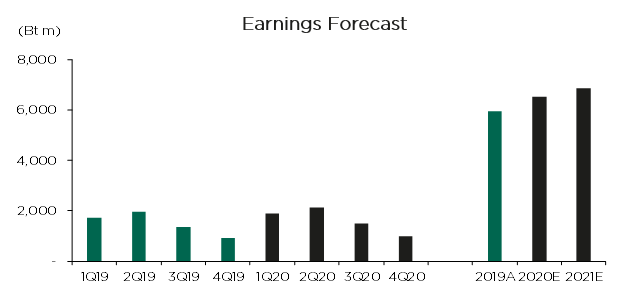 In this briefing:
---
Yesterday analyst meeting came out in a neutral tone. Expect 2020E earnings to remain healthy backed by profit contribution from newly COD projects in 2019.
Expect 1Q20 earnings to improve both YoY and QoQ, given the profit recognition from 290MW capacity expansion in 2019. 
Positive Long term (2020-21) earnings outlook backed by COD 782 MWe projects in pipeline, representing 11% expansion by 2022.
Estimate 7% CAGR EPS growth in 2020-22E.
The share has fallen 17% since early 2020 due to the negative sentiments of expected economic slowdown from COVID-19 spread. We believe this should be a short-term impact and recommend to accumulate the stock for 12-month period.
We maintain the BUY rating with a target price of Bt74.5 is based on sum-of-the-parts (SOTP) methodology, implying 16.6xPE'20E or 0.71x relative PE to Thai utility sector.
Despite the fanfare only one Chinese company listed (and raised money) in London after the announcement of the London Shanghai Connect.  There have been no listing of Chinese Depository Receipts by companies listed in London.  This is starting to look like a white elephant.  We have reviewed the successful Depository Receipt programmes around the world and conclude that the pull to issue Chinese Depository Receipts is only weak at present.  We do think that companies are reviewing the option of issuing CDRs but there is no intense pressure to do so.  By following the factors we have identified, authorities and exchanges could build a more successful programme.
Bangkok Dusit Med Service (BDMS TB) has made a Conditional Voluntary Tender Offer (CVTO) for 24.99% held Bumrungrad Hospital Pub Co (BH TB) at THB125/share, an 11.6% premium to last close.
That Offer Price may increase by up to 20% – or up to THB150/share – depending on the "appropriateness of the market directions of the market of the Stock Exchange of Thailand and the trading price of BH at the time."
In addition to requiring approval from BDMS' shareholders, the key condition to the Offer will be the approval from the Trade Competition Commission (TCC). That is unlikely to be a defeating condition.
The initial headline price, and even the high end of this indicative range, appears highly opportunistic.
More below the fold.
You are currently reading Executive Summaries of Smartkarma Insights.
Want to read on? Explore our tailored Smartkarma Solutions.