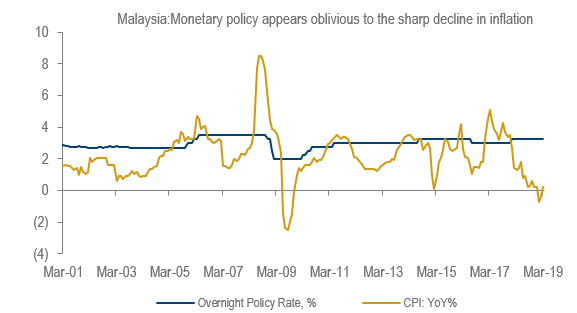 In this briefing:
---
Just when you think the global economy is starting to spring green shoots, the skies have darkened and some of those shoots may be turning brown. In the U.S., ISM Manufacturing fell and missed expectations.
In China, both the official PMI, which is tilted toward larger SOEs, and the Cain PMI, which measures SMEs, fell and missed expectations. These readings have cast doubt on the longevity of Beijing's stimulus-driven rebound.
On the other hand, the Non-Farm Payroll report came in ahead of expectations. In Europe, the PMIs for peripheral countries like Italy and Greece are outperforming Germany. In addition, exports from Korea and Taiwan, which are highly globally sensitive, have rebounded, indicating recovery.
How do investors interpret these cross-currents?
We concur with Rob Hanna of Quantifiable Edges, who made an insightful comment that "Tops Wobble Before Falling Over". Our review of the market's technical conditions reveals the market is not wobbling yet.
Any market wobble would be seen in NASDAQ and semiconductor stocks. Until Technology and NASDAQ leadership starts to falter, and if their leadership is not replaced by the reflation-sensitive cyclical groups, we remain bullish on equities.
With its labour force estimated to be growing 2.6% annually — and likely augmented by more foreign workers — Malaysia's real GDP growth rate of 4.7% in 2018 was disappointing, especially given the strong 14% export growth during the year. The failure of Bank Negara Malaysia (BNM) to cut the OPR (official policy rate) was a major factor hindering domestic demand (particularly fixed investment spending). The global semiconductor cycle began to turn down by November 2018, and Malaysia's exports have consequently contracted in 1Q 2019. 
With the abolition of the GST soon after the PH government took office, CPI inflation has been consistently below 1% YoY since June 2018, and averaged -0.3% YoY in 1Q 2019. In the face of deflation, Malaysia's real interest rate of +3.5% (the highest in more than a decade) has deterred real investment spending (which grew just 1.3% YoY in 2H 2018). With the fiscal deficit contained at 3.7% of GDP in 2018, and the current account surplus at a comfortable 2.4% of GDP in 2018 — and likely to be above 4.5% of GDP in 1Q 2019 — we expect Bank Negara to cut the OPR by 25bp on 7th May, and to cut it further by at least another 25bp in 3Q 2019. 
The rate cut should spur a modest investment-led recovery to over 5% real GDP growth in 2H 2019 (after a likely moderation to 4.4% YoY growth in 1Q 2019), and should also provide a fillip to the stock-market, which has seen a big sell-off in the large-caps over the past year (making the KL index one of the worst-performing stock-markets in the world in the year-to-date and over the past 12 months). Lower interest rates will particularly boost the heavily sold-down GLCs (from both the Khazanah and PNB stables, whose stock prices have fallen as the former in particular has been gradually reducing its stakes, for instance in Tenaga last month). In light of the rate cuts to come, we are Bullish Malaysia, and would in particular recommend the large-cap GLCs, led by Maybank (with an attractive dividend yield of 6.2%) and TNB (with a dividend yield of 4.3%). The latter does face some headwinds from regulatory uncertainty (as its near-monopoly on transmission and distribution could be eroded over time), but its stock price should have scant further downside after the recent sell-off, and its bond-like characteristics make it attractive in a falling interest-rate environment. 
In April 2019, 19 primary-listed stocks on SGX repurchased close to 30 million shares with a total consideration of S$36 million. This was down from S$54 million in April 2019 and down from S$117 million in April 2018.
Six stocks commenced new buyback mandates in the month of April 2019: Keppel REIT, Global Investments, Tuan Sing Holdings, Ecowise Holdings, Kim Heng Offshore & Marine Holdings and Axcelasia Inc.
The April 2019 buyback consideration was led by OCBC, which contributed two-thirds of the total consideration. As of 17 April, OCBC had bought back 0.38% of its shares on the mandate. OCBC is scheduled to report 1Q19 financials before the market open on 10 May
From February's SAAR of 16.57m units, March SAAR had jumped to 17.45m units before settling down to 16.4m units in April (-6.0% MoM, -4.3% YoY).  Our initial impression is that April saw a normalizing selling rate pattern against a challenging macro backdrop:
The selling rate strength in March most likely reflected pent up demand from the January-February SAAR weakness stemming from the cold weather so is likely to be a one-off.  YTD observations of the industry retail-fleet mix strongly suggest that SAAR weakness in 2019 is being driven largely by retail weakness.
A steep drop in smaller vehicle sales is leading to rising transaction prices from the resulting industry mix shift.  The weakening SAAR is most likely stemming from reduced incentive spending by OEMs and higher borrowing costs compared with last year, as younger and weaker credit buyers are squeezed out of the market.  In other words there is no clear indication that OEM pricing power is improving.
Light truck days supply remains higher than car days supply.  Overall inventory remains at elevated levels, suggesting investors should look for either a) further production cuts and/or b) rising incentives in 2H19.
Market share dynamics have been favoring Honda, Hyundai-Kia, Mitsubishi and Subaru YTD amongst Asian brandswhile Tesla has been the only US brand that has made significant volume growth on YoY basis.  Ford's light truck sales has been the only bright spot for D3 on the same scale. 
We have been observing that of the 3 macro factors we monitor in formulating our SAAR outlook, income effect is likely to be the sole tailwind for light vehicle demand in 2019 at this point.  While recent stabilization seen in pending home sales and housing prices may alleviate some downward pressure on demand, wealth effect in 2019 at best seems neutral at this point, as opposed to providing strong tailwinds as in the past.  Interest rates currently are not providing tailwinds to the average car buyer, either, given higher monthly payments (or longer term to maturity) that a new car purchase would mean compared with 2016.  Given challenging market conditions, we would continue to look for brands' ability to gain share at the expense of others as a key valuation driver in the stock market.  
Following the tightening of distribution yields and narrowing of discount to book value, the equity fundraising cycle in the Singapore REITs sector seems to have begun. The DPU growth for some REITs is starting to plateau and it is time to acquire new assets to sustain growth. Suntec REIT (SUN SP) and Manulife Us Reit (MUST SP) took the lead to launch their respective private placements in late April 2019, with positive reception.
While Suntec REIT's S$200mn fundraising exercise was pre-emptive in nature, there is good acquisition visibility. On the other hand, MUST's private placement size was relatively small, and was specifically used towards the acquisition of a high quality asset in its existing sub-market. Both REITs had relatively high gearing ratios compared to its peers.
In this insight, we use gearing ratio, the time of the last equity capital injection and potential acquisitions visibility as indicators to identify several Singapore REITs which may potentially launch a massive equity fundraising exercise in the near term.  
ESR-REIT (EREIT SP) , Soilbuild Business Space Reit (SBREIT SP) , and Far East Hospitality Trust (FEHT SP) make it to the top of the list of candidates for equity fundraising. 
Get Straight to the Source on Smartkarma
Smartkarma supports the world's leading investors with high-quality, timely, and actionable Insights. Subscribe now for unlimited access, or request a demo below.