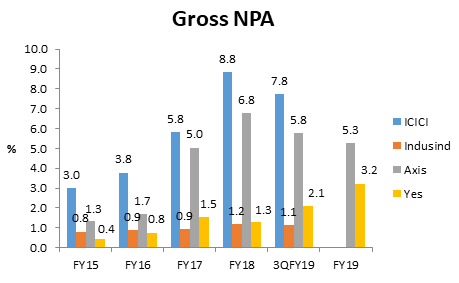 In this briefing:
---
An internal memo of an anonymous former senior official of ICICI Bank's risk management department, publicised by the Indian Express, provides a damning indictment of the credit appraisal and monitoring processes at the bank. It reveals how basic banking processes were violated, and public and shareholder funds frittered away by reckless and greedy bankers. While government banks are blamed for indulging in 'telephone banking' (acting on instructions from politicians and bureaucrats to favour particular industrialists), the above memo completely exposes how a prominent private sector bank, manned by professionals, was conducting banking.
Unfortunately, such conduct may not be restricted to ICICI Bank alone. Rather, it may also explain how other banks such as Axis Bank, Yes Bank and Indusind Bank have taken high-risk corporate exposures.  While the new managements at ICICI Bank, Axis and Yes Bank are restructuring their processes to avoid a repeat of their mistakes, Indusind Bank seems to have considerable faith in their existing CEO, who is responsible for some large ticket corporate loans gone sour. The broom which is currently in vigorous use at ICICI, Axis and Yes banks has yet to be taken out of the closet at Indusind Bank.
Indonesia's election results will be confirmed by 22 May, with Joko Widodo leading the official vote count. Although President Widodo is considered slightly less of an economic nationalist than his challenger, Prabowo Subianto, both candidates have made it a pillar in their economic platforms. With five years of economic nationalism during Mr. Widodo's last term, we expect more of the same during his second. 
Just when you think the global economy is starting to spring green shoots, the skies have darkened and some of those shoots may be turning brown. In the U.S., ISM Manufacturing fell and missed expectations.
In China, both the official PMI, which is tilted toward larger SOEs, and the Cain PMI, which measures SMEs, fell and missed expectations. These readings have cast doubt on the longevity of Beijing's stimulus-driven rebound.
On the other hand, the Non-Farm Payroll report came in ahead of expectations. In Europe, the PMIs for peripheral countries like Italy and Greece are outperforming Germany. In addition, exports from Korea and Taiwan, which are highly globally sensitive, have rebounded, indicating recovery.
How do investors interpret these cross-currents?
We concur with Rob Hanna of Quantifiable Edges, who made an insightful comment that "Tops Wobble Before Falling Over". Our review of the market's technical conditions reveals the market is not wobbling yet.
Any market wobble would be seen in NASDAQ and semiconductor stocks. Until Technology and NASDAQ leadership starts to falter, and if their leadership is not replaced by the reflation-sensitive cyclical groups, we remain bullish on equities.
With its labour force estimated to be growing 2.6% annually — and likely augmented by more foreign workers — Malaysia's real GDP growth rate of 4.7% in 2018 was disappointing, especially given the strong 14% export growth during the year. The failure of Bank Negara Malaysia (BNM) to cut the OPR (official policy rate) was a major factor hindering domestic demand (particularly fixed investment spending). The global semiconductor cycle began to turn down by November 2018, and Malaysia's exports have consequently contracted in 1Q 2019. 
With the abolition of the GST soon after the PH government took office, CPI inflation has been consistently below 1% YoY since June 2018, and averaged -0.3% YoY in 1Q 2019. In the face of deflation, Malaysia's real interest rate of +3.5% (the highest in more than a decade) has deterred real investment spending (which grew just 1.3% YoY in 2H 2018). With the fiscal deficit contained at 3.7% of GDP in 2018, and the current account surplus at a comfortable 2.4% of GDP in 2018 — and likely to be above 4.5% of GDP in 1Q 2019 — we expect Bank Negara to cut the OPR by 25bp on 7th May, and to cut it further by at least another 25bp in 3Q 2019. 
The rate cut should spur a modest investment-led recovery to over 5% real GDP growth in 2H 2019 (after a likely moderation to 4.4% YoY growth in 1Q 2019), and should also provide a fillip to the stock-market, which has seen a big sell-off in the large-caps over the past year (making the KL index one of the worst-performing stock-markets in the world in the year-to-date and over the past 12 months). Lower interest rates will particularly boost the heavily sold-down GLCs (from both the Khazanah and PNB stables, whose stock prices have fallen as the former in particular has been gradually reducing its stakes, for instance in Tenaga last month). In light of the rate cuts to come, we are Bullish Malaysia, and would in particular recommend the large-cap GLCs, led by Maybank (with an attractive dividend yield of 6.2%) and TNB (with a dividend yield of 4.3%). The latter does face some headwinds from regulatory uncertainty (as its near-monopoly on transmission and distribution could be eroded over time), but its stock price should have scant further downside after the recent sell-off, and its bond-like characteristics make it attractive in a falling interest-rate environment. 
In April 2019, 19 primary-listed stocks on SGX repurchased close to 30 million shares with a total consideration of S$36 million. This was down from S$54 million in April 2019 and down from S$117 million in April 2018.
Six stocks commenced new buyback mandates in the month of April 2019: Keppel REIT, Global Investments, Tuan Sing Holdings, Ecowise Holdings, Kim Heng Offshore & Marine Holdings and Axcelasia Inc.
The April 2019 buyback consideration was led by OCBC, which contributed two-thirds of the total consideration. As of 17 April, OCBC had bought back 0.38% of its shares on the mandate. OCBC is scheduled to report 1Q19 financials before the market open on 10 May
Get Straight to the Source on Smartkarma
Smartkarma supports the world's leading investors with high-quality, timely, and actionable Insights. Subscribe now for unlimited access, or request a demo below.