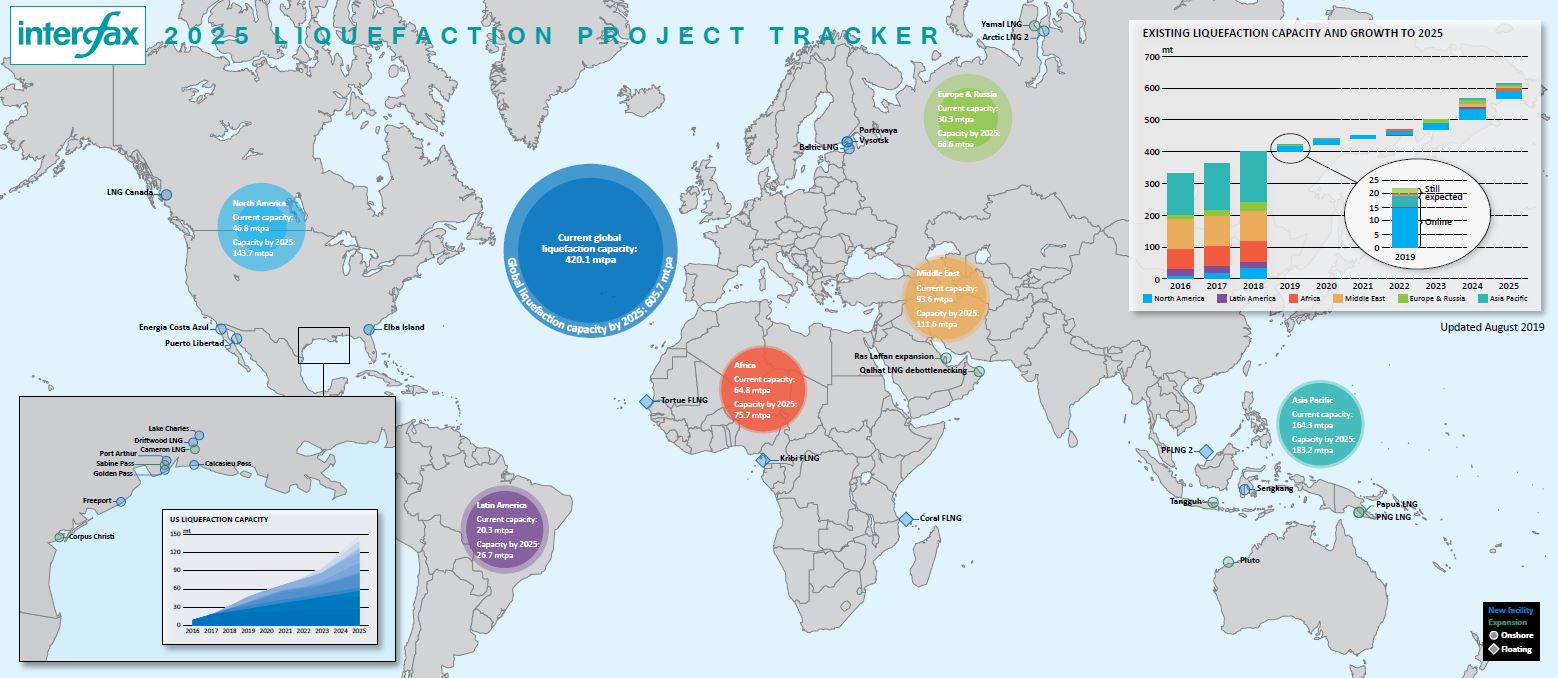 In this briefing:
---
The volume of projects that have taken final investment decision this year has already exceeded most consultants forecasts from the beginning of 2019 and we are not done yet. AKap Energy remains confident that >100 million tons per annum (mtpa) worth of new projects will go ahead in 2019. To put this in context 2018 global supply was ~320mtpa. So far this year >60mtpa of new projects have been sanctioned with associated capex of >US$50bn. Most recently the 20mpta Arctic LNG 2 project was sanctioned by Novatek PJSC (NVTK LI) and in the US the 10mpta Calcasieu Pass project completed financing. We think it is highly likely that further projects get fully sanctioned by year-end, most notably Qatar's 32mtpa project and a 2nd mega project in Mozambique (see Economic Analysis of Mozambique's LNG Projects: Huge Potential but Financing Risks Remain).
It is way too early to be judging the state of the 2020 presidential race, with nearly 5 months still to go before the first real contest of the long marathon — the Iowa caucuses on 3rd February 2020. But the polls show it is now a 4-horse race for the Democratic nomination — Biden, Warren, Sanders, Harris — with Elizabeth Warren the leading "socialist-wing" challenger to the centrist Biden, but with Sanders nipping at her heels. Despite Biden's feeble performance in the first debate, he leads all the polls — by a wide margin in 4, and tied with Warren in 1 — but even the Fox News poll last month (16th August) showed all four leading Democrats handily beating Trump, and this even while the economy is robust (and any recession remains unlikely before 3Q 2020). 
After her strong performance in the first debate — when she successfully ambushed Biden on the issue of race — Kamala Harris herself was ambushed by Tulsi Gabbard  in the second debate, and didn't quite hold her own. The big winner of the second debate was Warren, while Biden was seen to have performed much better –although not "winning" his debate (which featured Booker and Harris flanking him, while Sanders and Warren debated the previous night). While the first two debates occurred over 2 nights (with 10 candidates each), the third debate (on 12th September) will feature just 10 candidates on one night: the top 4, alongside Mayor Pete Buttegieg (who is fifth in most polls), Cory Booker, Julian Castro, Amy Klobuchar, Beto O'Rourke and Andrew Yang.  
With the US economy likely to be in recession by September 2020 (see Recession Watch: Fluctuating Trade War on the Verge of Tripping up the World Economy ), Trump is vulnerable. The Democrats won the mid-term Congressional election by a record 8 percentage points — overcoming the hurdles of gerrymandering. Despite all this, a 77-year-old socialist, or a left-wing Senator (i.e., Sanders and Warren respectively) would face severe electoral challenges in the face of a general election, especially given the unpopular consequences of their "Medicare for All" proposal. Apart from Biden, the only other clear centrist (i.e., moderately liberal) candidates are Pete Buttigieg and Amy Klobuchar, with Kamala Harris relatively centrist. If any of these four is the Democratic nominee in a recession year, Trump will be toast. The debates matter, but for now will increase uncertainty and hence are likely to be a negative for the market — especially if Warren and Sanders do well in the third debate, and continue to gain in the polls. 
The Korea Exchange (KRX) publishes outstanding short position data daily with a two day lag. The data below is of the close of 6 September.
Current short notional on the KOSPI market is KRW 12,004bn (US$10.07bn) with the largest short notionals in Celltrion Inc (068270 KS), Samsung Electro Mechanics Co, Ltd. (009150 KS), Hyundai Motor Co (005380 KS), Samsung Biologics Co., (207940 KS) and Hyundai Mobis (012330 KS). 
Stocks with the largest short percentage as a percentage of free float are Aekyung Industrial Co Ltd (018250 KS), Netmarble Corporation (251270 KS), Doosan Infracore (042670 KS), Samsung Electro Mechanics Co, Ltd. (009150 KS) and Samsung Biologics Co., (207940 KS).
Stocks with the largest increase in short interest over the week were LG Display (034220 KS), Hyundai Motor Co (005380 KS), Celltrion Inc (068270 KS), Hyundai Mobis (012330 KS) and Fila Korea Ltd (081660 KS) while shorts were covered in Samsung Electro Mechanics Co, Ltd. (009150 KS), Samsung Electronics (005930 KS), Amorepacific Corp (090430 KS) and Kakao Corp (035720 KS). 
We also take a look at how the short interest has evolved in a few large names over the last year.
We examine at what stage the current commodities Supercycle exists
Using BoC data, it appears that three of four commodity trends are declining
Last BoC commodity trend a lagging indicator that has historically confirmed peak demand
When base materials decline, gold usually comes to the fore
Chinese stimulus coming, good for iron ore but little else
Gold Road Resources (GOR AU), Lynas Corp Ltd (LYC AU), Wesfarmers Ltd (WES AU), Glencore Plc (GLEN LN), Freeport Mcmoran (FCX US), Mmg Ltd (1208 HK), Teck Resources (TECK/B CN), Alumina Ltd (AWC AU), Coal India Ltd (COAL IN), Hindustan Zinc (HZ IN), Southern Copper (SCCO US), Gold Fields Ltd (GFI SJ), Maverix Metals Inc (MMX CN), Red 5 Ltd (RED AU), Kidman Resources (KDR AU), Pensana Metals (PM8 AU), Azumah Resources (AZM AU), Australian Potash (APC AU), Golden Rim Resources (GMR AU), Neometals Ltd (NMT AU), Venus Metals Corp (VMC AU), S2 Resources (S2R AU), Canyon Resources (CAY AU), Lucapa Diamond (LOM AU), Piedmont Lithium (ASX: PLL), Lion One Metals Ltd (LLO AU), Ausmex Mining Group (AMG AU), Bardoc Gold (BDC AU), Vango Mining (VAN AU), Dateline Resources (DTR AU), Galena (ASX: G1A), Hawkstone Mining (HWK AU), NTM Gold (NTM AU), Xanadu Mines (XAM AU), ALT Resources Ltd (ARS AU) , Exore Resources (ERX AU), Spectrum Metals (SPX AU), Northern Minerals (NTU AU), Bowen Coking Coal (BCB AU), Syndicated Metals (SMD AU), Minotaur Exploration (MEP AU), Oro Verde Ltd (OVL AU), Superior Lake Resources (SUP AU) 
lululemon: lululemon continues to leverage its cult-like following as it achieves 10% comparable-store sales and 30% e-commerce sales growth in Q2.
McDonald's: The "McDonald's to Go" concept store could offer a new distribution channel that could be a positive catalyst for McDonald's.
WeWork: Our concerns for WeWork that we shared on August 20 were justified as WeWork is looking to cut its IPO valuation below $20B or shelve it.
The pick-up game is changing the customer and structural capital landscape for companies. I'm excited about McDonald's new "McDonald's to Go" pick-up concept store that it is piloting in London as it represents a new distribution channel with promising returns. While the limited menu of "McDonald's to Go" trades off variety of choice for convenience, lululemon's order online/pick-up in-store service, which it has now rolled out to nearly all its stores in North America, offers its customers both convenience plus a wider variety of choice. In addition to being a much lower-cost distribution channel than delivery, in-store pick-up and return offers retailers the opportunity to directly interact with customers and enhance the emotional connection. This explains why Nordstrom is making a strange move testing accepting online returns from its rivals at its two new Nordstrom Local stores in NYC. Amazon Go stores are playing pick-up too as Amazon looks to leverage its physical structural capital by trialing pick-up and return options at select Amazon Go stores in NYC and San Francisco. And on a final note, even Facebook is playing the pick-up game — but in a different sense — as it just launched Facebook Dating in the U.S.!
Get Straight to the Source on Smartkarma
Smartkarma supports the world's leading investors with high-quality, timely, and actionable Insights. Subscribe now for unlimited access, or request a demo below.