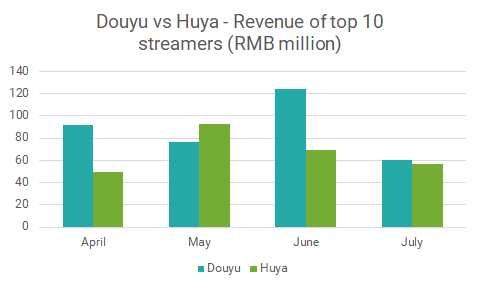 In this briefing:
---
Both Douyu and Huya, the top e-sports streamers reported earnings last night. In this insight, we will compare the key metrics of the two companies and highlight our observation in July 2019.
Both companies reported excellent 2Q2019 topline results. Having said that, we think Douyu has done better than Huya in terms of monetization but Huya has done better in terms of MAU growth and ARPPU growth.
Going into July, data of top streamers suggests that Douyu appears to lose out to Huya in terms of both monetization and active users.
Parent company data for July (adjusted for the number of working days in the month) show year-on-year sales growth down slightly from 20.1% in June to 19.6% in July. The unadjusted value of sales was up 25.3%. The number of new customers, also unadjusted, was up 26.4%.
Double-digit growth continues but there is no acceleration, leaving the shares in a trading range. At ¥2,431 (August 13 close), MonotaRO is selling at 53x our estimate for FY Dec-19 and 48x our estimate for FY Dec-20. Price/sales multiples for the same two years are 4.6x and 3.9x. Projected valuations look stretched, but are on the low side of their recent historical ranges. 
Revenue/average operating assets is steady, core operating profit is above the 6% required return on net operating assets calculated by Japan Analytics, and the shares do not look overbought.
Tracking Traffic/Chinese Tourism is the hub for our research on China's tourism sector. Every month Tracking Traffic/Chinese Tourism features analysis of relevant Chinese tourism data, notes from our conversations with industry players, sector news, and links to recent company and thematic research. 
Hong Kong growth slowed in June, likely due to protests
The growth of Chinese arrivals to Hong Kong slowed in June, falling to just 10.1% YoY, likely in response to the city's large-scale protests. Hong Kong is by far the largest single destination for Chinese outbound tourists, and it is unlikely that a shift in tourism to other regional destinations can offset moderating growth in this key market.
Demand slowing, both for outbound and domestic tourism
Most measures of outbound and domestic tourism in 2Q19 indicate softening demand growth. Whereas the initial effect of rising US-China trade tensions was a shift in outbound tourism favoring HK and Macau, it now appears that overall Chinese tourism activity is slowing. This is clearly negative for Chinese and regional companies that depend upon Chinese tourism activity: airlines, hotels, OTAs, and certain retailers.
A few bright spots, but overall YTD19 slightly weaker than expected
It wasn't all bad news in June: Macau reported strong growth in Chinese arrivals, particularly from cities in China's 'Greater Bay Area' (GBA), and the growth of Chinese visits to Japan also remained firm. Still, data so far in 2019 suggests overall Chinese tourism activity this year will disappoint.
This week in StubWorld …
Preceding my comments on Swire are the weekly setup/unwind tables for Asia-Pacific Holdcos.
These relationships trade with a minimum liquidity threshold of US$1mn on a 90-day moving average, and a % market capitalisation threshold – the $ value of the holding/opco held, over the parent's market capitalisation, expressed in percent – of at least 20%.
Get Straight to the Source on Smartkarma
Smartkarma supports the world's leading investors with high-quality, timely, and actionable Insights. Subscribe now for unlimited access, or request a demo below.