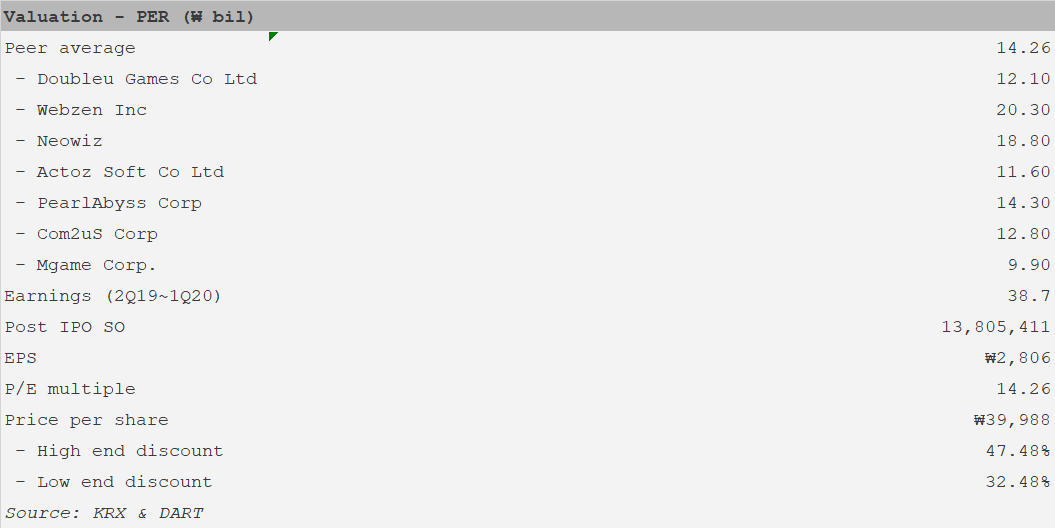 In this briefing:
---
First, here is an overview of ME2ZEN's second IPO attempt.
It plans to offer 3.2M shares (52% primary and 48% secondary). The total offering represents 28.74% of the total shares at a 14.94% capital increase rate.
Mirae is working as a sole banker with a firm commitment.
The indicative price band is at ₩21,000~27,000, which gives an implied market cap of ₩289.9~372.7bil.
July 30~31 will be for book-building, followed by the allotment on August 4. The following day will be a subscription. The payment date is August 7.
Once again, the float will be tight on this one. A total of 72.48% shares will be in a lock-up for one month to three years. Of those, 65.26% is for more than six months.
Softbank Group (9984 JP) has witnessed a sharp rise from our recent 4,400 long entry and nearing the ideal 6,600 target representing the top end of the intermediate expanding wedge range. We made a bull call near lower wedge support at 2,800.
Recent breakout point at 5,900 will act as pivot support that will induce a reaction back upward.
RSI shows synergy with dual tops in this zone to mark key cycle tops which fits with a top near 6,600. RSI is also forming a rising wedge that has a better than 70% probability of breaking down amid bear divergence.
Macro pivots are 6,800 and 4,900 as the expanding wedge defines a clear range (6,800 and 2,500).
In our view, KYEC embraces 5G migration cycle at infrastructure base stations and smartphones, as well as many other IoT devices, RF filter/PA, CMOS image sensors and server chips. We expect KYEC to post double digit YoY revenue growth in 2020. As such, we initiate coverage on KYEC with a Buy call and 12-month TP of TWD50.
Leyou Technologies (1089 HK)'s long-drawn takeover saga has potentially taken its final twist. After market close on Friday, Leyou announced that Mr Yuk, Leyou's controlling shareholder with a 69.2% stake, entered into a three months exclusivity agreement with Tencent Mobility, a wholly-owned subsidiary of Tencent Holdings (700 HK), to sell his stake. If the stake sale completes, it can result in the possible acquisition and privatization of Leyou by Tencent. 
Leyou has been subject to intense privatisation speculation with various suitors such as iDreamsky Technology Limited (1119 HK)/CVC, Zhejiang Century Huatong A (002602 CH), Sony Corp (6758 JP) and Tencent in pole position at different points in time since September 2019.
Ultimately, the previous negotiations collapsed as although Mr Yuk wants to sell his Leyou stake as evidenced by his long-drawn negotiations with the bidders, he is holding firm with his valuation. Warframe's improving performance, Tencent's deep-pockets and Mr Yuk's stubbornness suggest that the chances of a deal getting done are high. At the last close price of HK$2.89 per share, our privatisation price estimate of HK$3.31 per share implies a gross spread of 14.4%.
ME2ZEN (951211 KS) is getting ready to complete it IPO in the KOSDAQ exchange in August. ME2ZEN is a Hong Kong based company that makes casual and social casino games. This is a second time that ME2ZEN is trying to complete an IPO in Korea after a failed attempt in 4Q 2019.
Overall, applying a 9.5x P/E multiple to our estimated net profit of 43 billion won for the company in 2020 suggests an implied market cap of 409.9 billion won or implied price of 29,700 won per share, which represents a 24% upside to the mid-point (24,000 won) of the IPO price range. Given the relatively attractive upside, we would take this deal but if the IPO is priced at the high end, it would become less attractive.
There are three main reasons why ME2ZEN IPO is more attractive this time as compared to November 2019.
First, COVID-19 has resulted in a big capital inflow into the global games sector as millions of people around the world spend more time at home and play games. This has been a favorable trend for the global game industry.
Second, the IPO price range has been lowered.
Third, the company's financials have gotten better with the company posting strong results in 2019 as well as in 1Q 2020. 
You are currently reading Executive Summaries of Smartkarma Insights.
Want to read on? Explore our tailored Smartkarma Solutions.