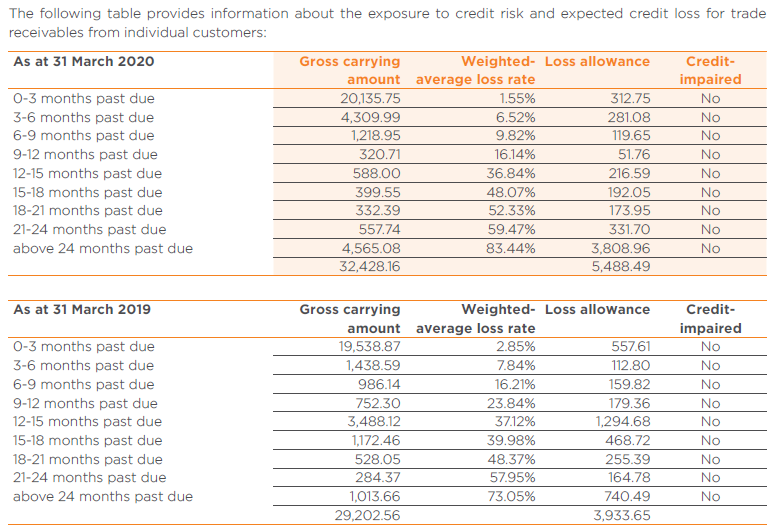 In this briefing:
---
Our previous update on Newgen Software Technologies (NEWGEN IN) highlighted concrete issues targeting at its revenue model in combination with the receivables. Moreover, Q4 seasonality coupled with unsustainable income further put a dirt on the financials. In this update, we realize that there have been no change in fortune of the company, as the old issues have not been vanished and few new issues have emerged in the new fiscal year.  
The growth rate of China online retail reached 19% YoY in June, higher than 15.6% YoY in May.
Chinese retailing e-commerce companies raised funds of RMB28.6 billion in 1H20, decreasing by 74.5% YoY.
Ministry of Human Resource and Social Security warned about "employee sharing", which was started by Alibaba (BABA).
*Another Material Developments At Afterpay: Afterpay Touch (APT.AU) confirmed another material development. The launch of its global rewards system called "Pulse" commenced in the US, and is set to be launched in the United Kingdom, Australia, and New Zealand in the coming months. In short, Afterpay is looking to reward regular users who pay on time (five purchases every six months) which turns the credit card model on its head, as it relies solely on increasing customer spend for points; 
*Other Recently Announced Positives: In addition to the update provided on Pulse, Afterpay has provided a solid update on its growth and traction post-deal; expressed its interest in a capital raise; and onboarded Apple Pay (AAPL.US) and Alphabet (GOOG.US) Google Pay; and
*Magic Fairy Dust: While no transaction particulars were disclosed, we calculate an average share purchase price of AUD 22.47 per share for the 5% stake or a hefty 6.8x P/BV for a company which is loss-making and where Tencent hasn't control. Tencent has already earned 146% on this stake. 
ByteDance IPO is one of the major listings by Chinese TMT companies that we are looking forward to. The company was valued at USD 75 billion in a pre-IPO round in October 2018 and was valued at USD 100 billion in the private transactions in May 2020. 
In our previous reports, we covered the company's main products and its recent financials and user data in China. Although ByteDance records most of its revenues from China, one should not underestimate its potential from overseas expansion. ByteDance's flagship app, TikTok, has become a global phenomenon. Competitors such as Facebook have not been successful in taking market shares from TikTok. In our opinion, ByteDance is the most successful Chinese TMT company in the overseas market. 
In this note, we will look at the latest numbers of the company. It set an ambitious target for its overseas operation but is now facing challenges in two of its biggest markets. We will discuss recent events and what to look forward to after the success of TikTok. 
Our previous coverage on ByteDance
Intel's by now all-too-familiar earnings beat this week was completely overshadowed by the veritable bombshell the company dropped regarding its 7nm process roadmap. CEO Bob Swan announced that yields were about twelve months behind where they should be and that the first 7nm product ramp would be delayed by about six months. The announcement comes just over two years after Intel revealed that their 10nm process would be delayed for the same reason. 
Intel's share price fell more than 10% in after-hours trading, losing a further 6% by Friday's close. In sharp contrast, AMD and TSMC, the two companies most likely to benefit from Intel's misfortune, recorded share price increases of 16.5% and 9.7% respectively in the same trading session. 
CEO Bob Swan valiantly sought to calm investor fears with soothing words about contingency plans involving outsourcing manufacturing to foundry. In his closing summary he went so far as to say that "we feel pretty good about where we are". Bizarrely, he even seemed at one stage to suggest that this state of affairs was a good for the company. The reality is very different indeed. Here's our analysis of what Intel had to say, the implications for the company and, most likely, for TSMC.
You are currently reading Executive Summaries of Smartkarma Insights.
Want to read on? Explore our tailored Smartkarma Solutions.