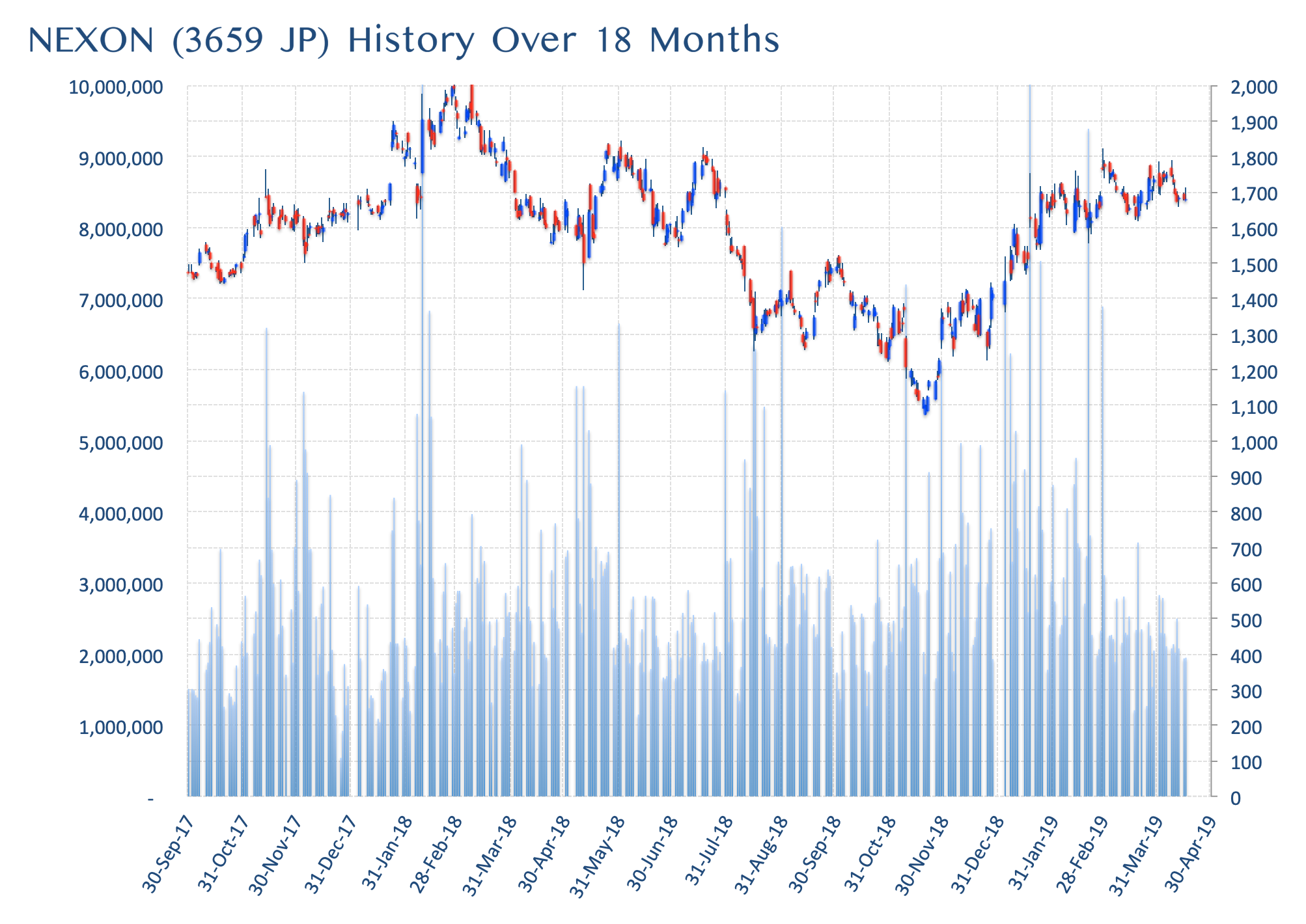 In this briefing:
---
I have been somewhat reticent to add to the written discussion on Nexon Co Ltd (3659 JP)'s possible change of control due to the sale of Founder Kim Jung-Ju's personal holding company NXC Corp because there has been so little consistency to the news which comes out. 
Numbers fly around but there are no references to what they mean or include. Originally first round was in mid-Feb, but that got extended, then it looked like a number of the players simply dropped out, or were demoted to side players. Then it looked like there was a question of whether a buyer would buy NXC or buy the Nexon shares. There were a couple of articles a couple of weeks ago from the Korean press suggesting buying NXC was going to prove "too difficult."
There are a lot of reasons for that. 
Then today an article in the Korea Economic Daily came out and suggested that a) the deal was still for NXC, not Nexon shares, and b) NXC and its bankers had received an opinion from the Tokyo Stock Exchange that a Tender Offer for Nexon shares would not be mandatory. 
Hmmm…
One of Korea's largest local economic newspapers, The Korea Economic Daily, reports that Nexon's main bidding will take place on May 15. It also reports that it is the Kim Jung-ju family's NXC stake to be put up for sale. As for tender, TSE advises in a written opinion that there will be no mandatory tender as a result of NXC stake sale. That is, tender will be optional.
Locondo (3558 JP) has for long talked up its plans to become a major player in the fashion e-commerce market and a rival to ZOZO (3092 JP).
This hasn't happened yet, but the e-commerce firm hasn't given up and now plans to create a chain of franchised Locondo stores to build its name.
Locondo posted GMV growth of 48.4% in FY2018 ending February to ¥14.1 billion and sales rose 68.9% to ¥6.7 billion.
Like Zozo, Locondo is also launching its own private brands and to differentiate from Zozo is introducing a high-end online mall called Locondo Department.
Last month, Locondo acquired a mobile fashion mall called Mobakore from Senshukai and says it has ¥5 billion set aside for more acquisitions to help build scale.
Get Straight to the Source on Smartkarma
Smartkarma supports the world's leading investors with high-quality, timely, and actionable Insights. Subscribe now for unlimited access, or request a demo below.