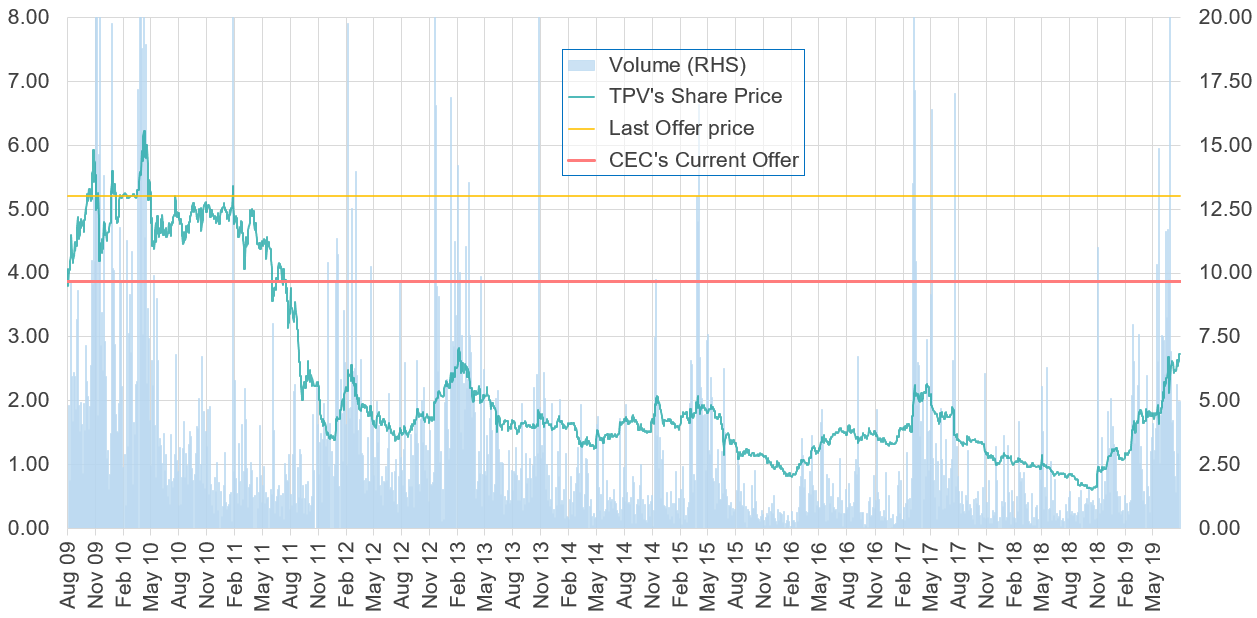 In this briefing:
---
Last Friday, TPV Technology (903 HK) TPV's shares were suspended pending the release of an announcement pursuant to The Hong Kong Code on Takeovers and Mergers.
There have been some large CCASS movements recently, which I flagged in my weekly last month  – Last Week in Event SPACE: Chiyoda, Bandai, Unizo, Ascendas, Villa World, Avon, SIA Engineering – with 18.2% of shares out moving out of Citibank into Zhongrong Securities. This is/was Mitsui's stake.
In my insight TPV Halted – A New Offer From CEC/Mitsui?, I concluded CEC/CEIEC will make another Offer – this time to potentially delist the company. 
And so they have.
CEIEC has launched a $3.86/share Offer for TPV, a 41.39% premium to last close, by way of a Scheme. The Offer Price is Final. The headcount test applies.
CEIEC and concert parties hold 1.15bn shares or 49.04% of shares out. Therefore, the blocking stake at the Court Meeting will be 119.5mn shares or US$54mn at the current price.
The Offer falls short of the $5.20/share MGO in 2010. However, that was the high watermark for the stock after which TPV's earnings collapsed with four of the last seven years in the red. 
Currently trading at a gross/annualised spread of 9%/37%, assuming late November completion. That appears an attractive risk/reward here.
Get Straight to the Source on Smartkarma
Smartkarma supports the world's leading investors with high-quality, timely, and actionable Insights. Subscribe now for unlimited access, or request a demo below.