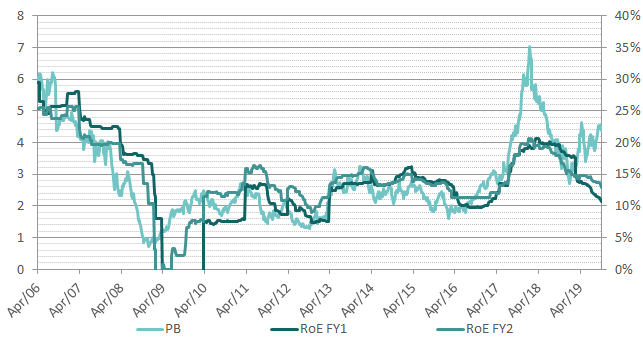 In this briefing:
---
Yesterday Yaskawa surprised negatively by reporting just ¥5.3bn in 2Q OP vs. consensus at ¥10.4bn and revising down its outlook by 46% to ¥25bn at the OP level.
The biggest surprise was a deteriorating OPM for the Robotics segment which had also been weak in 1Q.
Motion Control momentum also failed to improve despite the company commenting that order trends were picking up when they announced 1Q.
The stock is up 12% since our early Jul commentary that it was time to start looking for an entry point about 27% lower at ¥2,600.

We believe the market has been too impatient pricing in recovery, and we still expect that, while conditions are unlikely to deteriorate greatly, the "recovery" is likely to be tepid until early next year at best.
We do, however, expect that Robotics segment margins will improve dramatically… in time.
ByteDance started as a news app Toutiao, but turned to short videos and gained more active users than the news app.
Douyin has the highest user base among all short video apps in China. We believe the success was due to the internal competition among ByteDance's three video apps.
Douyin's user base has the largest proportion of female users and users below 30 years old.
The premium on the Taiwan Semiconductor Sp Adr (TSM US) ADR is nearing its highs over the last two years on higher than average volumes. The traded value on the ADR is higher than the local stock and the premium is causing the local stock to gap up at the open over the last few days as arbitrage traders hedge their positions and local investors look to the ADR for cues on direction.
We would look at entering a short Taiwan Semiconductor Sp Adr (TSM US) position against a long Taiwan Semiconductor Manufacturing Company (TSMC) (2330 TT) position in the 6-7% premium range and wait for a reversion back to around 2%.
Get Straight to the Source on Smartkarma
Smartkarma supports the world's leading investors with high-quality, timely, and actionable Insights. Subscribe now for unlimited access, or request a demo below.