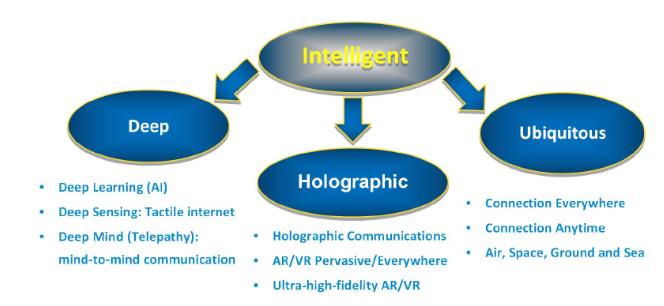 In this briefing:
---
In our previous insight, we spoke about 5G being a disappointment, a possible delay in 5G adoption, and how WiFi-6 could take its place. In this insight, we look at 6G, which is still a developing technology. 6G is the sixth generation of wireless technologies, with extreme coverage and capacity. 6G network systems are expected to support data rates at a speed of 1 terabit per second (Tbps), 8000 times faster than 5G, with an end-to-end latency of one microsecond. The increase in IoT applications triggered the expansion of 5G, and it is now stimulating the demand for the 6G networks as well. Our key points based on the first look at 6G, are:
6G is still a remote concept and will take another 15 years to be fully deployed (i.e. by 2035) since there are many necessary technological and technical advancements to be made before a 6G product is introduced to the market.
Most developments and the initiation of projects come from the South Korean and Chinese players. In our opinion, South Korea could take the lead, as China is currently focusing on developing its 5G networks, and China's Huawei is also having issues with the expansion of its 5G networks.
South Korean mobile manufacturers like Samsung and LG are likely to benefit due to their increased initial commitments focusing on 6G, and this might give them an edge over Chinese and U.S. manufacturers like Apple or Huawei.
The U.S. manufacturers have a head start in 6G semiconductor technology. However, given the reduced size requirement for base stations and, eventually, for mobile phones, we believe that Japanese MLCC players could closely compete with the U.S. chip manufacturers.
Previous related insights:
5G for the Next Big Turn of a New Decade 
Will 2020 See Successful Deployment of 5G? 
Lockdown To Accelerate WiFi 6: A Threat to Anticipated 5G Deployment? 
5G Delay and Disappointment – Will Murata Suffer? 
The SIA released the monthly WSTS semiconductor shipments statistics for May, and with it a statement that the chip market seemed resistant to COVID-19.  On the whole revenues have fallen back to trend thanks to the recent market collapse, but China's response to that country's outbreak shows what may be in store for other regions.
New developments outlined in today's report are of the bullish variety. The way we see it, the positives continue to heavily outweigh the negatives. With positive new developments and essentially nothing new to be worried about, our view remains bullish. Buy the dips. In today's report we highlight attractive Groups and stocks within Consumer Discretionary and Materials: CD-46 Retailers, Home Improvement, CD-30 Internet Retailers, CD-55 Lawn & Garden, and MA-27 Gold, Western Hemisphere, Small-Cap.
Many forecasts for the global economic recovery assume the successful development of a COVID-19 vaccine in 2021 H1. Failure to develop a vaccine will imply permanent output losses as some countries struggle to recoup lost activity.
Although China's economy is healing slowly, private sector confidence still remains fragile, thereby prompting greater calls for structural reforms. The outlook for Japan remains weak, while the rest of Asia remains vulnerable to further spats between China and the US that could undermine dollar funding conditions.
The outlook for the US economy remains uncertain due to the unpredictable path of second wave COVID-19 infections and a potentially major relapse in aggregate demand support from federal government. Meanwhile, fiscal tightening at the state & local government level could be in the offing and would create additional headwinds for the economy.
Recovery in Europe has been complicated by the idiosyncratic responses of sovereign governments that have placed countries on different recovery paths. Europe's ability to withdraw fiscal support once recovery commences may also be eventually questioned, thereby potentially sowing the seeds for capital and labour misallocation.
COVID-19 infection rates in Latin America have not peaked and there is growing evidence of lockdown fatigue that will place further pressure on public health systems. Latin America faces very significant headwinds and risks of permanent output losses, courtesy of cautious consumers, weak external demand and commodity prices and tighter financial conditions.
Forecasts for the global economy assume the successful development of a COVID-19 vaccine, but history is not suggesting an optimistic outcome. Governments' ability to support aggregate demand will ultimately shape the next recovery.    
Demand
China Manufacturing PMI: Manufacturing PMI data from China continues to be healthy after posting a dip in February due to COVID. June data came in at 50.9 and showed sequential improvement over May's 50.6.

Fundamental data points from China continue to show strength. Auto demand is likely to be up 4-5% YoY in June, and CRIC (China Real Estate Information Corporation) data shows property sales are up 14% YoY in June for the top 200 developers. Data for Jan-June FY20 has inflected into positive territory at 1% YTD.
Supply
Supply issues from Brazil in June were not as bad as initially feared. Brazil shipped out 30 million tons in June, recording a 1% YoY growth.

Inventory at the ports in China rose for the first time in three months.
You are currently reading Executive Summaries of Smartkarma Insights.
Want to read on? Explore our tailored Smartkarma Solutions.