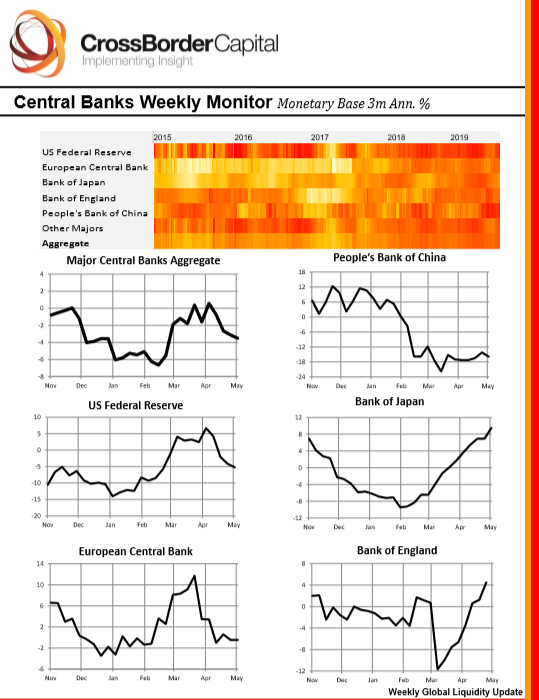 In this briefing:
---
Just when you think the global economy is starting to spring green shoots, the skies have darkened and some of those shoots may be turning brown. In the U.S., ISM Manufacturing fell and missed expectations.
In China, both the official PMI, which is tilted toward larger SOEs, and the Cain PMI, which measures SMEs, fell and missed expectations. These readings have cast doubt on the longevity of Beijing's stimulus-driven rebound.
On the other hand, the Non-Farm Payroll report came in ahead of expectations. In Europe, the PMIs for peripheral countries like Italy and Greece are outperforming Germany. In addition, exports from Korea and Taiwan, which are highly globally sensitive, have rebounded, indicating recovery.
How do investors interpret these cross-currents?
We concur with Rob Hanna of Quantifiable Edges, who made an insightful comment that "Tops Wobble Before Falling Over". Our review of the market's technical conditions reveals the market is not wobbling yet.
Any market wobble would be seen in NASDAQ and semiconductor stocks. Until Technology and NASDAQ leadership starts to falter, and if their leadership is not replaced by the reflation-sensitive cyclical groups, we remain bullish on equities.
Latest data to early-May warn that Central Banks have re-engaged quantitative tightening
Both the US Fed and the People's Bank (PBoC) are withdrawing funds at a more rapid pace
Global Central Bank Liquidity sliding at minus 4& annualised clip. This is NOT QE
Small off-sets to this drain from BoE and BoJ, which is loosest of majors
The April employment report was strong with nonfarm payrolls rising 263,000 and the unemployment rate falling to the lowest level since December 1969.  Average hourly earnings increased 0.2% in April and year-over-year wage growth held at 3.2%.
So-Young (SY US) raised US$179m at US$13.80 per share, the top of its IPO price range. We have previously analyzed the IPO in:
In this insight, we will update on the deal dynamics, implied valuation, and include a valuation sensitivity table.
From February's SAAR of 16.57m units, March SAAR had jumped to 17.45m units before settling down to 16.4m units in April (-6.0% MoM, -4.3% YoY).  Our initial impression is that April saw a normalizing selling rate pattern against a challenging macro backdrop:
The selling rate strength in March most likely reflected pent up demand from the January-February SAAR weakness stemming from the cold weather so is likely to be a one-off.  YTD observations of the industry retail-fleet mix strongly suggest that SAAR weakness in 2019 is being driven largely by retail weakness.
A steep drop in smaller vehicle sales is leading to rising transaction prices from the resulting industry mix shift.  The weakening SAAR is most likely stemming from reduced incentive spending by OEMs and higher borrowing costs compared with last year, as younger and weaker credit buyers are squeezed out of the market.  In other words there is no clear indication that OEM pricing power is improving.
Light truck days supply remains higher than car days supply.  Overall inventory remains at elevated levels, suggesting investors should look for either a) further production cuts and/or b) rising incentives in 2H19.
Market share dynamics have been favoring Honda, Hyundai-Kia, Mitsubishi and Subaru YTD amongst Asian brandswhile Tesla has been the only US brand that has made significant volume growth on YoY basis.  Ford's light truck sales has been the only bright spot for D3 on the same scale. 
We have been observing that of the 3 macro factors we monitor in formulating our SAAR outlook, income effect is likely to be the sole tailwind for light vehicle demand in 2019 at this point.  While recent stabilization seen in pending home sales and housing prices may alleviate some downward pressure on demand, wealth effect in 2019 at best seems neutral at this point, as opposed to providing strong tailwinds as in the past.  Interest rates currently are not providing tailwinds to the average car buyer, either, given higher monthly payments (or longer term to maturity) that a new car purchase would mean compared with 2016.  Given challenging market conditions, we would continue to look for brands' ability to gain share at the expense of others as a key valuation driver in the stock market.  
Get Straight to the Source on Smartkarma
Smartkarma supports the world's leading investors with high-quality, timely, and actionable Insights. Subscribe now for unlimited access, or request a demo below.