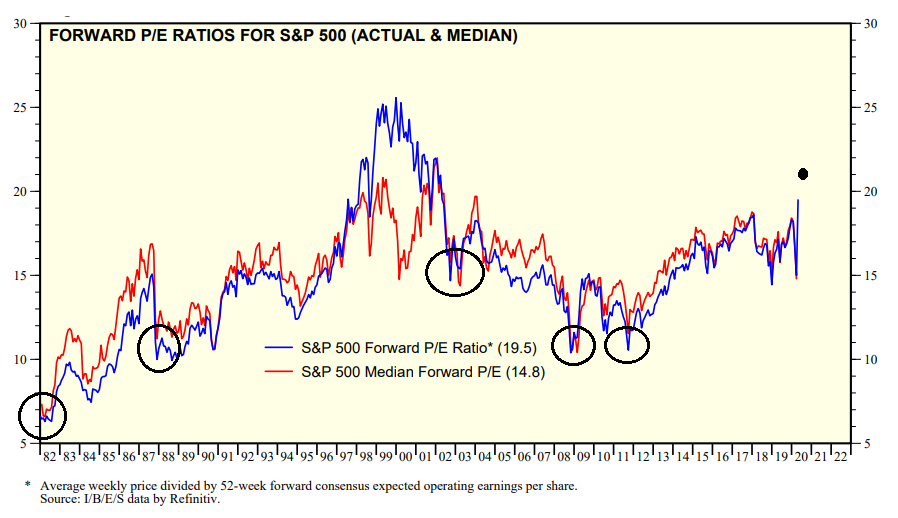 In this briefing:
---
China News That Matters
Beijing to the rescue, with cost cuts
Racing for a vaccine, not international flights 
Countdown starts for Hong Kong crackdown  
US plans sanctions on China
Skirmishes in the Himalayas 
In my weekly digest China News That Matters, I will give you selected summaries, sourced from a variety of local Chinese-language and international news outlets, and highlight why I think the news is significant. These posts are meant to neither be bullish nor bearish, but help you separate the signal from the noise.
There has been a recent continuing controversy about the usefulness of forward P/E as a valuation tool in the current recessionary environment. On one hand, past bear markets have typically bottomed out at a forward P/E ratio of 10, with a low of 7 (1982) and a high of 14 (2002). FactSet's reported market rating of 21.5 forward earnings is very stretched by historical standards.
We go back to the basics of equity valuation by considering the following questions:
How will this crisis affect the company in the near term (2020)?
How will this crisis affect the business the company is operating in, and its standing, in the long term?
How will the crisis affect the price of risk, including the likelihood of default, equity risk premium and default spreads?
The current operating environment is dismal, and there is little hope of relief over the next few years. Credit conditions are deteriorating. Unless some miracle medical advance appears in the immediate future, we are likely to see widespread business failures over the next 12 months that will cripple the economy and, in Jerome Powell's words, "make the recovery slower and weaker". The Fed is doing what it can to put a cap on risk premiums. It can print liquidity, but it cannot print sales, nor can it print equity for failing firms.
One (Fed support) out of three isn't good enough. Current valuation is discounting a V-shaped recovery and strong Fed support. It has not even begun to discount the aftershocks of the COVID-19 crisis. Equity risk and reward is tilted to the downside.
This Insight is the North American installment and the last of three reports on corporate social responsibility vis-à-vis coronavirus-related philanthropy. The prior two were on Asia Pacific and European stocks, in that order, and are linked to below. That's it. Three regions. Although Latin America contributed as well, the breadth and depth doesn't warrant analysis.
North America. For this data, it really means the U.S. There are just two Canadian stocks out 142. And the U.S. is really just google, with a total of almost US$1 billion.
"Social" has been a third-wheel ESG pillar for a long time. Not that it matters any less, and there is plenty of evidence that strong Social-pillar ESG performance can do a lot of  good for a stock price. Rather, it's that the Social pillar stuff is more ethereal, harder to wrap one's head around. And, let's face it, the Social ESG pillar is a little more rosewater than crude oil.
It is amazing how a global pandemic changes things. Whether it is ESG's social or Corporate Social Responsibility's (CSR) "social," socially-responsibility – as well as social irresponsibility or inaction – by corporations are front-and-center. In prior reports I assessed corporate coronavirus responses from an ESG perspective. In doing so, I something became increasingly (and painfully) obvious:
Company responses are very diverse (as they should be), making comparative analysis difficult.
Rather than go insane trying to standardise and normalise everything – e.g., the economic value of donated masks or cost of retrofitting manufacturing lines to produce ventilators – I decided to look at coronavirus-related corporate philanthropy as a comparative metric. It is universal, quantifiable, and decidedly much easier to measure and value than, say, vats of hand sanitiser.
You are currently reading Executive Summaries of Smartkarma Insights.
Want to read on? Explore our tailored Smartkarma Solutions.