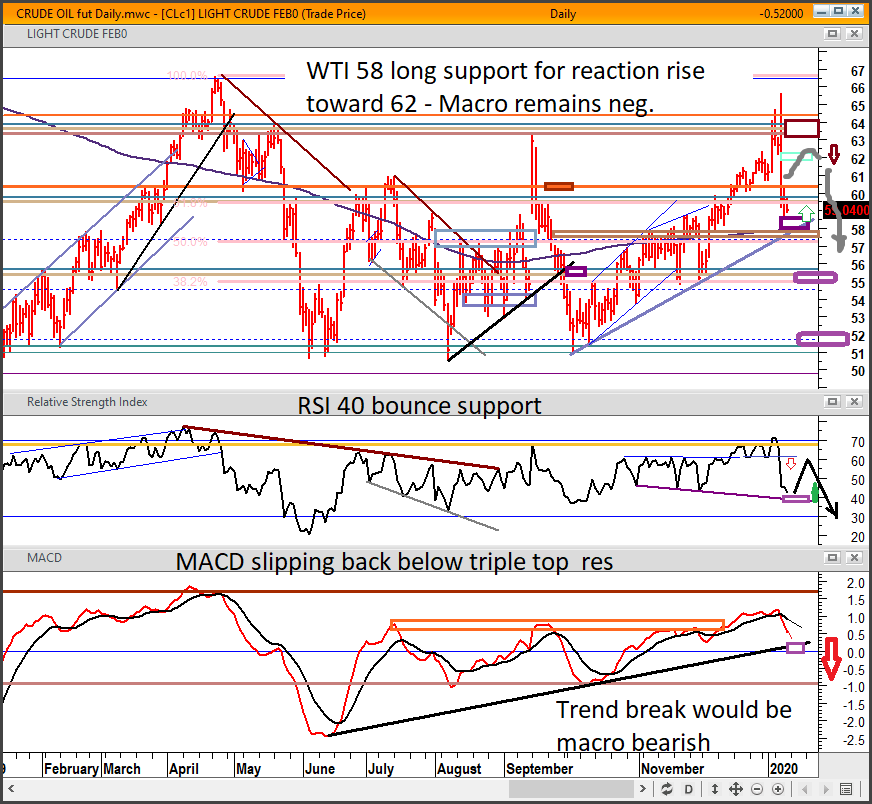 In this briefing:
---
W&T Offshore (WTI US) is resting on some interesting tactical support at 58 where the 200 day moving average and wedge price support align. This is a tactical bounce zone. Resistance comes in at 57.50/60 with scope to 62.
Our focus today is on trading a tactical rise into strategic sell territory near the Iran spike high zone. The rising wedge warns of a more macro negative cycle as does the MACD slip back below triple resistance.
MACD slipping back below macro resistance is negative and would confirm a bigger topping process (after a tactical recovery). An MACD break below trendline would also nail down a more negative macro cycle toward key support at 55 and 52 (just above the 51 triple lows).
We have held off commentating on the US-China trade deal that has enlivened markets around the world in recent weeks. The reason for holding off is simple: no written deal has been published so far. The news that the Trump administration will no longer list China as a currency manipulator signals this patch aka "phase-one" is actually moving forward and will be signed at the White House today. News of the US dropping China from the manipulators list sent the renminbi to a six-month high.
As we head into Q4 earnings season we remain bullish on the broad market. Our bullish outlook is supported by the themes highlighted in this report.  In addition, we highlight attractive Groups and stocks within Discretionary and Technology: Casinos & Gaming, Large-Cap, Semiconductors, Mid-Cap, Semiconductors, Small-Cap, Software, Design Solutions.
We see 2020 as full of surprises, marked by rising geopolitical risk. Major headlines this year will include the US election in November, BREXIT, the greater China situation (which includes a cross-strait tension between China and Taiwan and the on-going protest in Hong Kong), the US-China trade war, a lack of progress in the Nuclear talk with North Korea, and, last but not least, the middle east tension which has already escalated to the next level. The attack that killed Iran's top general on 2-Jan started the year on the right track for gold and oil prices as well as those relying on prices of these two commodities, such as the Mideastern countries and Russia.
In the year ahead, we favor equities over bonds in general.  As we believe valuations are stretched, securities selection is key and a buying opportunity on the sell-off event, especially stemming from the geopolitical risk, will reward value investors. We prefer emerging markets (EM) equities and bonds as we expect more upside potentials in light of improving credit fundamentals and a continued fund flow into an EM world for diversification away from developed markets (DM). At the end of the day, unpredictable policy shifts in the US and in Europe do not help. We also do not expect China's trade war with the US and debt debacle to go away anytime soon.
In a year of rising geopolitical risk, we expect infrastructure, utilities, and other non-cyclical businesses to do better. However, rising oil prices and continued recovery (albeit at a slow pace) should help the oil and gas sector.
This year should be another record year for green financing, spurred by more awareness that our planet is changing for the worst (i.e. the bushfire in Australia). Green financing (including green bonds) has a more committed group of investors which means less volatile spread movement in general.
In 2020, we will add additional angles to our fixed income research to include equity and F/X strategies as well as green bond research. Capital markets continue to evolve and, even at a slower pace than expected, we believe local currency EM bonds and tokenized securities (i.e. security tokens) are two topics we will follow closely. Stay tuned!
It was announced by Visa on Monday (13th January) that it has signed a definitive agreement to acquire the fintech startup Plaid for a total purchase consideration of US$5.3bn.
Visa expects the transaction to close over the next 3-6 months and it is subject to regulatory approvals and other customary closing conditions.
Plaid offers an API software which helps start-ups to connect with user's bank accounts. It helps users conveniently share their financial information with apps and services. For example, when a user sets up a Venmo account, it is Plaid that enables the user to link their bank account to their Venmo account.
Visa will be paying US$4.9bn through cash while the remaining US$400m will be paid through retention equity and deferred equity consideration in the form of restricted stock units (RSU) of Visa.
According to Forbes, Plaid made revenues in the range of US$100-200m in 2019, which implies an EV/Sales of 26.5-53x. In April 2019, KKR acquired MYOB for around AU$1.6bn at an implied sales multiple of 5.6x and we believe Visa's multiple for Plaid makes it one of the highest multiples in the industry.
We believe the acquisition will help Visa to cross-sell its existing products to Plaid's large fintech customer base while Visa's global presence and network should help Plaid expand globally.
You are currently reading Executive Summaries of Smartkarma Insights.
Want to read on? Explore our tailored Smartkarma Solutions.