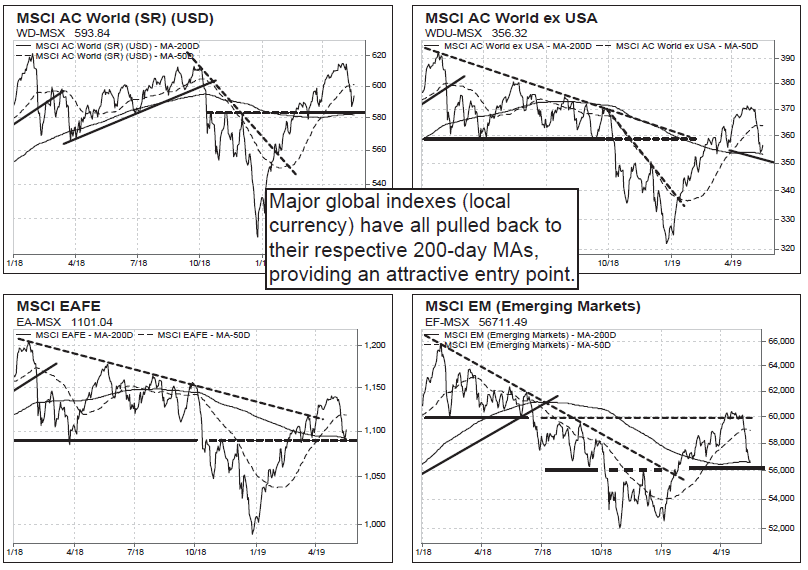 In this briefing:
---
As global equity markets pull back amid the U.S./China tariff saga we continue to believe this is an attractive time to add exposure. This view is supported technically with all major global indexes (MSCI ACWI, ACWI ex-U.S., EAFE, and EM) pulling back to their respective 200-day moving averages. In this report we highlight important technical levels across global markets and highlight actionable opportunities from a bottoms-up perspective within Europe (attractive pullback opportunity on the STOXX Europe 600 index) and Japan, including stocks within Financials, Communications, Consumer Discretionary, and Manufacturing.
In this report we outline important technical levels to watch for U.S. indexes and highlight several negative developments which lead us to a more cautious outlook. We also highlight attractive Groups and stocks within the Consumer Staples and Materials Sectors 
GreenTree filed Form-3 after market close yesterday, for potential placement of up to USD 155 million. In this insight, we will revisit our earlier coverage on GreenTree, recap its recent financials and provide our preliminary thoughts on the deal. While the company reported a decent set of results, we are concerned about the needs for capital raising as the company's main business is franchised hotels that collect franchise fees.
There is an increasing probability of a major partnership between Tesla Motors (TSLA US) and Samsung Sdi (006400 KS) for a potential long-term contract to supply lithium ion batteries for EVs. Although such speculation has been brewing in the past six years, we believe this probability is increasing due to the following main reasons: 
More confrontational trade war between the US and China 
Elon Musk's public dispute with Panasonic
End of subsidies for EVs by the Chinese government & the potential for "several" suppliers of lithium ion cells by Tesla's Gigafactory in Shanghai

With the end of subsidies on the Chinese EV sector by the end of 2020, there will likely be a HUGE AMOUNT OF INDUSTRY CONSOLIDATION AND JOB LOSSES ON THE EV RELATED SUPPLY CHAIN IN CHINA IN LATE 2020 TO 2021.  
The Chinese government provided these subsidies for too long as well as to too many uncompetitive companies such as Optimum Nano who relied too much on generous subsidies, rather than trying to make a really competitive products. Time has come for even the Chinese government to say enough is enough on wasting too much money through subsidies on the EV sector and there is only about one and half years before the subsidies completely disappears. 
Once the competition is based on more equal footing (without any subsidies) in China, there is a good chance of leading Korean companies including Samsung SDI and LG Chem to start to increase their sales of lithium ion batteries sales in China starting 2021. 
SPX bounce from 2,800 support targeted 2,850-60 which has been met with overhead pivot resistance that is critical to the immediate bias.
Our cycle work implies we could see a choppy rising wedge form into late May with a more negative cycle due in June. We outline trade levels on the short and long side into late May.
NDX 7,730 pivot support break will now act as macro resistance and a clear rejection level with a fade target well below this inflection point. This break shaped global risk as well as joined the underperform camp with transports, DJI, banks, small caps and the SOX (a bigger negative for breadth).
Get Straight to the Source on Smartkarma
Smartkarma supports the world's leading investors with high-quality, timely, and actionable Insights. Subscribe now for unlimited access, or request a demo below.