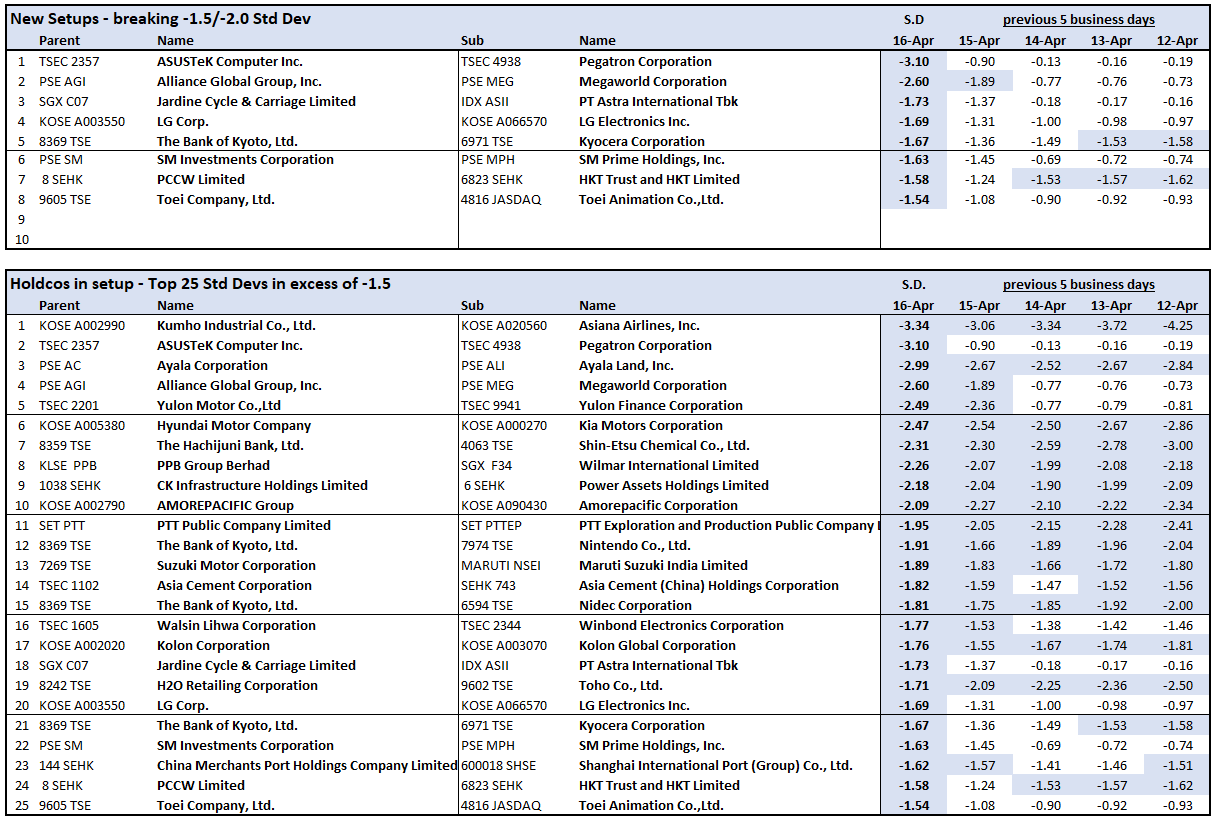 In this briefing:
---
This week in StubWorld …
Preceding my comments on Bank of Kyoto and other stubs, are the weekly setup/unwind tables for Asia-Pacific Holdcos.
These relationships trade with a minimum liquidity threshold of US$1mn on a 90-day moving average, and a % market capitalisation threshold – the $ value of the holding/opco held, over the parent's market capitalisation, expressed in percent – of at least 20%.
SPX is putting on the final touches of a maturing rising wedge with a similar pattern set up that we pinpointed in September 2018 that led to our short call at SPX 2,944.
RSI divergence has not confirmed recent highs and formed a triangle mirroring the pattern set up in September 2018. RSI bear divergence warns that the rise is at risk given slowing upside momentum and buy volumes.
Global risk appetite remains strong and could delay a break down with upside noise from a trade deal spike but this compelling set up warns of disappointment stemming from deal hurdles, lack of key trade point resolution or a drawn our trade schedule with underlying tariffs that leaves markets wanting after pricing in the better part of a full deal. Sell the fact set up?
Breadth has deteriorated markedly from the early February peak as the SPX continues to chisel out new highs as internals weaken, again mirroring the late 2018 cycle.
On the very first day of the landmark jury trial between Apple and Qualcomm over long-running patent licensing issues, the two companies quietly announced that they had reached a settlement.  Significantly, the deal included a chipset supply agreement in addition to the patent licensing accord.
On the very same day, Intel, who had stepped up to supply Apple with modem chips during its protracted dispute with Qualcomm, announced that it was exiting the 5G smartphone modem business upon completion of its current contractual commitments on 4G modems. The move is an embarrassing climb-down for Intel, eerily reminiscent of similar retreats from smartphone and tablet SOC markets in recent years, proving once again that when the going gets tough, Intel… throws in the towel. 
News reports out of the US indicate the Sprint/T-Mobile merger may be in trouble. Sprint shares are down 10% after the close as investors are taking these reports more seriously than previous speed bumps like pauses in the FCC review process or rising Democrat influence after the mid-terms. It seems clear that the US Department of Justice is weighing anti-trust concerns more heavily than 5G deployment potential although it is not yet clear whether it will block the deal or ask for changes in the terms.
Neither option is good news for Softbank Group (9984 JP) , which is well into its pivot away from telcos into investments. For that reason, a restructured deal is the better outcome as Softbank management time has shifted to the Vision Fund and running Sprint on its own or pursuing another deal are likely to be seen as a drag on management time. On an absolute basis, a fall in Sprint's value from the $6 range it has recently traded in to $4 which it was closer to pre-merger values would knock ¥500 off Softbank shares, pre-holding company discount.
Get Straight to the Source on Smartkarma
Smartkarma supports the world's leading investors with high-quality, timely, and actionable Insights. Subscribe now for unlimited access, or request a demo below.