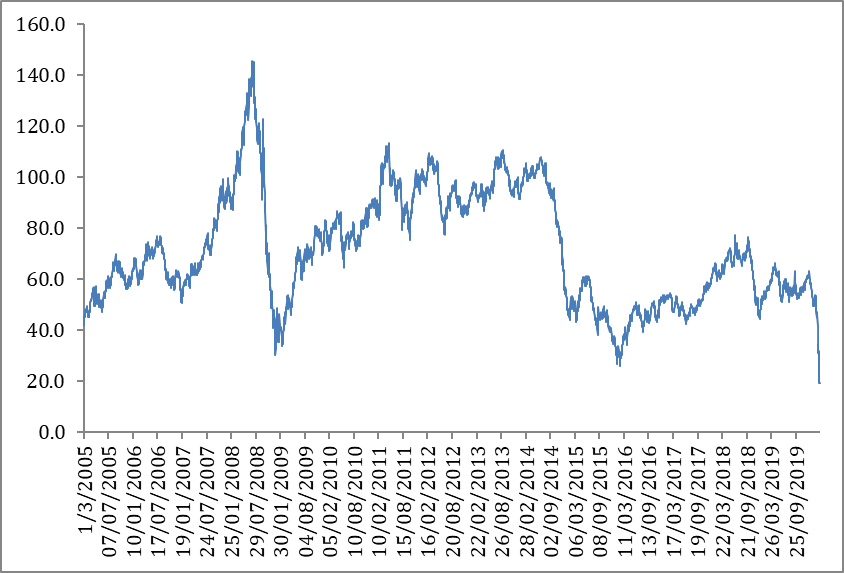 In this briefing:
---
We must expect some degree of higher NPL formation at banks in Texas due to lower oil prices. But in the current environment that will be compounded with more traditional credit stresses from the shutdown; many Banks in Texas  have a high level of CRE loans. We look at how banks fare with recent credit growth, with the concern that some have grown incredibly fast into the downturn. While the Texas Ratio may be good at identifying which banks have more capital and provisions compared with impaired and loan loans, we feel it can also lag; credit growth can be a better lead indicator of future stresses.
Events in the aftermath of the failure of Lehman Brothers suggest that easier monetary policy settings will struggle on their own to stabilise falling equity prices if the magnitude of the shock is significant both domestically and globally. Crucially, the announcement of easier US fiscal policy in 2009 Q1, in conjunction with prior Fed easing, helped to quickly produce a floor in US equity prices.
The role of corporate profit expectations played in important role in cementing the 2009 Q1 floor in US equity prices and their subsequent trajectory.  Furthermore, the behaviour of corporate profit forecasts had a major influence on the behaviour of equity prices following the 2001 recession.  Prior to the recent correction, US equity market dynamics were similar to the late-1990s, thereby raising the prospect of a prospective repeat of the early-2000's environment.
The US economic cycle will be reset in 2020, but current corporate profit expectations have hitherto not incorporated this outcome. Forecasts remain far too sanguine and have not yet factored in the disruption to top-line activity stemming from social distancing due to the coronavirus. The credibility of evolving corporate profit forecasts will face heightened scrutiny, particularly estimates of the likely trough level.
The broad-based range of measures introduced by the Fed in recent weeks ultimately aims to ensure a sufficient flow of credit to the corporate sector. Open-ended quantitative easing and fiscal stimulus will support aggregate demand in the US economy and, consequently, corporate profits.
US monetary policy is not out of ammunition: aggressive forward guidance will convey tolerance to above-trend economic growth and underpin corporate profit expectations. Yield curve control has also been debated, but its efficacy will depend on the market's perceptions of the Fed's determination to achieve and maintain targeted yields. 
Xerox announced on Tuesday (31st March) that it is withdrawing its tender offer to acquire HP and will no longer seek to nominate its candidates for HP's board of directors.
"The current global health crisis and resulting macroeconomic and market turmoil caused by COVID-19 have created an environment that is not conducive to Xerox continuing to pursue an acquisition of HP Inc. (NYSE: HPQ) ("HP"). Accordingly, we are withdrawing our tender offer to acquire HP and will no longer seek to nominate our slate of highly qualified candidates to HP's Board of Directors"

– Xerox
The company has mentioned that it is prioritising the health, safety and well-being of its employees, customers, partners and stakeholders and its broader response to the pandemic over and above all other considerations.
As we highlighted in our previous insights on Xerox-HP deal, the deal was too big for Xerox who has a market cap of around US$4bn while HP has a market cap of around US$24bn. Though Xerox reiterated that it has obtained the financing required to fund the deal, we believe the ongoing Covid-19 pandemic and the resulting economic uncertainty would have made it difficult for Xerox to obtain the necessary funds.
Deal Update: Genworth Financial (GNW.US) [Genworth] announced that it and merger partner, China Oceanwide (715.HK), have entered into an extension of the merger deadline for the deal from March 31 to June 30 – the 14th waiver. There now appears to be some uncertainty in the disclosure that the required loan extension had not yet been secured by China Oceanwide is a bit disconcerting after all of this time and especially during the current environment;
Virginia Approval: In addition, Genworth also announced that the Commonwealth of Virginia's insurance regulator had re-approved the merger – a requirement by the state that arose after Genworth infused USD 100 mn into Genworth Life Insurance Company of New York (GLICNY); and
Material Adverse Condition?: Mortgage firms are bracing for a wave of missed payments as many mortgage holders have lost their jobs. Genworth mortgage insurance in the US essentially guarantees mortgage payments for those mortgagees who cannot come up with a 20% downpayment. If homeowners miss payments, Genworth is contractually obligated to continue forwarding on monies to the mortgage owners. As such, Genworth (and its Canadian and Australian subsidiaries) will have to come up of billions of USD on short notice to cover their financial obligations without access to Federal Reserve emergency lending facilities. China Oceanwide may finally walk away from this deal once and for all by invoking the material adverse condition clause.   
In our most recent note, we introduced a simplified forecasting model for COVID-19 expectations.  In this note we develop it further with explicit forecasts of the high point of fatalities in major European countries.  We also show that without doubt both Spain and Italy have shifted to testing more than just the critically ill.  This means that case numbers are worse than useless for tracking the efficacy of lockdowns in these countries.
Using our model, we forecast that Italy is past the absolute peak and will show declining numbers over the next 10 days.  Spain is 5 or 6 days from its peak.  The UK will most likely see a peak at the weekend and France early next week.
Therefore, the news from Europe will be mostly positive from the middle of next week.  It is too early to extend our model to the US, but we will do so in the following days
You are currently reading Executive Summaries of Smartkarma Insights.
Want to read on? Explore our tailored Smartkarma Solutions.