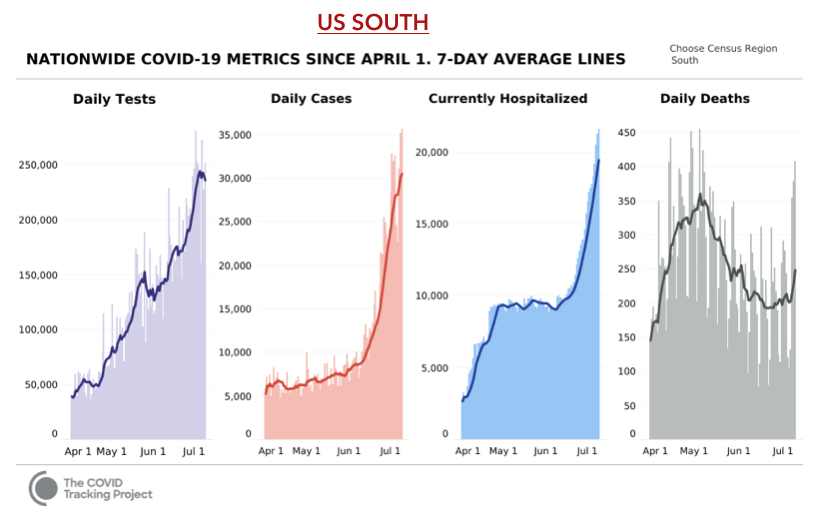 In this briefing:
---
We said in our last weekly note that crude, at four-month highs, was ripe for a reality check from demand concerns. It got a jolt last Thursday.
The jubilation over a Gilead Sciences (GILD US)'s announcement of further proof of the success of its drug remdesivir in lowering the chances of death in coronavirus patients spurred a late-day US stock market rally and swept up crude in its wake to end the week on a strong note.
The OPEC/non-OPEC alliance is poised to add 2.2 million b/d of crude to the global supply from August 1. The decision is expected to be rubber-stamped next week, and it's too late for an about-turn.
But we expect lingering concerns over the surge of the coronavirus in several US states — and in pockets across the world — coupled with additional supply from OPEC+ to yank crude down again from its current perch.
Crude Oil (CRUDE OIL COMDTY) rise off the April low with June new highs are are not being confirmed by the RSI for a case of bear divergence as the overlapping price has formed a rising wedge. Wedge patterns have a 70% probability of breaking lower with odds increasing on the back of divergence.
Divergence forms when momentum, buy volume and conviction deteriorate.
As virus cases climb, questions linked to demand will resurface.
42 resistance is a pivotal level; a rejection would set in motion a pullback to test and break the 38 near support and lower wedge level that will open up the downside.
S&P 500 (SPX INDEX) is teetering on a more bullish break point that will define a wave 5 thrust higher or secondary pullback within the summer flat corrective range with support near 2,950.
3,220 and 3,080 will act as key break points for a continued rally or second part of a summer pullback cycle (the later is the favored sequence for a pullback from 3,200).
July cycle peak should align with increased virus cases/concerns and overshadow liquidity over the summer.
ISM, demand and growth data spikes have come off of low bases but due to deteriorate as US re opening faces significant speed bumps.
Macro remains bullish on weakness until liquidly support fades.
China News That Matters
Bull run in a China shop 
State security sets up shop in Hong Kong
WHO arrives for crucial, long-delayed investigation
Sanctioning the rival superpower
New jobs for a new era
In my weekly digest China News That Matters, I will give you selected summaries, sourced from a variety of local Chinese-language and international news outlets, and highlight why I think the news is significant. These posts are meant to neither be bullish nor bearish, but help you separate the signal from the noise.
A review of U.S. and global markets reveals that market leadership has narrowed to NASDAQ and Chinese stocks. If this is the start of a new bull, or a continuation of the old bull, can it rest on the narrow leadership of a handful of NASDAQ stocks and the Chinese market?
Is this just a double bubble, and does that imply double trouble ahead?
We are not sure. We are torn between Bob Farrell's Rule No. 4:
Exponential rapidly rising or falling markets usually go further than you think, but they do not correct by going sideways.
And Rule No. 7.
Markets are strongest when they are broad and weakest when they narrow to a handful of blue-chip names.
Investors need to be aware of the tension between Rule No. 4, which raises the possibility of a stock bubble, and the risks posed by the narrow leadership warned by Rule No. 7. Tail-risk is high in both directions. In this environment, it is worthwhile to return to basics and re-visit investment objectives and risk tolerances in order to balance risk and reward. There are no perfect answers and each will be different.
Regardless of what direction the market takes, investors can count on a climate of high volatility in the near future.
You are currently reading Executive Summaries of Smartkarma Insights.
Want to read on? Explore our tailored Smartkarma Solutions.