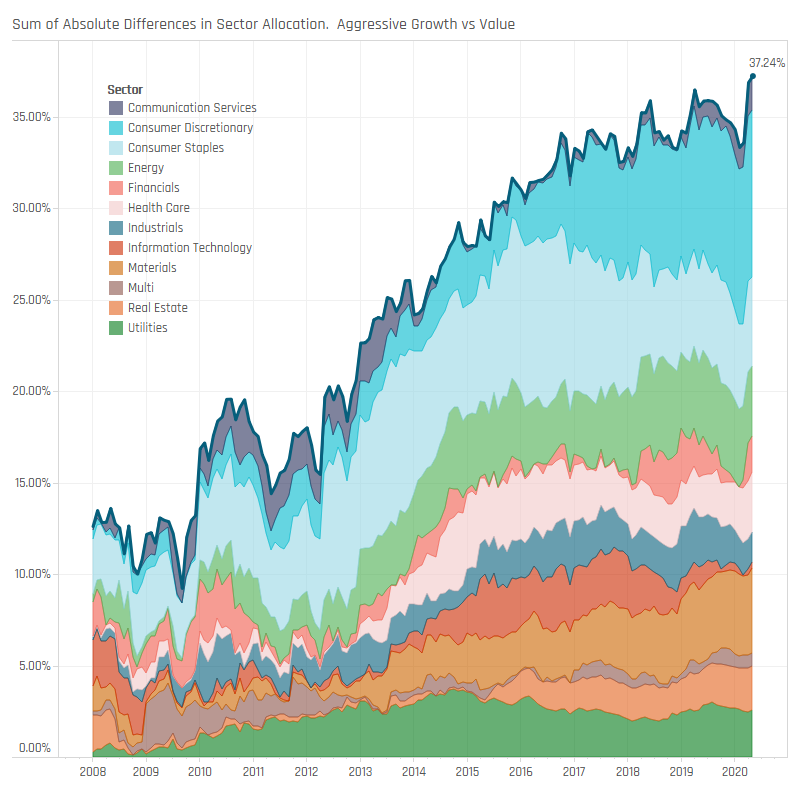 In this briefing:
---
The nature of the COVID-19 induced sell-off has favoured Aggressive Growth strategies over Value this year.
During this period, the divergence in sector allocations between the two style groups has reached all-time wides. 
The largest differences in sector allocations are in Consumer Staples and Discretionary, where Aggressive Growth funds are more heavily invested.  Value investors are more exposed to Energy, Materials and Utilities.
On a country level, China is the prominent weight for both style groups, though Aggressive Growth funds hold 5.36% more, on average. The largest difference is in India, where Aggressive Growth funds rank it as their 2nd largest country exposure at 12.26%, compared to the 5th highest in Value funds at 5.83%.
On a stock level, there are some striking differences in allocations.  For example, 72% of Aggressive Growth funds own HDFC Bank (HDFCB IN) versus only 10% of Value funds. Conversely, 69% of Value funds hold China Construction Bank (601939 CH)  compared to just 7% of Aggressive Growth funds.
The analysis is taken from our Global Emerging Market research, which covers 222 GEM active strategies with combined AUM of $360bn
CY2020 has not been a good year for embattled Aozora Bank Ltd (8304 JP).  FY3/2020 actual results were well short of guidance, with falling net interest and fee income, rising General Administrative Expenses (GAE) and an 11-fold increase in credit costs all contributing to the disappointing performance.  FY3/2021 management guidance bravely calls for a modest improvement over FY3/2020 actual results, which we think represents a very challenging target in the current operating environment.  To add fuel to the flames, management has slashed the forecast dividend from ¥155/share to ¥122/share, the effect of which has been to send the share price tumbling.  The stock price has fallen 38.7% in the last three months alone, and is by far the worst-performing of the major bank stocks to date.  There are ominous signs scattered throughout the balance-sheet and financial statements that FY3/2021 will be a challenging year for the bank, yet foreign investors still own in aggregate a significant proportion of Aozora Bank's outstanding shares.
Caveat Emptor!  (May the Buyer Beware!)
European banks are at the deep value end of the equities spectrum, in the current investment climate
We are not, however, consigning the entire sector to the "basket case", and we sift through the European banks universe looking for attractively valued banks with solid digital banking credentials
We focus on two banks that are well placed to strengthen their digital banking positions on the back of the acceleration in society's digital shift, due to the Covid-19 pandemic
Aside from the challenger banks, CaixaBank SA (CABK SM) and Banco Bilbao Vizcaya Argentari (BBVA SM)  are both legacy banks that are leading the Spanish digital banking drive, with BBVA also a major player in Mexico, Turkey, USA and parts of South America
Our conclusion is that BBVA is our preferred pick, given its attractive valuations, and superior digital banking credentials across multiple geographies, and that is despite its relative weakness versus CaixaBank in capital adequacy and, to a lesser degree, in terms of credit quality
Risks to our view include increased competition in digital banking, as well as worse than expected credit losses in Spain, Mexico and Turkey and the latter two carry the risk of further MXN and TRY currency depreciation
Wharf Holdings (4 HK) has formed a compelling bull wedge that has a 70% probability of breaking higher to test a tough resistance zone. Bull wedge patterns form when the medium term and short term cycles conflict and energy builds for a breakout.
Buy volumes have been poor and would need to improve on a breakout above wedge resistance to have any chance for a serious test on the 17 intermediate pivot barrier.
Pattern support lies at 13.40 and breakout resistance at 14.50. Above 14.50 targets 16.50 with 17 the formidable barrier to clear/reject that will dictate the macro trend.
The macro picture denotes a more bullish and compelling macro thesis/set up due largely to the triple lows in the weekly RSI and weekly MACD. Non confirmation of new price lows since 2018 shows an incredibly bullish undertone that would kick into gear once the 17 barrier is cleared.
Covid-19 and the measures put in place to slow its spread have wreaked havoc on ocean and air cargo markets in 2020. April data show a number of highly unusual market dynamics at work. 
Our model shows container rates dipped in April, falling 5% YoY. Despite this decline, we believe container rates are supported by an unusual equipment shortage. Furthermore, we believe carrier margins could remain stable in Q220 as ship fuel costs have declined sharply compared to 2019.
In air cargo, an unprecedented set of circumstances led to a  dramatic rise of yields (pricing) in April. In the case of two Taiwanese airlines with significant exposure to cargo, air cargo demand increased by just 3% YoY in April, but yields more than doubled, boosting segment revenues. 
Low fuel prices and an equipment shortage may continue to limit the deterioration of container shipping profitability in 2020. Meanwhile, even unprecedented price increases in air cargo are not enough to offset the dramatic declines of most airlines' passenger revenues. 
You are currently reading Executive Summaries of Smartkarma Insights.
Want to read on? Explore our tailored Smartkarma Solutions.