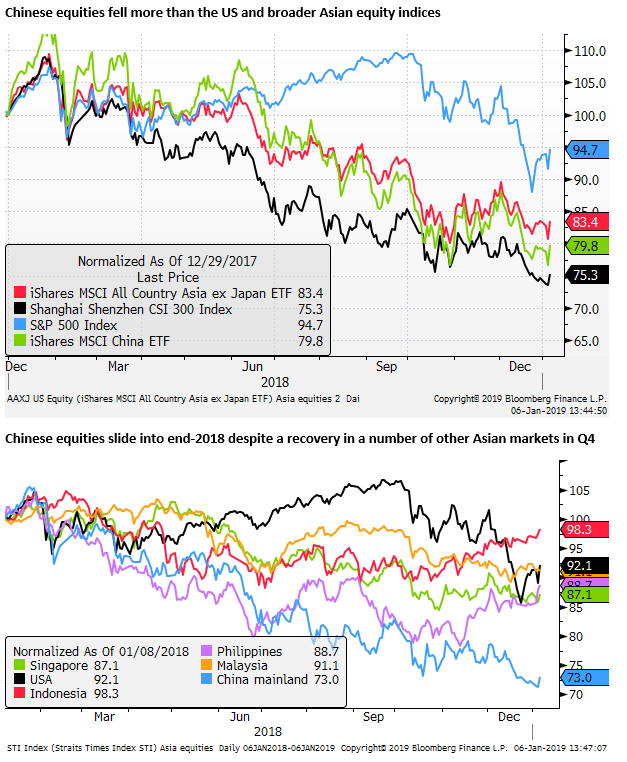 In this briefing:
---
Chinese equities face a crossroad to start the year as the market mulls a more serious phase in the structural decline in China's economy balanced against renewed efforts to stimulate growth in 2019.  The US-China trade dispute and broader US policy shift to contain China's economic ambitions in high tech industries have contributed to fears of a Chinese led global economic downturn.  But these concerns may ease as China and the US progress through trade negotiations restarted amidst a truce on tariff policy through 1-March.  The AUD and copper prices have been highly correlated with Chinese equities over the last year, highlighting the broader market implications of trade talks this week and renewed Chinese efforts to restore economic confidence.
Formed in 1992, Siauliu Bankas AB (SAB1L LH) has evolved into the sixth largest Lithuanian bank in terms of Assets and an important provider of banking services to Lithuanian SMEs. SAB1L is based in Siauliai in the north of the country, and in recent years has developed a nationwide franchise. It now has an upgraded network of 43 branches in all regions of Lithuania, and is investing in its digital footprint. SAB1L holds a 9.3% share of the corporate credit market, a 8.7% share of system deposits, and 8.7% of fast-evolving consumer loans. Main peers are SEB, Luminar, and Swedbank.
The bank is generating vibrant non-interest income from settlements and cash office transactions as well as its niche home and multi-apartment improvement revenue stream. The banks commands a 60% share of this energy-efficient focused market.
Constant uncertainty regarding an EBRD loan and conversion terms/dilution  has weighed on shares for some time. This has since cleared. EBRD is now the main shareholder with a 26% stake after a 2013 subordinated loan was recently converted into equity. The decision to strengthen the bank's capital not only shows that the largest shareholder has a positive view of the bank's strategy and outlook, but creates conditions for the bank to continue expanding its activities.
The Lithuanian economy represents a relatively solid narrative. Fiscal discipline combines with growth spurred by consumption, credit, firm investment, exports, while inflation and unemployment remain under control. Industrial output soared in October, propped up by a rebound in manufacturing production. In addition, exports climbed in October while upbeat retail sales pointed to strong household consumption. GDP can grow by 2.5-3.0% over the next year barring any unforeseen global ruptures.
SAB1L stands out trading at a 8% discount to Book Value and lies on a low Mkt Cap./Deposits rating of 12%, well below the global and EM median. SAB1L commands a huge dividend-adjusted PEG of >4x with recurring growth more than 4x  its lowly PER. Earnings Yield is 23%. A quintile 1 PH Score™ of 8.9 captures the valuation dynamic while metric change is impressive. Combining franchise valuation and PH Score™, SAL1L stands in the top decile of opportunity globally. With a ROE in excess of 20%, an Efficiency Ratio below 40%, and double-digit B/S growth, shares should command a much higher multiple. With dilution issues regarding an ERBD behind it, shares can move higher.
Banco Guayaquil SA (GYL ED) commands Ecuador's most extensive network of 5,732 points of sale, incorporating branches, ATMs, neighbourhood units, as well as a virtual mobile bank, plus telephone and mobile banking. The bank commands 10.5% and 10.3% of the system credit and deposit markets.
Contrary to perception, Ecuador's financial system appears relatively sound. It is well-capitalised, with solid credit quality, and high levels of liquidity. Private credit is still growing quite robustly. The supervision of the cooperatives should be strengthened though this is not a systemic risk. Removing barriers to financial intermediation, enhancing risk management, and improving oversight and contingency planning could help fortify the system further.
Ecuador's economy though remains fragile and speculative. The administration of Lenin Moreno cannot be faulted for not grappling with some of the main issues confronting the country after years of chronic mismanagement by Correa. While growth still remains moderate, limited by structural bottlenecks, inflation and unemployment are under control though the fiscal deficit, debt burden, and paltry reserves represent huge challenges, not aided by recent oil sell-off. For this reason, CDS is sky-high – at similar levels to Argentina at 750bps.
But unlike Argentina, deep value can be found in Ecuador's Banking Sector. At least investors are compensated, in great part, for country risk unlike elsewhere.
And, arguably, the time to buy oil-related proxies is when the commodity price is low, not high.
GYSE shares went on a tear in 2018, not even halted by oil volatility at Q3. But there could be more to come as they are moving off extremely depressed levels. Shares still trade at a 65% discount to Book Value and lie on a low Mkt Cap./Deposits rating of 5%, far  below the global and EM median. GYSE commands a dividend-adjusted PEG of 9x. Earnings and Dividend Yields stand at 34% and 18%. A quintile 1 PH Score™ of 10 captures the valuation dynamic while metric change is impressive. Combining franchise valuation and PH Score™, GYSE stands in the top decile of opportunity globally though we are mindful of country risk and interrelated oil volatility.
Woori Bank (000030 KS)'s stock purchase period ended last Friday. We will enter trade suspension starting Jan 9 and until Feb 12. Dilution is only 0.6%. But overhang would be an issue.
Local hedge fund-like institutions are shorting it mainly on overhang risk. Woori Investment Bank (010050 KS) and Woori Card moving up will worsen this overhang risk. Stock purchase is now over. The need to boost the price must have gone as well.
I'd also short Woori Bank at this point. Jan 9~Feb 12 trade suspension would be too long to go without a hedge. Industrial Bank Of Korea (024110 KS) would make a good hedge. Woori and IBK have traditionally been highly correlated. They are also seen sufficiently cointegrated.
Get Straight to the Source on Smartkarma
Smartkarma supports the world's leading investors with high-quality, timely, and actionable Insights. Subscribe now for unlimited access, or request a demo below.