The Western Front: US-EU Trade Tensions
In Part I, we discussed the eastern front of the ongoing trade war, particularly the events leading up to the current state of US-China trade tensions. Now, let us take a look westward, at the US trade relationship with the European Union.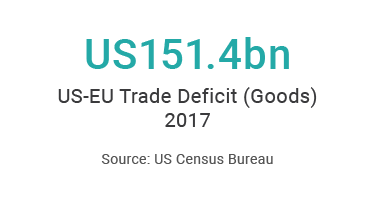 Here's a run-down of events so far:
1) When the US moved to tax all EU steel and aluminium imports in June, the bloc responded by slapping tariffs of its own on US products, covering everything from Harley-Davidson motorcycles to Jim Beam bourbon.
2) Further US threats to levy EU-manufactured cars ensued and still more countermeasures were considered by the EU.
3) Then, a breakthrough: President Donald Trump and European Commission President Jean-Claude Juncker struck a temporary truce end-July after both sides agreed to hold off further tariffs and resume trade negotiations. As a show of goodwill, Juncker even pledged to purchase more US soybeans and natural gas.
4) The EU had, at the end of August, offered to cut "car tariffs to zero" if the US did the same, but Trump still thought it was "not good enough".
5) Events took a slightly more positive turn in September. US Trade Representative Robert Lighthizer and European Trade Commissioner Cecilia Malmström met in Brussels, describing their encounter as a "constructive" and "forward-looking" one.
6) In October, the Trump administration took another step forward by notifying Congress of its intention to begin formal trade talks with the EU.
7) But negotiating a revised trade deal is far from straightforward. It requires "some painful concessions on both sides," a former senior US trade official said. A Bloomberg news report revealed this to be true, when it cited how France and other member states remained divided over the scope of the negotiations.
8) At the time of this writing, attention turns to the next meeting between Lighthizer and Malmström, which will be closely watched for any signs of a breakthrough.
Tariffs

Tariff Threats

US Imposes Tariffs:
25% on Steel, 10% on Aluminium
Worth: US$7.5b
Effective: 1 June 2018

EU Retaliates:
25%-50% on 180 Products
Worth: US$3.3b
Effective: 22 June 2018

US Threatens Tariffs:
20%-25% on Cars
Worth: US$43b
Announced: 22 June 2018

EU Threatens Retaliation:
Undisclosed Tariffs on Agricultural Goods,
Machinery and High-Tech Items
Worth: US$20b
Announced: 25 July 2018
US-EU trade tensions certainly appear to be lower than the US-China trade relationship. Nonetheless, a work in progress is still effectively a stalemate until both parties reach a concrete agreement.
For now, investor sentiment and overall business confidence hang in the balance.
Made in Europe, Purchased in Europe
Will a no-deal outcome stifle Europe's economic growth? Not exactly. In fact, the EU's trump card may lie in its own single market.
According to Sharmila Whelan, an Insight Provider who publishes on Smartkarma, rising domestic demand accounted for as much as 90 percent of euro-area GDP growth between 2016 and 2017. She expects this trend to continue well into 2018 thanks to a recovery in European purchasing power.
To read Whelan's Insight in full, sign up for a trial here.
For the full picture, read the Trade War Special Report: The End of Fair Trade.