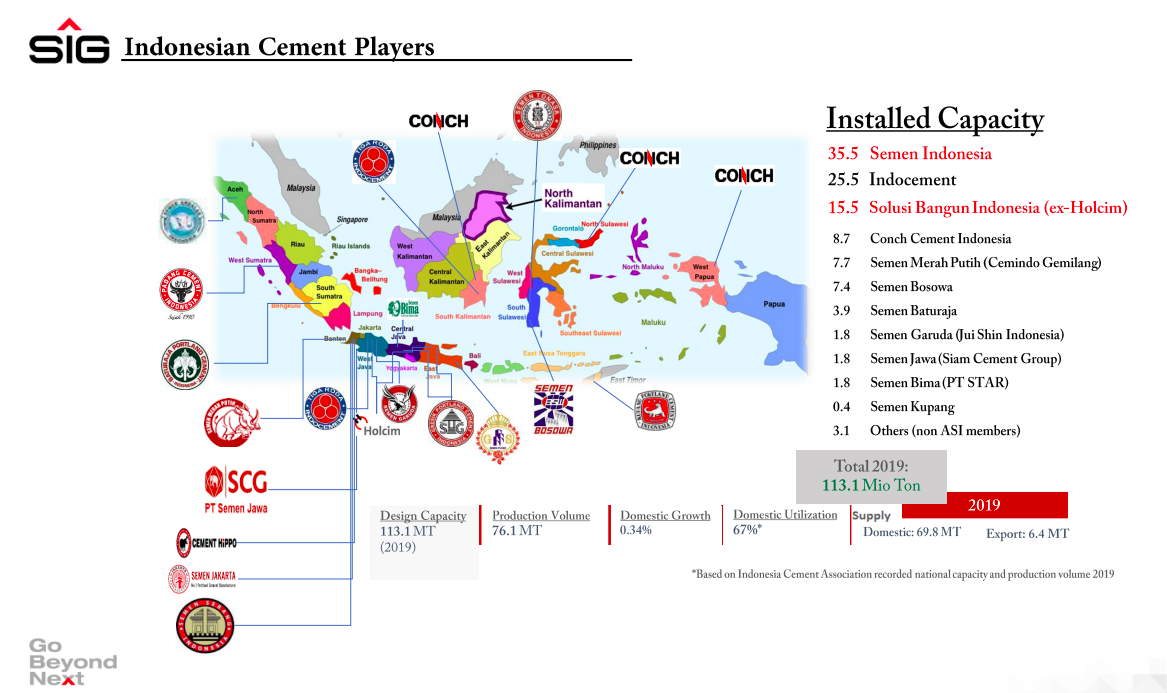 In this briefing:
---
Semen Indonesia Persero Tbk (SMGR IJ) released a decent set of number for 2019, with a strong finish to the year. It also realised significant synergies from the acquistion of PT Solusi Bangun Indonesia Tbk (SMCB IJ) (Holcim Indonesia), which were reflected in the numbers, although higher finance costs related to the acquisition hit the bottom line for the year.
Apart from the obvious concerns over COVID-19, the company had a tough start to the year, with heavy rainfall and flooding impacting volume for January and February, which saw a decline of -4% for 2M20.
Next few months will be impacted by a COVID-19 induced slowdown, which will hit both retail (bagged) demand as bulk, as demand from larger projects declines due to delays to the start of new infrastructure projects, as well as existing ones. 
The key message from the company's call was one of maintaining a fortress balance sheet and attempting to maintain margins and cashflows. It has already restructured all its bridging loans related to its PT Solusi Bangun Indonesia Tbk (SMCB IJ) acquistion, which will mean significantly lower interest costs in 2020.
With the true impact and longevity of COVID-19 unknown, it is difficult to make sensible forecasts on the potential impact on the Indonesian economy and hence cement volumes for this year but safe to say volumes are likely to be lower than 2019.
Semen Indonesia Persero Tbk (SMGR IJ)'s share price is reflecting a doomsday scenario with the stock trading at close to book value and looks like an attractive entry point for long-term investors, who can stand the inevitable short-term volatility.
The ECB is holding talks with Eurozone lenders with regards to dividends, according to Bloomberg, in order to attempt to preserve capital during the coronavirus crisis
Many European banks are high dividend yielding, and an important element of equity income funds; in some cases, bank dividend payouts are also very high
Our main screen is based on European banks' dividend yields versus dividend cover, in which we try to identify those European banks most at risk of potential dividend cuts
We recognize that consensus earnings estimates are subject to change, but we see this exercise as a starting point; we intend to revisit this exercise further down the line when there will hopefully be more clarity
We see Intesa Sanpaolo (ISP IM) as one of the most exposed European banks to a dividend cut amongst our coverage; also among the Italians, Mediobanca SpA (MB IM) and Unione Di Banche Italiane (UBI IM) are higher risk
Also not out of the woods are UniCredit SpA (UCG IM) , Banco BPM SpA (BAMI IM) and Banca Popolare Dell'Emilia Rom (BPE IM) even though they seem less exposed to dividend cuts
Risks to our bearish view on Intesa's dividend outlook include better than expected credit quality limiting the adverse impact on cost of risk, as well as better than expected fee generation and very stringent cost control all serving to counter earnings pressures
South Africa continues to face well-documented challenges and risks. In their earnings presentation earlier this month, beleaguered lender Nedbank (NED SJ) puts a "more of the same" scenario at 50% for the next few years- a grey, twilight or penumbra zone of lacklustre GDP growth, moderate inflation, high single-digit credit growth,  and elevated interest rates. In this scenario, the vexing land question remains in the background, rearing its head now and again, while initiatives to stem corruption continue and Eskom's finances remain perilous with load-shedding at level 1 and 2. Management at Nedbank seems resigned to the Moody's downgrade but believes that a great deal is already priced-in. Of course this could all look a lot better with a full embrace of structural reform, policy certainty, public finance improvement, enhanced business and consumer confidence, more investment and less joblessness. The bank apportions a 10% chance to a high stress scenario over the next few years, underpinned by negative news on land reform and corruption, and a 20% probability of a much more benign scenario which is conditioned by better public finances, an Eskom turnaround, and the unlikely eschewing of a downgrade.
In November, Moody's flagged load-shedding, a ballooning public debt and budget deficit, inequality and slow economic growth as among the risk factors that could lead to the country being downgraded. Since then, those risk factors have not got any better and are likely to be exacerbated by the economic downturn as a result of Covid-19. The yield on the 10-year South African government bonds spiked to above 12% on Monday. That means the government will have to pay billions more in interest to pay for local roads, hospitals, and services. Wider deficits and additional borrowing are a risk as elsewhere given Covid-19. A Moody's decision could happen tomorrow. It would be one of the most telegraphed and torturous downgrades of all time.
Steven Holden at CFR shows that GEM managers have reduced positions in South African equities and are looking elsewhere broadly. Pending "junk" status means outflows as bond investors look elsewhere if they have not already made the decision. Fortunately, most of South Africa's debt is rand-denominated. So even with the rand's recent slump (from below R15/$ a month ago to near R17.54 currently), this will not threaten its ability to settle its debt. Many other emerging markets are not in the same position.
The collapse in the price of oil is a welcome tailwind.
South Africa has a relatively robust and well-regulated Banking System. Bank shares which "normally" trade at premium valuations, have not showed up as this cheap versus other EM peers for a very long time. First Rand is a highly prudent well-managed lender while Standard Bank always struck us as innovative but circumspect. These are Investment Grade banks trading at a junk rating now. Their relative valuations are a great deal more interesting today. But Nedbank, an inferior lender, is just too cheap to ignore as its share price has become overly detached from the others.
With such a disappointing, if not somewhat despondent, backdrop with a few positive drivers, it may seem counter-intuitive to recommend shares of a South African bank. But there is a price for everything and shares of Nedbank are at distressed levels.The pan-African franchise is struggling and is valued at zero under current valuation.
Shares trade on a Dividend Yield of 17% and an Earnings Yield of 30%. P/B and FV stand at 0.45x and 4%, respectively. Total Return ratio has reached 7.8x. A PH Score of 7.4 may reflect in great part the valuation but operational progress on Capitalisation, Efficiency, Provisioning, and Liquidity play a part too. Profitability though narrowed as credit costs  jumped forcefully on account of Asset Quality risks across the South African CIB franchise and as private equity holdings were revalued lower while risks in jurisdictions elsewhere in Africa (for example especially Zimbabwe but also Nigeria) where Nedbank has a presence rose and pose macro challenges going forward. 
Shares stand in the top quintile of our global VFM rankings.
ITC Ltd (ITC IN) 's recent share price performance has been disappointing on all counts. The increase in Dividend Payout further re-iterates our view of ITC finding it a challenge to invest in other businesses, and therefore valuations now reflect that of global tobacco companies.  At current prices, the downside may be limited, but a Re-rating is unlikely. 
This Insight is labelled bearish, as we do not see any major PE Re-rating in the near term. 
Looking at 5 year average ratios vs. current ones quickly pinpoints best values in the sector in these selected tickers.
EV/EBITDA eliminates leverage that can sometimes mislead investors to better value companies.
The metric is also a good proxy for cash flow in a sector that historically can accumulate cash at a more rapid pace than many consumer discretionary categories.
You are currently reading Executive Summaries of Smartkarma Insights.
Want to read on? Explore our tailored Smartkarma Solutions.