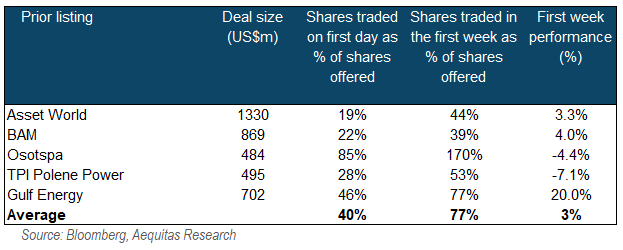 In this briefing:
---
Central Retail (CRC TB) raised about US$2.32bn at THB42 per share, just above the mid point of its IPO price range. We have covered the IPO in our previous two notes:
In this insight, we will look at the IPO deal dynamics and updated valuation.
We initiate coverage of BEM with a HOLD rating, based on a target price of Bt11.70 derived from a sum-of-the-parts methodology, which implies 45xPE'20E, or a 10% premium to the Thailand transportation sector
The story:
• Extensive transportation network in metropolitan areas
• Growth phase for MRT is just around the corner
• Upside from Orange and South Purple MRT lines
• Steady cash flow from toll businesses
• Plenty of opportunities for commercial development business
• Potential upside from airport-linked fast track 
Risks:  Concession termination, interest rate fluctuation and legal disputes
Central Retail (CRC TB), the retail arm of Central Group, is the leading multi-format, multi-category retailing platform in Thailand, Italy and Vietnam. Central Retail will commence trading on Thursday, 20 February. Central Retail set the offer price at THB42.00 per share, which is around the mid-point of the indicative price range of THB40-43 per share.
In our valuation note, we grudgingly noted that we would participate at most at the low-end of the IPO price range due to an undemanding rating. However, in a follow-on note, we stated that recent events have tipped the balance in favour of giving the IPO a pass. Our DCF analysis supports this view and our DCF-based scenario analysis suggests that the IPO price is unattractive.
In the wake of the news of the coronavirus infection, the Chinese leadership went into overdrive and made it a Draghi-like "whatever it takes" moment to prevent panic and stabilize markets. When the stock markets opened after the Lunar New Year break, the authorities prohibited short sales, directed large shareholders not to sell their holdings and the PBOC turned on their firehose of liquidity to support the stock market. Those steps largely succeeded. China's stock markets stabilized and recovered, and so too did the markets of China's Asian trading partners.
However, there were signs that the market is unimpressed by the steps taken by Beijing to control the outbreak and limit its economic impact. Market participants were conducting a guerrilla campaign against the PBOC.
While stock markets have been strong, commodity markets have been weak. Foreign exchange markets are also taking a definite risk-off tone, contrary to the PBOC's efforts to support risk appetite. Even Chinese market internals are exhibiting skepticism, as financial stocks have lagged the market rally.
This argues for a contrarian position of long EM, commodities, and commodity producers and short U.S. equities. Aggressive traders could enter into a long and short pairs trade, while more risk-controlled accounts could just overweight and underweight.
If the bulls are right, and the coronavirus outbreak recedes and comes under control, U.S. equities should begin to underperform as the demand for safe havens, while cyclically sensitive EM and commodities would rally. On the other hand, if the outbreak were to spiral out of control and global growth collapses, U.S. equities would correct, but there is likely less downside risk in EM and commodity exposure because they have already fallen substantially.
Macro
In Vast Omnibus Holds Promise but May Languish / Would Halve Severance / Health Minister Vs Harvard, CrossASEAN Insight Provider Kevin O'Rourke comments on the most important political and economic developments in Indonesia over the past week. 
Equity Bottom-Up
In Lippo Karawaci (LPKR IJ) – Green Shoots Ahead?, CrossASEAN Insight Provider Angus Mackintosh revisits Indonesia's largest property company and sees the potential for better times ahead. 
In Mobile World Investment (MWG VN) – From Mobile Phones to Groceries, Cross ASEAN Insight Provider Angus Mackintosh finds value in one of Vietnam's fastest-growing consumer companies. 
In BAT Malaysia: Trading Lower than 1997 Asian Financial Crisis, Cheapest in 27 Years, Div Yield at 11%, Nicolas Van Broekhoven revisits Malaysia's leading tobacco player and finds deep value. 
In OCBC – Wing Hang Bank and Oil Price Risk, banking specialist Daniel Tabbush revisits Oversea Chinese Banking Corp. (OCBC SP) which has exposure in a number of areas which are likely to impact both growth and credit quality. 
In Thinking About BBL's Buy of Permata – Buy the Dips, events specialist Travis Lundy circles back to this ongoing M&A situation. 
In Bangkok Bank: Deal or No Deal, Shares Are Too Depressed, Emerging Markets banks specialist Paul Hollingworth takes a closer look at Bangkok Bank Public (BBL TB) in light of the ongoing takeover of Bank Permata (BNLI IJ).
In Tesco to Offload Its Thai & Malaysia Business: Generous Valuation but Value Is in the UK BusinessOshadhi Kumarasiri takes a look at the potential sale of Tesco PLC (TSCO LN)'s Thai and Malaysian Assets. 
In Central Retail Listing and SET50/MSCI Index Inclusion,Brian Freitas looks at the implications from Central Retail (CRC TB) being included in key indices after listing. 
In ThaiBev Beer Brewery Pre-IPO/Spin-Off – Early Take – Aiming to Build an ASEAN Champion?,Zhen Zhou, Toh zeros in on the impending spin-off of Thai Beverage (THBEV SP)'s beer assets.
In a second insight ThaiBev Beer Brewery Pre-IPO/Spin-Off – Valuation Estimates and Implications,Zhen Zhou, Toh zeros in on the potential valuations for this impending spin-off.
In Noble Development Base Support with Volume Concerns, technical analysis specialist Thomas Schroeder looks at Thai property developer Noble Development (NOBLE TB) and works his magic.
In TASCO: Surfing the Spread Uptrend in 2020, our friends at Country Group initiate coverage of Tipco Asphalt (TASCO TB) with a BUY rating and a 2020E target price of Bt27, derived from 12.8xPE'20E, which is in line with valuations of the Asia-ex Japan materials sector. 
In BCPG: Upside from Second Hydro Power Plant Acquisition in Laos,Country Group comment on the recent hydro acquisition by Bcpg Pcl (BCPG TB) and increase their target price as a result. 
In PTTEP: Thai E&P Leader with Promising Growth Outlook, Country Group initiate coverage of PTTEP with a BUY rating, based on a 2020E target price of Bt142, derived from a discounted cash flow valuation (WACC of 10% and TG of 2%). Their valuation implies 11.3x PE'20, which is in line with the Thai Energy Sector.
Sector and Thematic
In Asian Banks – Material Event banking specialist Daniel Tabbush suggests that the impending results may include statements of impending risks related to the Corona Virus.
In Thai Media Spotlight: An Early Quarter of Blockbusters, our Thai guru Athaporn Arayasantiparb, CFA highlights four interesting trends/developments in the Thai media sector.
You are currently reading Executive Summaries of Smartkarma Insights.
Want to read on? Explore our tailored Smartkarma Solutions.