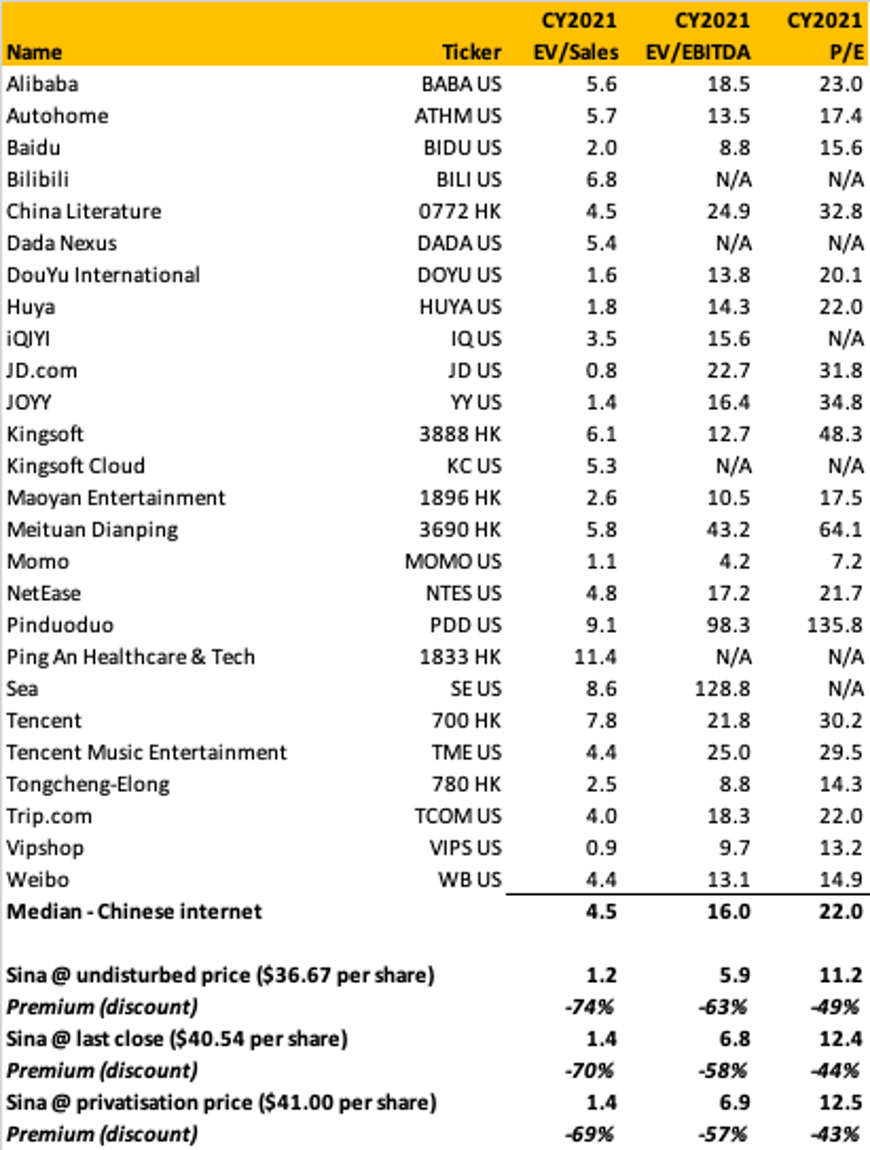 In this briefing:
---
On 6 July, Sina Corp (Class A) (SINA US) announced a non-binding privatisation proposal from New Wave MMXV Limited, which is controlled by Mr Charles Chao (Chairman and CEO of SINA). The bid of $41.00 per ordinary share values SINA at a market cap of $2.7 billion. The proposal represents a premium of 11.8% to the undisturbed price on 2 July and a premium of 20% to the average closing price of the ordinary shares during the last 30 trading days.
New Wave currently owns ordinary shares and Class A preference shares representing 58.0% of the aggregate voting power. To reach the two-thirds voting power threshold, New Wave would need shareholders holding a combined 8.6% of the voting power (18.1% of ordinary shares) to support the privatisation. While the privatisation is likely to succeed, the privatisation smacks of opportunism and a poor deal for long-term shareholders, in our view.
O-Net Technologies (Group) (877 HK), a leader in the provision of high-technology products and optical networking components, is currently suspended pursuant to the Code on Takeovers and Mergers.
Its two major shareholders collectively hold 48.31%, down from 72.69% at the time of O-Net's listing in 2010. O-Net is Cayman incorporated. If a firm Offer is tabled by way of a Scheme, the headcount test applies.
O-Net is up 27% YTD, and just ~3.5% below the recent June high, which was also a two-year high.
As always, more below the fold.
Sina Corp (Class A) (SINA US) looks sets to join the growing list of Chinese companies seeking to delist in the US and relist, ostensibly in Hong Kong.
Yesterday, Sina announced the receipt of a preliminary non-binding "going private" proposal
from New Wave – a company controlled by its chairman/CEO Charles Chao – at US$41/share,  a ~20% premium to the average closing price during the 30 trading days prior to the announcement.
SINA's key earnings driver is microblogger Weibo Corp (Adr) (WB US) – China's Twitter Inc (TWTR US) equivalent – in which it holds a ~45% equity stake but controls ~71% of the vote.
This is, by no stretch, a slam dunk proposal. Optically, the indicative Offer price is highly opportunistic.  However, Chao controls ~58% of the voting power, and an Offer, should one unfold, requires two-thirds approval.
This remains a non-binding proposal. 
As always, more below the fold.
In this Smartkarma Webinar, David Blennerhassett will discuss the hostile situation between Cromwell Property (CMW AU) and ARA Asset Management, further described in Cromwell/ARA: A Festering Relationship.
The webinar will be hosted on Wednesday, 15/July/2020, 5.00pm SGT/HKT.
---
---
David is a highly experienced analyst with more than 20 years covering Asia Pacific equities, the past 13 years immersed in event strategies encompassing M&A risk arbitrage, directional long/short, stub trades and restructuring.
In our previous note on Leyou we noted that the company was in a good position strategically despite our scepticism about the longevity of its key profit driver, Digital Extreme's Warframe. That has not changed greatly and Sony's reported interest in the company is highly credible in our opinion. Against the backdrop of Microsoft's reported interest in acquiring Warner Brothers Interactive Entertainment, we feel the move would make sense as both players move to strengthen 1st party development capabilities.
You are currently reading Executive Summaries of Smartkarma Insights.
Want to read on? Explore our tailored Smartkarma Solutions.