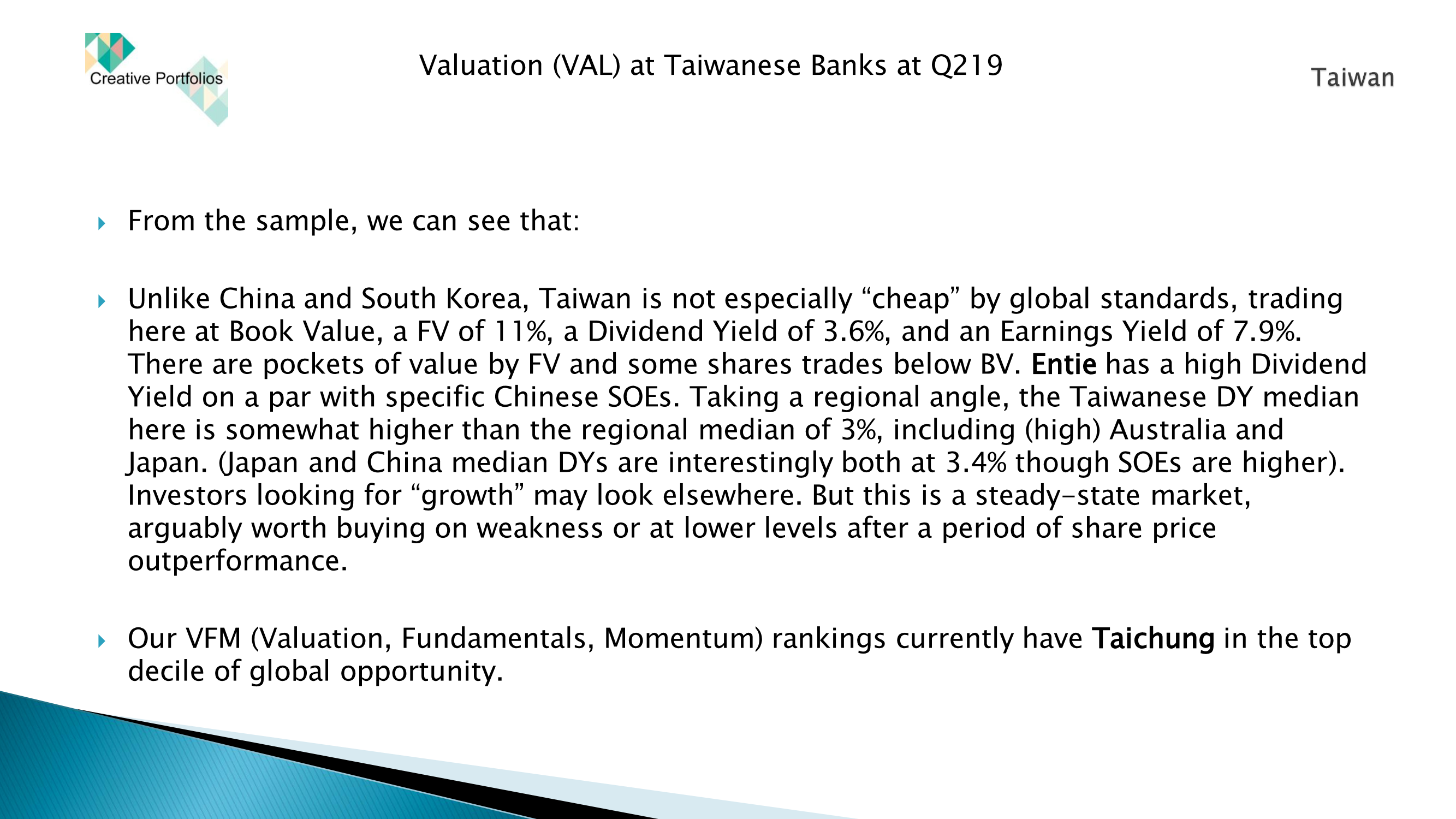 In this briefing:
---
Exxon Mobil (XOM US) and partners awarded the key contracts for the Rovuma LNG project in Mozambique, which makes the project's sanction almost certain. Despite this, it delayed the final investment decision (FID) until next year. Another bumper set of contract awards are going to TechnipFMC PLC (FTI FP), Jgc Corp (1963 JP) and Fluor Corp (FLR US). Yet another positive for the LNG contractor market. 
Given their stellar outperformance this year, we are now more cautious on Taiwan's banks.
The sector is, one must not forget, still weighed down by Inefficiencies, Funding cost pressures, and low Profitability. Capital Adequacy could be better too. Having said that, Asset Quality is under better control than many other parts of Asia.
Similar to South Korea, though not as cheap, Taiwanese banks are the preserve of  a more value-centric mindset rather than the higher growth promise markets elsewhere. For value investors, this is a steady-state market, ripe for greater engagement on share price softness. The possibility of corporate activity may though keep investors on their toes.
We conduct  an analysis of financial strength, valuation, and fundamental trends at twelve listed banks and uncover Taichung Commercial Bank (2812 TT) in particular but also Entie Commercial Bank (2849 TT) as the best investment opportunities.
We do not include Fubon Financial Holding Co (2881 TT)Cathay Financial Holding Co (2882 TT) and Shin Kong Financial Holding (2888 TT) in our analysis given their non-banking mix though supplementary work that we have carried out does not indicate obvious opportunity at this current juncture.
We are initiating a report called Korea Value Stocks Portfolio Quarterly. With this report, we plan to highlight some of the most noteworthy value stocks in Korea.
By highlighting a portfolio of value stocks on a regular basis, we hope to seek some interesting investment opportunities among the Korean value-oriented stocks. We have limited the market cap range to between about $200 million to $3 billion.
We plan to include more company-specific reports on some of these interesting, value-oriented stocks in the coming months. Many of these stocks tend to be turnaround plays but they also have some major catalysts that could help to sustain their companies' turnaround. 
South Korean bank shares continue to feature in the "value" vault. By FV, P/Book or Earnings Yield, bank shares do not seem expensive. Dividend Yields are not unattractive while payouts are on the rise.
They continue to feature in GEM portfolios though less so than in recent years.
News on the economy (semiconductor prices, falling exports) and geopolitical risks (China-US and SK-Japan) have dampened enthusiasm for assets.
From the eight banks that we cover here, Shinhan Financial Group Adr (SHG US) commands the most robust financial strength profile, ahead of Kb Financial Group Inc Adr (KB US) and Hana Financial (086790 KS), but is the most "expensive". The weakest (riskiest) profile is at DGB Financial Group (139130 KS) which also happens to be the "cheapest". Jb Financial Group (175330 KS) is the best combination of value, financial strength, and fundamental momentum.
The highlights for September are as follows:
Source: CapIQ
*Note: CVs- Commercial Vehicles
Get Straight to the Source on Smartkarma
Smartkarma supports the world's leading investors with high-quality, timely, and actionable Insights. Subscribe now for unlimited access, or request a demo below.