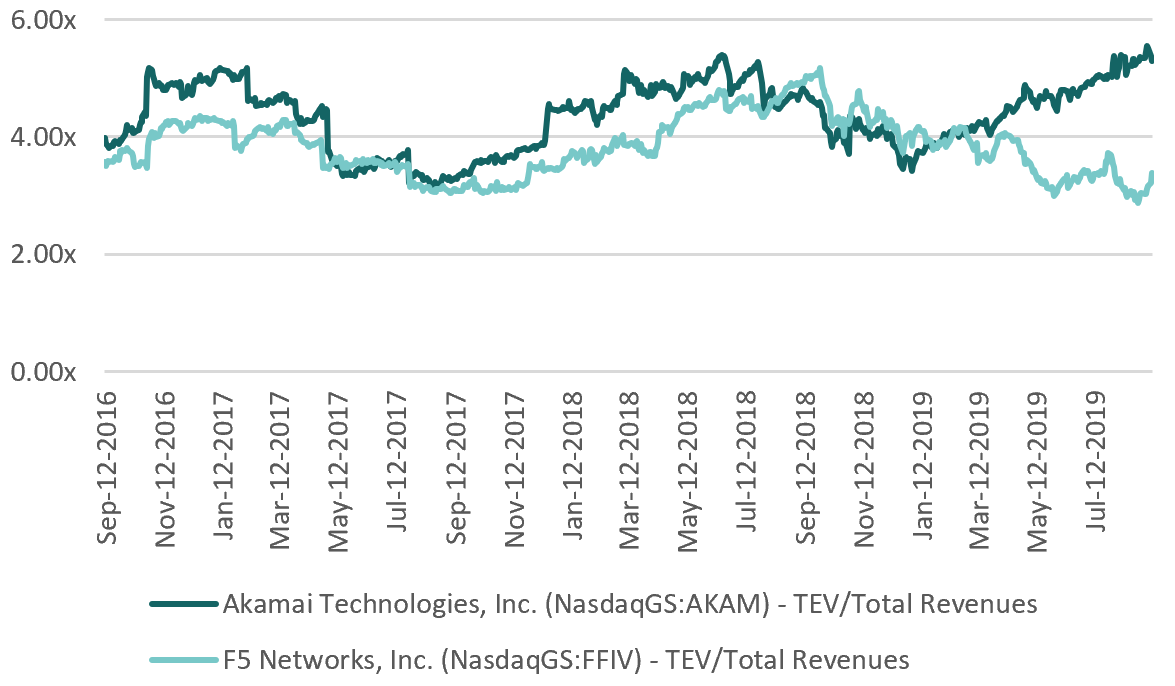 In this briefing:
---
Cloudflare (NET US) offers a global cloud platform that delivers a broad range of network services to businesses of all sizes globally.  In our previous insight on Cloudflare, we covered the company's background, its business model and an analysis of the company's financials. We have discussed mainly the company's valuation in this insight. Our view on the company has not changed, rather the current high valuation makes this deal less interesting from an investor point of view.
Cloudflare has set its IPO price in the range of USD10-12 per share and intends to raise net proceeds of USD357m, resulting in a valuation of about USD2.8bn. Preliminary indications are that the Cloudflare IPO will be priced at the top of the range or even above it. The tech unicorns which went public recently including Slack and Crowdstrike have performed well during the first day of trading and for some time post their IPO debut. However, these stocks have also tended to go down after some time and at times very quickly. The signs are that this IPO might be worth a trade on the first day (sell) but does not look like a good investment. It should be noted however that the market seems less favourable towards these names now given the negativity around recent tech IPOs such as Slack, Crowdstrike, Uber, WeWork, etc.
We discuss the details below.
As the drama between Softbank Group (9984 JP) and its increasingly less favoured child, The We Company (WeWork) (WE US), rolls on with requests for private capital infusions bump against requests for a delay to the IPO, we find ourselves asking, "Who is more desperate here, WeWork or Softbank?"
Shanghai Henlius Biotech (2696 HK) is a biopharmaceutical company and a non-wholly owned subsidiary of Shanghai Fosun Pharmaceutical (Group) (2196 HK), a 61% shareholder. Henlius has launched a Hong Kong IPO to raise up to $477 million. It is the first large IPO after weeks of protests in Hong Kong.
In our initiation note, we stated that most of the core products have strong prospects. Overall, the combination of decent cornerstone support and a reasonable valuation makes Henlius tempting particularly at the low-end of the pricing range.  
For reference, our previous notes:
Initiation note: Shanghai Henlius Biotech IPO Initiation: Going Large 
Cash-breakeven study: Shanghai Henlius Biotech IPO: Cash Breakeven Analysis 
Shanghai Henlius, a biotech subsidiary of Fosun Pharma, launched book building today to raise up to USD 477 million.
In our previous insights covering Shanghai Henlius, we have covered the company's key drug pipelines, the management, shareholders, investors, and a SOTP based valuation.
In this insight, we will provide our final thoughts on the deal based on the price range. We think the company is overvalued and would avoid the deal. 
Our coverage on Shanghai Henlius Biotech
Get Straight to the Source on Smartkarma
Smartkarma supports the world's leading investors with high-quality, timely, and actionable Insights. Subscribe now for unlimited access, or request a demo below.