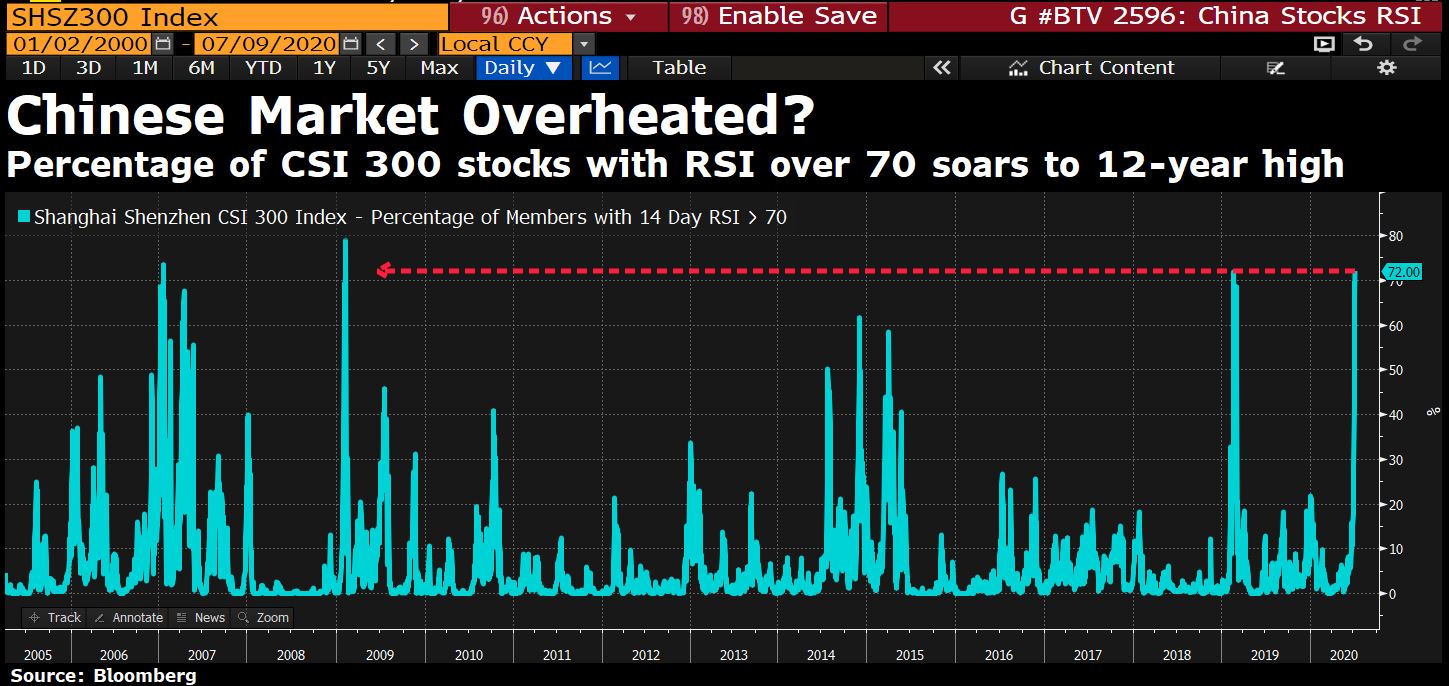 In this briefing:
---
A review of U.S. and global markets reveals that market leadership has narrowed to NASDAQ and Chinese stocks. If this is the start of a new bull, or a continuation of the old bull, can it rest on the narrow leadership of a handful of NASDAQ stocks and the Chinese market?
Is this just a double bubble, and does that imply double trouble ahead?
We are not sure. We are torn between Bob Farrell's Rule No. 4:
Exponential rapidly rising or falling markets usually go further than you think, but they do not correct by going sideways.
And Rule No. 7.
Markets are strongest when they are broad and weakest when they narrow to a handful of blue-chip names.
Investors need to be aware of the tension between Rule No. 4, which raises the possibility of a stock bubble, and the risks posed by the narrow leadership warned by Rule No. 7. Tail-risk is high in both directions. In this environment, it is worthwhile to return to basics and re-visit investment objectives and risk tolerances in order to balance risk and reward. There are no perfect answers and each will be different.
Regardless of what direction the market takes, investors can count on a climate of high volatility in the near future.
In our previous insight, we spoke about 5G being a disappointment, a possible delay in 5G adoption, and how WiFi-6 could take its place. In this insight, we look at 6G, which is still a developing technology. 6G is the sixth generation of wireless technologies, with extreme coverage and capacity. 6G network systems are expected to support data rates at a speed of 1 terabit per second (Tbps), 8000 times faster than 5G, with an end-to-end latency of one microsecond. The increase in IoT applications triggered the expansion of 5G, and it is now stimulating the demand for the 6G networks as well. Our key points based on the first look at 6G, are:
6G is still a remote concept and will take another 15 years to be fully deployed (i.e. by 2035) since there are many necessary technological and technical advancements to be made before a 6G product is introduced to the market.
Most developments and the initiation of projects come from the South Korean and Chinese players. In our opinion, South Korea could take the lead, as China is currently focusing on developing its 5G networks, and China's Huawei is also having issues with the expansion of its 5G networks.
South Korean mobile manufacturers like Samsung and LG are likely to benefit due to their increased initial commitments focusing on 6G, and this might give them an edge over Chinese and U.S. manufacturers like Apple or Huawei.
The U.S. manufacturers have a head start in 6G semiconductor technology. However, given the reduced size requirement for base stations and, eventually, for mobile phones, we believe that Japanese MLCC players could closely compete with the U.S. chip manufacturers.
Previous related insights:
5G for the Next Big Turn of a New Decade 
Will 2020 See Successful Deployment of 5G? 
Lockdown To Accelerate WiFi 6: A Threat to Anticipated 5G Deployment? 
5G Delay and Disappointment – Will Murata Suffer? 
The SIA released the monthly WSTS semiconductor shipments statistics for May, and with it a statement that the chip market seemed resistant to COVID-19.  On the whole revenues have fallen back to trend thanks to the recent market collapse, but China's response to that country's outbreak shows what may be in store for other regions.
Demand
China Manufacturing PMI: Manufacturing PMI data from China continues to be healthy after posting a dip in February due to COVID. June data came in at 50.9 and showed sequential improvement over May's 50.6.

Fundamental data points from China continue to show strength. Auto demand is likely to be up 4-5% YoY in June, and CRIC (China Real Estate Information Corporation) data shows property sales are up 14% YoY in June for the top 200 developers. Data for Jan-June FY20 has inflected into positive territory at 1% YTD.
Supply
Supply issues from Brazil in June were not as bad as initially feared. Brazil shipped out 30 million tons in June, recording a 1% YoY growth.

Inventory at the ports in China rose for the first time in three months.
In this Smartkarma Webinar, Dr Y. Shirley Meng, an energy technology expert, will talk through the advances in battery technology, which can change the future of energy consumption and have a profound impact on everything from cars to pacemakers.
The webinar will be hosted on Friday, 17/July/2020, 11.00am SGT/HKT.
---
---
You are currently reading Executive Summaries of Smartkarma Insights.
Want to read on? Explore our tailored Smartkarma Solutions.